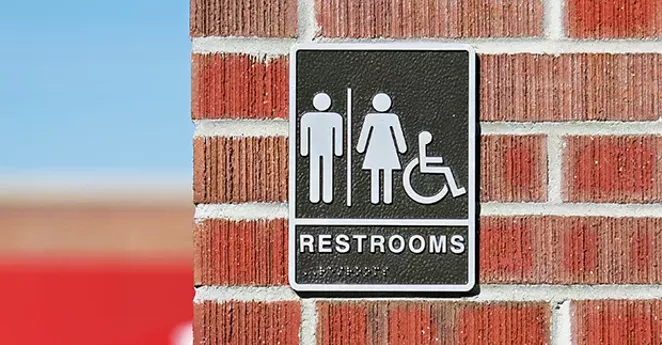 EVERYONE NEEDS A PLACE TO GO

The First Presbyterian Church of Springfield has respectfully requested that the mayor's office and the City of Springfield address the chronic issue of human waste left behind nightly on our city streets and around public and private properties in the downtown area. Our church is located on the corner of Seventh and Capitol. We regularly clean human waste from around our building and garden area.
We do not believe that the problem is the people who populate our streets. These fellow citizens deserve to be treated with dignity and respect. We do not judge or blame individuals for their poverty. As a community we have a duty to assist one another in connecting with social services, finding safe and affordable housing and, on a more basic level, providing a proper place to urinate and defecate.
The problem from which we are seeking relief is a lack of public toilets. Everyone needs a place to "go." Everyone benefits from clean public facilities: businesses, tourists, neighbors, nonprofits and the city.
It has been three months since we sent letters expressing our concerns and we have not heard from the mayor or the city council. We are disappointed by the lack of responsiveness on the part of city leaders in resolving this issue. We support the call from Downtown Springfield, Inc. (DSI) for temporary port-a-potties now and a long-term solution of placing permanent facilities downtown that would be used by residents and visitors. The mayor has suggested that "social service agencies" are against the placement of temporary port-a-potties. We have yet to find one who doesn't support the idea as a short-term solution. We have also spoken directly with several downtown businesses that share our concerns. They support the DSI plan and would welcome port-a-potties as a temporary solution. It is our hope that city leaders will reconsider and respond positively and quickly to these ideas.
Rev. Susan Phillips
Pastor, First Presbyterian Church
Daniel J. Greer
Clerk of Session
CONSIDER A UNICAMERAL LEGISLATURE
Let me start with the fact that most elected public officials in Illinois are conscientious public servants. But some are in it for a job with great perks.
The state of Nebraska began as a bicameral (two-chamber) legislature like Illinois. Then, after great financial distress in the 30s and dissatisfaction with the lack of cooperation between the two chambers, Nebraska formed the only unicameral (one chamber) legislature in the U.S. Nebraska senators are limited to two consecutive four-year terms, $12,000 per year and a per diem, in session 60 days one year and 90 days in a budget year. The Australian state of Queensland also has had a very successful unicameral legislature for years.
Our state of Illinois is in a bit of financial straits and discord. Consideration of the unicameral model of Nebraska by our conscientious elected legislators could solve some of our problems by freeing up many billions of dollars (no pensions, etc. associated with full-time legislators or other ancillary expenses or extra staff and associated expenses) to be used for the programs our legislators deem most necessary for residents of our great state.

Dick Barrett
Oak Lawn