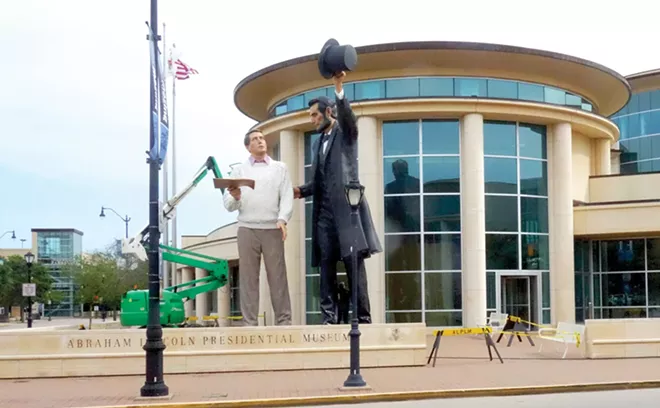 We welcome letters. Please include your full name, address and telephone number. We edit all letters. Send them to letters@illinoistimes.com.
—-
GOOD RIDDANCE
What a garish, inelegant eyesore ("Good riddance: Is Nevada final stop for statue?" Nov. 19). Such a great world-class museum and we got this undignified thing front and center. Nevada – great idea.
Tim Moody
Via illinoistimes.com
—-
FABRICATING FAIRNESS
The editor's note regarding Pritzker's fair tax proposal sounds like the never-ending narrative of soak the rich, which was used to garner support from lower-income taxpayers (Nov.12). First of all, there is no such thing as a fair tax. You should know that government will never have enough money, because of its overreach and spending habits. The state income tax was supposed to be temporary and, as we know, it's a permanent source and has been for quite some time.
From 1990-2010, the rate was 3%; from 2011-2014 it increased to 5%; temporarily dropped to 3.75 % from 2015 to June 30, 2017; then increased to 4.95% starting July 1, 2017 until now. In addition, sales taxes at the state and local levels are now at 9% and higher. Gas taxes were raised, as were license plate fees.
There is still not enough money to pay for what the government wants to fund. Priorities should be to cut spending, not to create more programs requiring more revenue for funding. One area would be to eliminate services provided to illegal aliens, such as sanctuary cities. Another would be to not provide Medicaid funding for abortions.
The victim mentality is the never-ending refrain, as is social justice reform. These are equivalent to the phrase "systemic racism" engineered as a talking point, resulting in rioting and looting. The 1619 Project, developed by The New York Times Magazine to place the consequences of slavery and the contributions of Black Americans at the center of the national narrative, has nothing to do with the founding of America and the Constitution. Yet the media is all in for this fabrication of events.
Kenneth Bollin
Springfield
—-

PRITZKER VS. HITLER
As abhorrent as the photo may be, it fails to remotely rise to the level of repulsiveness manifested by those charged with protecting our rights under the Constitution who wish to deny Tim Timoney of his rights under the First Amendment ("Hitler posting draws judicial attention," Nov. 20).
He's an attorney, an officer of the court. A pillar of the community. He's supposed to lead by example and willingly accept being held to a higher standard. I get it. But nowhere within those paradigms is there any provision requiring him to forfeit his rights or acquiesce to being treated as a second-class citizen.
I sincerely doubt he even considered his actions would be considered anti-Semitic, because they simply weren't meant to be. Hitler is equally despised for being a Nazi as an anti-Semite. Timoney was simply – arguably accurately – comparing JB Pritzker's heavy-handed, double-standard, hypocritical actions to those of the infamous dictator.
If you want to be upset with Timoney for what he did, at least understand his rationale and motive for doing it. In fact, if you take the time to think it through and see the obvious analogy, you just may ask him for a copy of the photo.
Jack Carter
Via illinoistimes.com