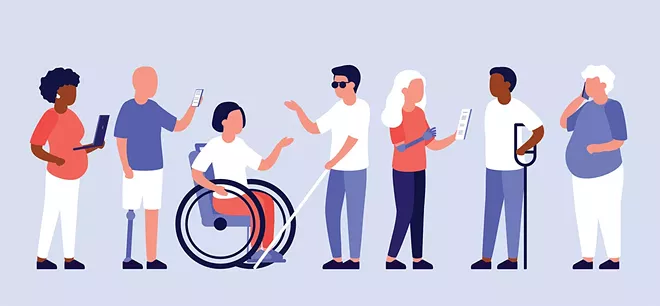 DON'T DISCRIMINATE
Regarding the subminimum wage, my thoughts are if you pay a non-disabled person $15 an hour to sort hangers, you should pay the disabled person the same ("Working for less than minimum wage," Nov. 11). How is it that in 2021, some of us are still fighting for equal pay for equal work? When is it ever OK to discriminate against disabled people? Never.
Sherri Boner
Springfield
WELCOME LIBRIS
The Lincoln Park Neighborhood Association and the residents of Lincoln Park wish to extend a warm neighborly welcome to Tony and Ann Libri ("Former Benedictine campus slated for redevelopment," Nov. 11). The neighborhood is very excited and encouraged to see the pending redevelopment of the former Benedictine campus become a positive and vibrant addition for the neighborhood.
Bill Baskett
President, Lincoln Park Neighborhood Association Chair, Inner City Older Neighborhoods (ICON)
COMMUNITY TREASURES
I know there will be many hurdles ahead, but it is wonderful to know there is an attempt to save, rather than destroy, some true community treasures. The Libris' effort is to be commended. Their efforts will be remembered and their success will be a success for the entire community.
Kathy Trager
Via Facebook.com/illinoistimes
THANKS LIBRIS
As an alum of Ursuline and a proud north-ender, it broke my heart to drive by Benedictine and see it falling into disrepair. Thanks to the Libris for saving these buildings.
Michele Dodson
Via Facebook.com/illinoistimes
HURT PEOPLE HURT OTHERS
I am writing in response to Scott Reeder's article about the differing effects of parole release on incarcerated people and victims ("Parole offers hope for offenders, while victims relive trauma," Oct. 14.) I applaud Mr. Reeder's sensitive treatment of the value of forgiveness. But if we are to move toward genuine healing for our communities, then we need to stop assuming a clear-cut division between perpetrators and victims of harm. As the saying goes, "Hurt people hurt." Victims and perpetrators of violence are often the same people.
As an incarcerated woman, I am particularly attuned to the women in prison who are also victims of violence. In fact, studies indicate that 98% of incarcerated females are survivors of trauma and violence; 90% have been physically abused by partners and family, while 80% have survived sexual violence. These female survivors are among the people who need opportunities for parole.
More broadly, people in prison are often victims of trauma. When people are traumatized by harm and when they receive no support to protect them from further harm or help them heal, they often express their trauma in harm to others. According to a report by the National Institute of Justice, a majority of people in prison are victims of childhood neglect or abuse.
Victim advocate Danielle Sered speaks for many when she says that the state should be offering more to victims than merely the perpetrators' lengthy incarceration. More importantly, the state should support healing and trauma recovery. This includes trauma recovery programs and pathways home, like parole, which can motivate people in prison to reflect on the harm they've caused, participate in programs and transform cycles of violence into healing.
Karen McCarron
Logan Correctional Center