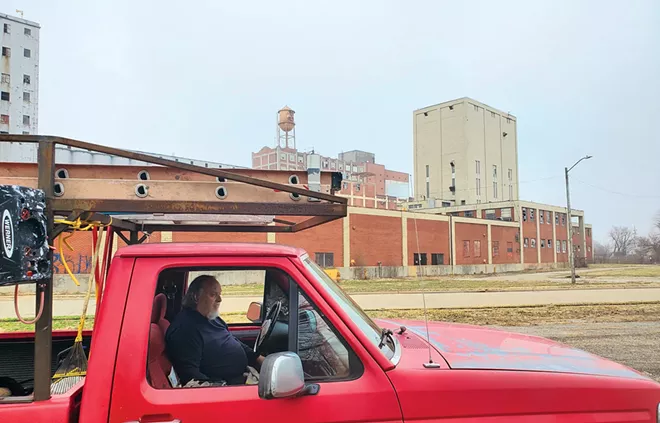 MOVE PILLSBURY FORWARD
The leaders interviewed in Rachel Otwell's article ("Moving Pillsbury forward, inches at a time," April 23) are the same leaders who haven't been able to move Pillsbury forward in decades. What's missing is a city advisory council. This group of appointees from each ward could meet monthly to offer the city recommendations on how to move forward. They would not only represent the community, they would also inform the community. Their meetings should be accessible and open to the public with agendas and minutes available online and appointments that rotate so others in the community can serve.
The Pillsbury Mills issue affects Springfield's health, environment, safety, business, tourism and real estate values. It would be most effective to appoint advisory council members who represent each of these areas. I have written a sample ordinance to create this advisory council. All it needs is a sponsor on city council, so please ask aldermen and the mayor to step forward and give the community the voice and transparency it deserves around this important issue.
Mary Frances
Springfield

DOJ IS MISTAKEN
Illinois has a five-phase plan to limit social and economic activity during the worst of the COVID-19 pandemic, which the United States Department of Justice seeks to invalidate. I served the DOJ for 39 years, and I think the DOJ is seriously mistaken.
We have an emergency, according to the World Health Organization (Jan. 31), our president (March 13) and our governor (March 4). States have emergency authority to protect people during pandemics or national disasters.
The DOJ believes that the Illinois plan limits too much economic activity. However, there is great economic benefit when people are alive and healthy. Furthermore, experience shows that effective limits on social activity reduce disease and death – and actually speeds economic recovery.
The Illinois plan tries to keep us alive and healthy during the worst of this emergency so that we can resume activities, including economic ones, as the emergency eases. I'm sad that my former employer tries to invalidate the governor's plan, because the DOJ's argument would expose more people to disease and death – and the economic damage that comes with it.
Jim Lewis
Springfield

WORSE THAN THE DISEASE
I have noticed that the "tremble and obey warriors" have a few things in common. The obvious one is thinking that they are morally superior to anyone who disagrees with them in the slightest. Second, they employ the false dichotomy fallacy. If you do not unblinkingly believe "stay home and save lives" is the only option, you "don't care if people die."
The facts for Sangamon County show, however, that as long as you stay out of a single nursing home, your chances of dying from the virus are nearly zero, provided that you take very basic precautions.
They've shifted their early position, during which they lectured us that it is nothing at all like the flu to now invoking the Spanish flu as a perfect example of what happens if you quit suffocating the economy and starving business owners and their employees.
By the way, today about 7,700 Americans did not die from COVID-19. Some of them who otherwise would have been alive died because they could not obtain elective or preventative medical care or committed suicide after falling in a deep depression following no means of income for two-and-a-half months.
Ted Harvatin
Springfield