click to enlarge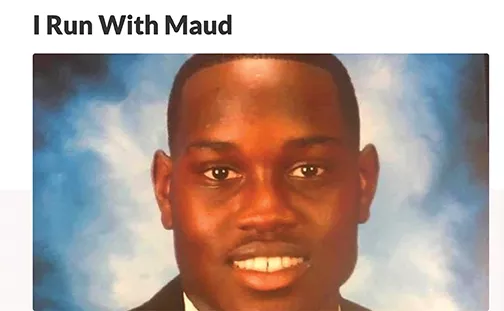 RUN WITH MAUD
I run. I run through my neighborhood. I run in parks. I run on trails. I run in other people's neighborhoods. I feel safe.
On May 8, I joined countless runners across the country who ran 2.23 miles to honor the life of a recently slain 25-year old black man and runner, Ahmaud Arbery.
May 8 would have been Ahmaud's 26th birthday. Interestingly, on this day in history, the Allies celebrated the defeat of Nazi Germany.
We say that we love freedom. We will never have freedom while the belief that any group of people is superior to any other goes unchecked, because that simple idea is horrifically dangerous. Male or female, white or black, native-born or migrated, differently gender partnered or same-gender partnered - lessening people dehumanizes us.
Shining a light on white male supremacy in America doesn't mean that we don't like white men or that we don't like America. It means rejecting the notion that whiteness deserves privileges of superiority and acknowledging the role this myth has played in establishing our country. Is America bad? No. Is it all good? Of course not. Nothing is. A country is not God. It's a political entity.
Until we acknowledge the supremacy myth in order to collectively reject it, American culture and policy will continue to sacredly protect the notion that it is men's right and responsibility to civilize, cultivate, regulate, profit from and systemically destroy black, brown and female bodies.
Ahmaud Arbery is you. He is me. He is every runner. He is our neighbor, our spouse, our child. He is freedom. If he isn't precious to us, then what is?
Sarah Eccles
Springfield
PROTECTION OR REPRESSION?
I do not believe Governor Pritzker when he says he is protecting Illinois residents by taking away our rights. In many counties there are no deaths due to COVID-19. In 30 more days, perhaps 70% of Illinois residents will still have no immunity. How does this help Illinois?
I know he does not care, because even people who have had COVID-19 and are now immune have to still follow the silly rules that seem to expand every time the governor steps to the microphone. After 30 days without an extension, he had no authority to dictate anything.
If he wants to test everyone and give those who fail a number tattoo, perhaps it would be more obvious where he is taking us and why we have laws, even though he is obviously willing to ignore them.
I think I had COVID-19 in January. I did not die, but my rights apparently did. The governor considers not obeying the law as a challenge to his authority and speaks down to those like me but, try to keep this in mind, he works for us.
Jerald Jacobs
Springfield
SPEND MONEY ON WORKERS
I have seen a large number of signs reading, "Hearts for Health Care Workers." There are also full page ads with support for health care workers.
It would be better that instead of spending money on these items, the funds are given to health care workers.
Vinod Gupta
Springfield