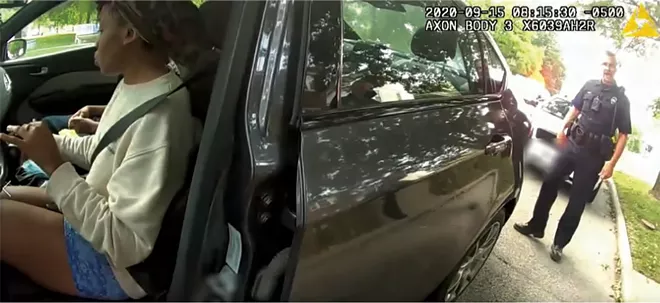 PROTECT CITIZENS
Many people were surprised to learn in last week's cover story ("Force to be reckoned with," April 29) that when police stop you for a broken tail light or any routine traffic violation, they may order you out of your vehicle for no other reason than the traffic stop, and doing so does not violate the Fourth Amendment's prohibition against unreasonable searches and seizures.
Such an order was given to 20-year-old African American Jaala Smylie after she was stopped for speeding last year. When, fearing for her safety, she refused to get out of her car, Springfield police forcibly pulled the pregnant woman from her car and tased her.
While the U.S. Supreme Court in its 1977 Pennsylvania v. Mimms decision ruled that ordering the driver out of the vehicle after a routine traffic stop for no other reason did not violate the Fourth Amendment, vigorous dissents were penned by Justices Thurgood Marshall, John Paul Stevens and William Brennan. Further, just because this seemingly unreasonable conduct does not violate the Fourth Amendment does not make it right.
The state legislature and the Springfield City Council could and should enact a law or ordinance prohibiting the police from ordering drivers or passengers out of their vehicle in routine traffic stops without some additional articulable reason justifying the greater intrusion imposed by an order to exit the vehicle. In the meantime, Mayor Jim Langfelder should issue an order to that effect.
Courts have consistently held states and cities have the power to give citizens more protection from police misconduct than they are afforded by the U.S. Constitution. This is one place where those additional protections are clearly needed.
Sam Cahnman
Springfield

OBEY THE LAW
I have been issued tickets for speeding. I obeyed the officer. I did not refuse his requests. I had no problem. He was doing his job – a difficult job – and deserves our respect, but your cover story sent the wrong message.
Too many times I see that failure to respect police can escalate. You have obviously decided to be part of the problem and not attempt to help find a solution.
Jerald Jacobs
Springfield

MUSIC DOESN'T MATTER
A line in the article was uncalled for: "Warnisher, who is white, was listening to country music as he stopped his patrol car..."
What does the music he was listening to have to do with anything? That line takes away some of the credibility of the article for me. What music was she listening to? Maybe she was listening to a certain style of music that would make her a gangster-wanna-be? If you mentioned the officer's music, then why not hers?
This was a stereotyped line in the article, in my opinion, and ruins the writer's account of events.
Robert Pinkston Via illinoistimes.com

WHITE PRIVILIGE
I have been stopped by the police more than once in my life for speeding and other traffic violations. Not once was I ever told or forced to exit my vehicle, and trust me when I say I've argued. Not always, but I usually got off with a warning. The only difference I know of is that I'm white.
Jonny Ohlzen
Via illinoistimes.com