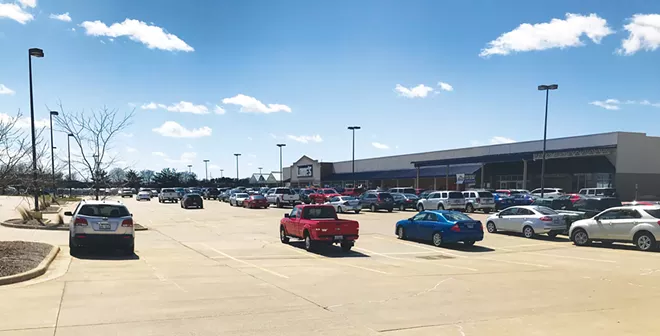 SOCIAL DISTANCING?
I wrote a letter to the editor recently questioning the wisdom of some of the governmental mandates roiling our society. I was told I was divisive, inflammatory and not helpful to public discourse. Hell, my wife tells me that on her good days.
I went to Lowe's at noon on Sunday, March 28, to buy some birdseed. The places that are open are really making a killing; the place was packed. I cruised the parking lot and counted 148 cars.
I can understand the necessity of medical facilities, grocery stores and pharmacies staying open, but what is the greater good of some stores being open but other private businesses must close at the whim of governmental fiat? There obviously were at least 148 customers – plus employees – packed together, defeating the lockdown edict. As I drove home, I went past numerous restaurants and other small businesses, normally bustling, but now shuttered.
I pontificated, if Lowe's is open, why can't I go into one of my favorite restaurants, with the tables spaced six feet apart, and eat? Why can't I go to the tennis club and play tennis with a buddy? The club is 67,000 square feet and we would be 90 feet apart. I am recovering from surgery and I must work out to rebuild my strength, but the YMCA is closed, placing myself and all the other cardio patients at higher risk. Finally, why can't I go down to the neighborhood bar and have a beer with my buddies and argue politics, sitting six feet apart and the bartender delivering sanitized beer. Oh well, I can always go to Lowe's.
I contend the selection of what stores must close and what stores can remain open is not discrimination but disparate treatment. Communism accomplishes this through the equal sharing of misery.
As usual, I know I am going to catch hell for this. I question authority because George Orwell said, "If liberty means anything at all, it means the right to tell people what they do not want to hear."
Bill Klein
Springfield
click to enlarge
BLISS ON TWO WHEELS
My dad, Warren Boner, was an early member of the Springfield Bicycle Club. He rode the centuries, the Hilly Hundreds and probably thousands of miles around Washington Park ("Bicycle dreams," April 2).
In 1984, my mom and I drove my dad and a younger brother to Chicago, where they met up with hundreds more to ride the BAMMI (Bicycle Across the Million Miles of Illinois). This was a one-week ride north to the border, then west across Illinois and south to Quincy – in August. When they arrived in East Moline, the local TV station came to interview him as, at 58, he was the oldest rider. Riding was his passion for many years, until he had to stop riding due to health issues. Thanks for the article.
Sherri Boner
Springfield