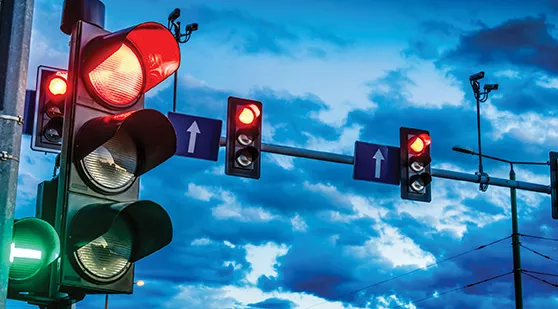 WHO'S IN CHARGE?
Illinois comptroller will stop collecting red light camera fines. However, unless the Secretary of State follows suit, violators won't be able to renew driver licenses at renewal time, leading to driving without a license fines. Where does it leave citizens when the enforcement voice of the state speaks with conflicting messages?

The bigger issue is government entities interpreting and making up law by whim. How are citizens supposed to navigate life where one arm of government nullifies enforcement of a law, but cannot cause another agency to nullify it? What does it say when federal law is in conflict with some of the states but not all of the states?

For example, if you partake of a controlled substance because a state as a subordinate jurisdiction offers it to you (because it's taxed), you put yourself in violation of a superior federal jurisdiction that can restrict your rights because you have violated its prohibition of the controlled substance.

Government entities could determine unified authority. Libertarians will read a troubling assumption of state authority built into that proposal. There is also an implied states rights concept that leaves states free to determine their own policies as laboratories of democracy.

Conclusive answers are elusive, but a hallmark of too much regulation is when regulation becomes too confusing for citizens to keep up with and abide by. When government jurisdictions and entities cannot make up their minds, they should step back and observe before they seek control by enforcement of any kind.
John Levalley
Springfield

IRAN STRIKE NEEDED
IT recently printed letters from Roy Wehrle and Joe McMenamin claiming the president is "dangerous" and "corrupt and impulsively reckless." Apparently, Trump's drone strike on Iran's Gen. Soleimani was sufficient to get their diplomatic panties into a self-righteous knot.

The left's fondness for Islamic jihadis knows no bounds and Iran's mullahs couldn't have had any better friends than President Barack Obama and John Kerry. But the good old days are over. Iran declared war on America 40 years ago and Obama met that threat with political appeasement and a cargo plane full of cash. And no Mr. Wehrle, Trump didn't withdraw from a "treaty" with Iran. Obama never submitted it for ratification because the Senate just didn't think it wise to provide Iranian mullahs with the cash and nuclear fuel they needed to wage war on America and Israel. Obama just did it anyway.

As for not notifying Congress in advance of the drone strikes, Democrats have repeatedly shown they can't be trusted with any classified information. They are ideologically joined at the hip with their media toadies.

McMenamin's impeachment comments are laughable. Alexander Hamilton explained in The Federalist Papers, No. 66 why the power to accuse is separate from the power to remove: "It guards against the danger of persecution from the prevalency of a factious spirit in either of those branches." Senate Republicans will likely end Trump's persecution by factious and seditious House Democrats with a well-deserved rolled-up newspaper across Adam Schiff's nose.
Gary Hetherington
Springfield

GOING DOWN WITH THE SHIP
Regarding the new editor at the State Journal-Register ("SJ-R veteran reporter set to depart," Dec. 5), best of luck to Leisa Richardson.
Signed (by proxy), Edward J. Smith, Captain
RMS Titantic
Jack Carter