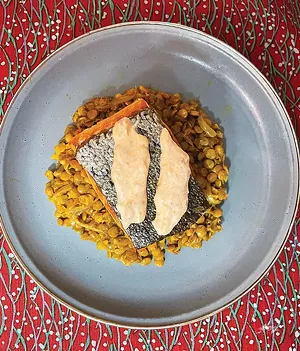 Lentils, whose scientific name is Lens culinaris, are little legumes with lens-shaped seeds. One of our most ancient food crops, lentils were first cultivated 10,000 years ago in an area of the Middle East known as the Fertile Crescent. Lentils are an inexpensive source of high-quality protein and fiber and are becoming increasingly popular as more people embrace plant-based and gluten-free diets.
Growing up, my introduction to lentils came in the form of the lentil soup my father used to make. He was of German ancestry and the version he served came topped with a slice of smoked blutwurst (blood sausage) and a side of rye bread. And yes, blutwurst really is made from pigs' blood! This mushy brown soup with the seared and charred reddish-brown sausage was responsible for the aversion to lentils that I carried into early adulthood.
My aversion to lentils changed into appreciation when I first tasted the traditional Italian dish Cotechino with Lentils. Cotechino is a super-rich cooked sausage with an unctuous texture and lentils provide the perfect textural and flavor counterpoint. My appreciation for lentils has deepened as I've gotten older and learned that cultures that consume large amounts of lentils have lower rates of prostate cancer, a major health concern in older men. Lentils contain phytoestrogens, which suppress tumor growth in prostate cells.
Lentils are very high in protein and fiber. When paired with a whole grain, lentils are an excellent meat substitute. Rice, oats, wheat, rye and corn provide complementary essential amino acids for lentils. These grains contain the cysteine and methionine (which lentils lack), and lentils provide the lysine that the grains are low in.
There are several varieties of lentils available. Brown lentils are the least expensive and have a mild earthy flavor. They hold shape if gently cooked, but become mushy if overcooked, which makes them good for soups and stews. French green lentils (or du Puy lentils) have a nuttier flavor, stay firm when cooked, and are good for salads and tacos. Beluga lentils are tiny, shiny and black. They are more expensive and, when cooked, resemble caviar. They don't get mushy and hold their shape and have an al dente texture. Red lentils are milder and sweeter, and because they have had their hulls removed, cook quickly, turn golden, and are good for curries and dals.
Lentils are quick and easy to cook. Unlike other dried beans, they don't need to be soaked overnight before you cook them. Start by picking through to remove any tiny stones or debris, and then rinse in cold water. Place in a saucepan and cover with about ½ inch of fresh water with a pinch of salt. Lentils will double or triple in volume as they cook. For added flavor, chicken or vegetable stock can be used instead of water. Bay leaves and a smashed garlic are a good addition. Bring the pot to a boil and reduce to a simmer, uncovered. Most varieties cook in about 20 to 30 minutes, except for red lentils, which cook in about 5 minutes. Check them towards the end of the cooking time and add more water if needed. Except for red lentils, simmer until tender but not mushy, then drain well.
Pan-fried Salmon with Lentils
Lentils are a good companion for many animal proteins. Here they are paired with salmon.
Serves 4
Ingredients
4 6-8 ounce salmon fillets, skin on
2 tablespoons oil for pan frying (such as rice bran, coconut or canola oil)

For the lentils:
2 tablespoons coconut oil
1 medium onion, thinly sliced
4 cloves garlic, peeled and chopped
1 tablespoon cumin seeds
1 tablespoon turmeric
2 teaspoons Garam Masala
1 cup French green lentils (Lentils du Puy)
2 cups vegetable stock
½ cup dry white wine
Salt to taste

For the Chili Yogurt Sauce:
1 cup plain, full fat Greek yogurt
1 clove garlic, minced
2 tablespoons harissa or sambal oelek
1 tablespoon olive oil
Preparation
Bring the salmon to room temperature and pat dry with paper towels.
In a medium saucepan, over medium-high heat, warm the coconut oil and add the onions with a pinch of salt. Sauté until golden, about 5-10 minutes. Add the garlic and spices and cook until fragrant. Be careful not to burn the garlic. Add the lentils, stock and wine. Bring to a boil and reduce to a simmer, uncovered. Cook the lentils until tender, about 20 minutes. Strain any excess liquid.
Thoroughly combine the ingredients for the chili yogurt sauce and set aside.
Heat a non-stick or cast-iron pan over high heat. Add the coconut oil. Salt the salmon and add to the pan, skin-side down. Reduce the heat to medium and when the flesh starts to turn opaque, at about 5 minutes, carefully turn the fillets over and cook flesh-side down for another 3-5 minutes.
Serve the salmon over the lentils, skin-side up, and drizzle with the yogurt sauce.
Sprouted Lentil Salad
Lentils need to be cooked first to be easily digested, but sprouted lentils can be eaten raw. Sprouted lentils are grassy and crunchy and are good in slaws or salads. Allow 4 days for sprouting.
Ingredients
To sprout the lentils:
1 cup dry French green du Puy or black beluga lentils, rinsed and picked over
For the salad:
1 small red onion, minced
¼ cup parsley, minced
4 handfuls baby spinach, chopped
2 tomatoes, diced
2 tablespoons red wine vinegar
3 tablespoons extra-virgin olive oil
½ cup crumbled feta
Preparation
To sprout the lentils:
Place lentils in a 1-quart container and fill with water. Cover loosely with a perforated lid or coffee filter fastened with a rubber band and let soak for at least 8 hours.
Drain and rinse the lentils in a fine-mesh strainer; return lentils to the container and re-cover. Repeat the procedure 2 times a day, until sprouts begin to form, usually in 3 to 4 days.
When sprouts have grown to desired length, spread lentils on a sheet tray lined with paper towels to dry. Return sprouted lentils to the container and store in the refrigerator until ready to use.
To assemble the salad:
Combine all the ingredients except the cheese in a large bowl.
Allow the ingredients to marinate for at least 30 minutes. Top with the cheese before serving.