click to enlarge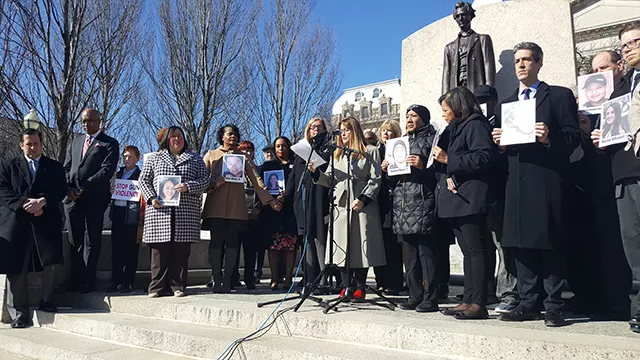 Illinois lawmakers walked out of the Capitol building on Wednesday morning to honor victims of the Marjory Stoneman Douglas High School shooting.
Led by Sen. Melinda Bush, D-Grayslake, lawmakers joined student demonstrations across the nation on the one-month anniversary of the Parkland shooting that killed 17 people.
"I helped to organize this walkout with my colleagues not to preach or lecture about guns," Bush said in her opening address, "but to honor the 17 students and staff members who gunned down a month ago at Marjory Stoneman Douglas High School in Parkland, Florida."
It was a bipartisan event.
"We are here today not as politicians, but as colleagues, committed to working together with one another on behalf of students, teachers, police officers, parents, and all members of our community who should be able to live, or work, or learn, or worship, or do anything else without the fear that their lives are in danger," Sen. Chris Nybo, R-Elmhurst, proclaimed.
Following Nybo's statement, Bush and Sen. Sue Rezin, R-Morris, read out the names of the Parkland victims. As each victim was named, a lawmaker held up the victim's picture, putting 17 faces to the recent tragedy. Throughout the reading, the senators' voice trembled.
In addition to the Parkland students, lawmakers honored a Chicago police officer who was recently shot and killed by a man who had run from other officers.
Sen. Jacqueline Collins, D-Chicago, said, "It would be remiss of us today not to remember the epidemic of gun violence recently took the life of one sworn protector, police commander Paul Bauer, who died in the line of duty in Chicago," Sen. Jacqueline Collins, D-Chicago, said. Following speeches, demonstrators remained silent for three minutes, one minute for Bauer and two for the students slain in Florida.
"We call gun violence an epidemic for a good reason," Collins said. "(G)uns and bullets do not discriminate against race, religion, age, gender, or creed, whether you wear a school uniform, or a police uniform. For that reason, we must stand united."
The demonstration followed Gov. Bruce Rauner's veto of a bill that would have required gun dealerships to register with the state. The governor called the bill "onerous" and "duplicative," as Illinois gun dealers already register with the federal government.
During a press conference late Wednesday morning, Rauner promoted a newly formed Legislative Public Safety Group and the Interstate Crime Prevention Network, which will work to stem illegal gun trafficking across state borders.
"I was also meeting (this morning) with our leaders at the terrorism task force that we have for the state of Illinois," Rauner said. "They are working right now with my support and coordination to come up with a plan to increase public school safety."
While the governor promoted task forces and safety groups, the Senate on Wednesday passed three gun bills. The measures include a ban on bump stocks, a mandatory 72 hour waiting period to buy assault weapons and a ban on purchases of assault weapons by anyone younger than 21.
However, there was no attempt by lawmakers to override Rauner's veto of the gun dealer licensure bill. Sen. Don Harmon, D-Oak Park, said that he hasn't given up. "I will move to override it, and I am hopeful that my colleagues will join me in making sure this common sense measure becomes law," he said.
Megan Swett is an editorial intern for Illinois Times through the public affairs reporting program of University of Illinois Springfield. Contact her at intern@illinoistimes.com.