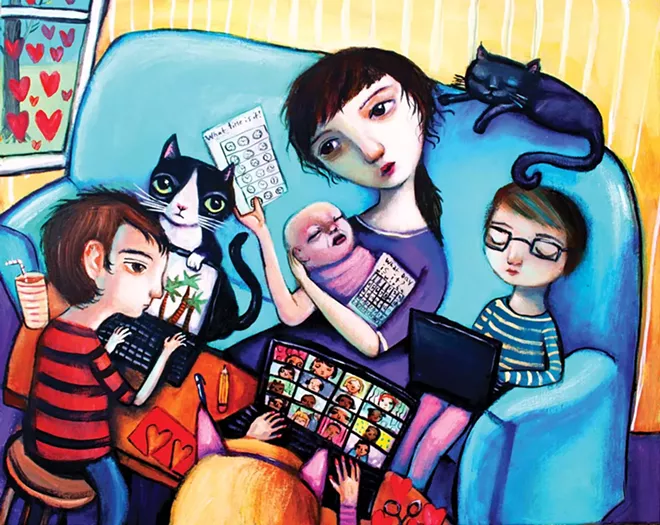 In mid-March, when Buffy Lael-Wolf realized in-person school was indefinitely postponed, she sprang into action. She knew her 10-year-old daughter, Nea, thrived on routine, and she wasn't going to skip a beat. She felt her professional background had prepared her. "If I wasn't going to be a nurse, I was going to be a teacher. So I was like, 'Okay, I got this, I can do this. No big deal.'" Lael-Wolf is a former nurse, who works in information management for Hospital Sisters Health System in Springfield. She has been working from home as a result of the pandemic.
Lael-Wolf made a detailed schedule "because at that point, teachers really weren't talking about any curriculum." So starting at 9:30 a.m. and ending at 3:30 p.m., she planned out her daughter's day, from breakfast that included a review of the weather, to science, arts and crafts, outdoor time and more.
Initially, Illinois schools entered "act of God" days, instead of emergency days. State education officials encouraged districts "to provide learning opportunities to all students." The days didn't count against the required number to round out the school year, which ended May 27 for Springfield public schools, as previously scheduled. On March 31 "remote learning" days started. When the state changed from "act of God" days to "remote learning" days, it signaled that schooling at home was supposed to get more serious.
But what exactly does remote learning look like? Depends who you ask. The way it works varies between districts and educators.
Around the end of March, District 186 staff handed out Chromebooks and iPads to students to access online work. At first, Lael-Wolf figured she'd forgo the option of picking one up, since her family was already set with internet access and enough electronic devices. But she quickly found out accessing information about assignments was not easy without a device that already had apps the school used installed. "We ran into things like passwords, and getting into Google Classroom you had to jump through seven hoops if you weren't using her device." Lael-Wolf said there seemed to be too many platforms being used to distribute and collect materials. If she weren't a well-educated, master's-degree-holding person, "This would be confusing as hell." The district is currently in the process of phasing in Canvas, a learning management system that's meant to streamline things. But not all teachers had begun to switch over, and various apps and platforms were still used throughout the district over the past couple of months.
Nea, a fourth-grader at Butler Elementary, has autism. She has a resource teacher who helps her with assignments. While they had check-ins during remote learning days, it wasn't the same as having a support person to regularly turn to. And, as Nea will tell you, remote learning did not amount to a home school experience. "If I was actually a home school kid, I would go to museums and other places and play with other home schooling kids. But since we're in quarantine right now, we can't do that," said Nea.
And as it turned out, the strict schedule her mother had lovingly set up was not sustainable. The detailed spreadsheet turned into a simpler daily "to-do" list. Said Lael-Wolf, "I did hit a wall. I was just like, I can't do this anymore. I can't be the teacher, and the cheerleader and the resource teacher, and the social worker, and the counselor and work from home." Though Nea's dad is a stay-at-home parent, Nea prefers getting help from her mom. Finding work spaces was tricky in their house without a spare room, and with no defined office space.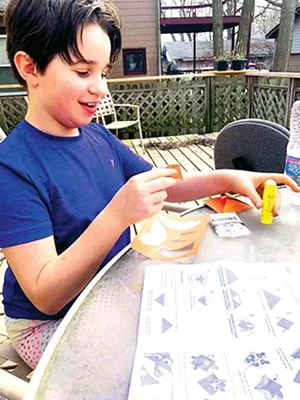 "I wasn't really mad at anybody," said Lael-Wolf. "I think it was more mad at the situation because it was just so overwhelming for all of us." Eventually, a shortened amount of time spent on schoolwork and adding flexibility to when it was done made life more manageable. Nea's homeroom teacher also set up office hours on Zoom, "where students could pop in there and ask questions" a couple of times a week, which Lael-Wolf said was a helpful supplement to the online classes. According to the state board of education, an appropriate amount of time for kids to focus on school at home, for fourth-graders, is one hour minimum, two hours maximum, per day. Another recommendation sent out in late March from the state board: "Simplicity is best during this time – simplicity of the framework, of communication structures, of expectations."
Nea is an avid ice skater and hockey player. Missing out on those activities has been one of the hardest parts of the stay-at-home orders. But similar to how her family found ways to adapt to a new learning environment, she's taken to concrete instead of ice. Her rollerblading is regularly improving.
Teachers as parents
Resilience and adaptability has been paramount for teachers as well. Corina Ousley teaches fourth grade at Dubois Elementary School. On the last day of in-person classes, she hugged her students and reassured them. "I just had this gut feeling that we were not going to be coming back." As parent of an 18-month-old, an 11-year-old and a 13-year-old, Ousley said, "It's been challenging." The toddler was taken out of child care. Child care centers have largely closed or reduced their capacity as a result of the pandemic. "I could feel what a lot of parents probably were feeling ... which is just a lot of pressure," said Ousley. She added, "I think the district did the best that they possibly could. I think the teachers did their best." She said she struggled with "just that feeling of not knowing what's going to happen next, but still having to keep hope alive."
While keeping up with multiple home and work duties, Ousley maintained regular, if not extended, work hours. Parents had her personal cellphone number and she habitually checked in with families outside of her scheduled Zoom calls. Having to adjust her schedule meant most days she didn't wind down until 8 p.m. or so. Before the pandemic, "I was already busy." Ousley said she was lucky to get help with child care from a family member, and ended up paying a friend to help as well. She used Zoom meetings with students as "wellness checks" in addition to providing instruction.
While no one had planned for weeks of remote learning days, the district was prepared with enough iPads and Chromebooks to offer one for each student to use at home. The devices were to be returned before summer. And with summer comes impending uncertainty regarding the coming school year.
According to the district, on a weekly basis about 75% of students "engaged" with remote learning. But defining just what that word means has been hard for teachers and school officials alike. Some teachers say the bar for engagement was low. And it still meant that many students were largely unaccounted for over the past couple months. It raises questions about how to track engagement in a new school year if remote learning continues.
Waiting pains
When it comes to what school in the fall will look like, District 186 superintendent Jennifer Gill said she's waiting for guidance from the state board of education. The state board is waiting for guidance from the governor. The governor is waiting for public health data. According to his "Restore Illinois" plan, schools reopening for in-person classes won't happen until Phase Four. That's the second-to-last phase, which requires that rates of infection decline, with testing widely available and contact tracing commonplace. And even in that phase, masks and social distancing are to be utilized. Getting kids to keep masks on and six feet apart from each other within a public school environment seems improbable.
No one knows what the fall will look like, but that doesn't mean people aren't asking. "This is a very hard question to answer," said Gill. "There are so many unknown factors that could play into decision making that has to happen between now and the beginning of the school year." When kids do enter classrooms again, "We're going to have to make sure that we have a top-notch, first-class sanitizing plan of action," said Gill. Some have speculated about a scenario with a blend of remote learning and in-person instruction, including split schedules that would mean fewer kids in school buildings at a time. But no one yet knows for sure.
What is known is that some students will be returning to school grounds this summer. SCOPE, which is after-school and summer programming, will be in effect for parents who can prove they are frontline or essential workers. For now, only nine students and one adult are allowed per room. Those guidelines will broaden as Springfield enters later stages of the governor's reopening plan. SCOPE is scheduled to provide child care for parents who are essential workers starting June 8 at Enos Elementary School.
Food service will continue as well. Over the past several weeks, around 1,350 students have been served on a daily basis, getting two meals each. That's about 10% of students in the district. District 186 has enough low-income students so that all students qualify for free breakfast and lunch. Getting food to kids has been and continues to be a top priority. Sites for meal distribution over the summer include all three high schools and Franklin Middle School.
Expectations during remote-learning days had been nebulous. The state recommended not to introduce new content. In Springfield public schools, elementary-aged kids were assessed as they would have been during a regular school year, based on numbers versus grades. Older kids retained their third-quarter grades with the ability to bring them up. But entering a new school year the same way is impossible. And what, if any, supplemental programming might come beyond summer school for those who didn't engage is still unclear.
Bittersweet goodbyes
On May 13, Southeast High School senior Kaylea Howze stood outside a row of townhouses off of Chatham Road on the west side of town where she lives. Just like some have celebrated birthdays with parades, Howze had her own parade prom. She added ruffles to a sequined champagne-colored dress she already owned. For about two hours, friends and family drove by to take pictures from a safe distance. Her corsage, flowers and a dinner from Bella Milano were donated by participants of the "adopt a senior" program, through which area residents gave end-of-year goodies to seniors to help quell the frustrations of going through major milestones mid-pandemic.
While Howze missed the chance to hang out with friends that night, she said she appreciated the attention. "I wouldn't say it was as magical as the real thing, but it was pretty close." Being in the spotlight is not something the soft-spoken Howze is used to. She shares her home with her mom and five others, including two who are school-aged kids she helps out with. Figuring out remote learning was difficult at first because there is only one laptop in the home. Once Howze got a district device, that made things easier. Still, her internet connection can be spotty.
Howze said she enjoyed the flexibility of online learning, "because I can work at my own pace." She said her teachers opted not to do Zoom classes. "The only time I come on Zoom is when I'm meeting with Superintendent Gill for our student roundtable," said Howze. As part of the student council, she offered input on graduation options. Graduation ceremonies have gone virtual. Videos recognizing honor students are on the district's websites, and virtual ceremonies with student photos and recorded speeches will be broadcast on FOX Illinois May 30. In early June, graduates will have the option to walk a stage outside their schools and get a photo as five or fewer guests watch.
Meanwhile, Howze is left wondering what her first year of college will look like. She's slated to attend Harris-Stowe State University in St. Louis in the fall. Like K-12 schools, colleges are largely waiting to decide just what form classes will take. Howze wants to study to be a nurse.
Becky Martin is a high school teacher who's also saying goodbye. She taught English at Lanphier High School and retired at the end of the school year. She won't go out with the regular retirement parties and recognition.
Guidance from the state board of education during remote learning days has been above all, "do no harm." Martin kept that in mind when entering final grades for her students, many of whom balanced jobs and family obligations. "We don't know what their situation is. Most of my kids are working full time," said Martin. Some take care of siblings and lack reliable internet and devices, despite the district's efforts to provide both.
Martin treated her Zoom calls as check-ins during which students could ask about assignments, rather than a time for instruction. Martin said she, like a lot of teachers, went into education out of a desire to "fix things" and to help people. She's retiring after a career of doing her best to meet kids where they were, and providing them with basic needs, including a regular stash of snacks. Retiring feels bittersweet. "Over the years, it's gotten into almost a counseling thing where you try to help them fix things beyond their grades." She knows students will have an increased need for that counseling as a result of the pandemic.
Time to plan
Springfield Education Association union president Aaron Graves said planning for the next school year needs to begin and safety should be the priority. "If we don't have a clearly thought out and articulated plan, our people are not going to feel comfortable going back," he said.
"We want to get a bunch of actual working stiffs at the table. ... If you really want to do it right, you have to get the people who are going to implement the plan and be on the front lines to think through things."
Elbert Betts agrees that the time is nearing to get working groups together to discuss what a potential future of remote learning would look like. Regardless of state recommendations, district leaders have the ability to largely chart their own courses. "We need to start trying to put together some kind of a group," Betts said, to discuss plans as they pertain to various demographics and needs.
Betts, a longtime Springfield educator, assists with the NAACP alternative education program. It has educated hundreds of expelled students, many of whom go on to receive their high school diplomas. He said all 48 students in the program were contacted during remote learning days to see what they might need. Some had paper assignments dropped off to them. "What this has done to us is going to wake us up," said Betts.
Gill said getting through the end of the school year had been a top priority. Meal distribution. Device distribution. Returning devices. Building maintenance. Tracking engagement. Submitting final grades. Teachers juggling family and other basic needs mid-pandemic. It's been a lot. But she said she will work all summer, and that meetings are imminent. She said she envisions forming a number of small groups to look at various issues, such as special ed.
Gill said what is clear is that district employees have largely gone above and beyond to ensure students have support through these challenging times. "We do know one thing is that a computer screen can't really replace a teacher."
Contact Rachel Otwell at rotwell@illinoistimes.com.