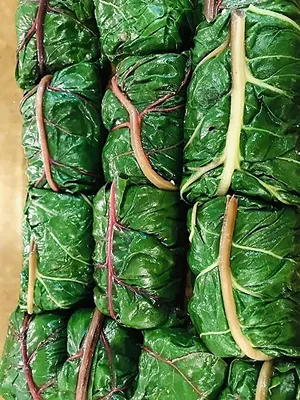 This has been an odd year in my garden. I started dozens of plants from seed in late winter and have watched them grow from tiny seedlings in my basement to lush, vigorous plants covered with huge green tomatoes and dozens of tiny peppers. They've been weeded and watered and lovingly fed while I've waited patiently to bring in a big summer harvest. It's now mid-August and I'm still waiting, though somewhat less patiently, for the deluge of produce that has usually started by now. Whether it's the result of a cool spring or heavy rain, there's been a frustrating shortage of ripe fruit.
There is, however, one corner of my veggie garden that has thrived particularly well this season. Swiss chard, known as silverbeet in the United Kingdom, is a generous producer of tender dark green leaves with thick stems that come in a rainbow of bright hues. A close relative of beetroot, Swiss chard does well under the hot summer sun, unlike spinach, which goes to seed quickly when the mercury rises high.
Swiss chard is popular in Europe, where it is used primarily for its tasty stems. Indeed many old-world recipes involve preparing just the stems and discarding or reserving the leaves for use in another dish like soup. Here in the United States, the stems and leaves are often prepared together, though the fleshy stems should be removed, finely chopped and sautéed first before adding the leaves because they take longer to cook. The bright colors will fade with cooking and may stain other foods, so keep that in mind when adding to recipes. Young chard leaves make a fine substitute for lettuce in the summer months, while the larger mature leaves are delicious sautéed with garlic and lemon or used to roll up savory fillings in a casserole.
Lamb and herb Swiss chard rolls
12 large Swiss chard leaves
1 tablespoon olive oil
1 onion, finely chopped
3 cloves garlic, minced
¼ cup each chopped parsley and dill
Zest of one lemon
½ cup crumbled feta cheese
½ teaspoon red pepper flakes, to taste
½ teaspoon salt
¼ cup currants or chopped golden raisins (optional)
1 pound ground lamb or meat of choice (or substitute chopped cooked mushrooms)
1 cup cooked brown rice
Greek yogurt, to serve
Bring a large pot of salted water to a boil. Blanch the chard leaves and stems for 30 seconds, then transfer to a bowl of cold water. Reserve ½ cup of blanching water for the baking dish.
Cut off the stem at the base of the leaf, then use a paring knife to cut out the thickest part of the stem in a v shape. Set the trimmed leaves aside and finely dice the stems.
Heat a skillet over medium-high heat and add the olive oil. When the oil is shimmering, add the chard stems, diced onion and a pinch of salt and cook until softened and lightly browned, about 5-7 minutes. Transfer to a mixing bowl and set it aside to cool slightly before adding the garlic, herbs, zest, feta, currants, cooked rice and lamb. Mix well.
Preheat the oven to 350 degrees. Lightly oil a 9-inch by 13-inch baking dish (or use any oven-safe dish that will fit a dozen rolls). Spoon 1/3 cup of filling into the center of a chard leaf before folding the sides over the filling and rolling it up. Place the chard roll seam side down in the baking dish and repeat with the remaining leaves. Pour the quarter cup of reserved blanching water over the rolls and cover tightly with foil. Bake for one hour or until the internal temperature of the rolls reaches 155 degrees. Let rest at least 15 minutes before serving. Serve with the Greek yogurt and additional herbs, if desired. Excellent at room temperature.
Swiss chard gratin
2 tablespoons butter
½ cup bread crumbs
1 pound Swiss chard
1 onion, sliced thin
2-3 cloves garlic minced
1 cup heavy cream
Freshly grated nutmeg and black pepper
½ cup grated parmesan
Butter a six-cup gratin dish and preheat the oven to 400 degrees. Melt one tablespoon of butter in a skillet over medium heat and toast the bread crumbs. Transfer them to a dish and set aside.
Remove the stems from the chard and chop them into ¼-inch dice. Slice the leaves into ½-inch-wide ribbons and set aside. Heat the remaining tablespoon of butter in the skillet over medium-high heat and add the Swiss chard stems, garlic and onion. Add a pinch of salt and sauté for three or four minutes until lightly softened and just beginning to brown. Add the leaves and another small pinch of salt and continue to cook for two to three minutes more, until the leaves have wilted.
Transfer the mixture to the gratin dish, leaving any excess liquid behind in the sauté pan. Add the heavy cream to the liquid in the sauté pan along with a pinch of freshly grated nutmeg and black pepper. Bring to a boil, then reduce heat and simmer until reduced by about half. Pour the reduced cream over the sautéed vegetables in the gratin dish. Mixing lightly to evenly combine. Toss the grated cheese with the toasted breadcrumbs, then spread this over the vegetables and cream. Transfer to a preheated oven and bake for 25-30 minutes until golden and bubbly. (You may want to lightly cover the dish foil halfway through baking to prevent it from becoming too brown.) Let rest 15 minutes before serving.