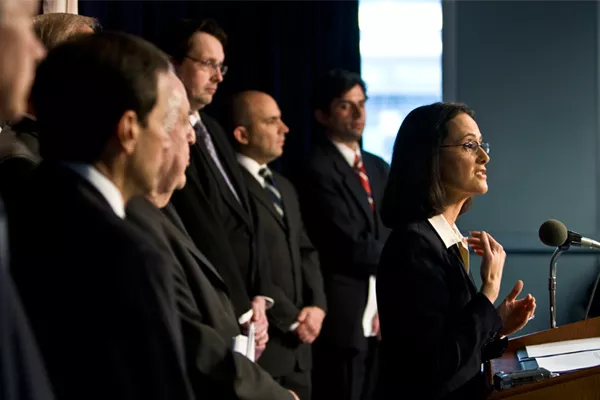 Legislators, union representatives and other state workers are bracing for a lawsuit filed by Attorney General Lisa Madigan which could suspend state workers' paychecks. The decision made by Madigan was designed to put pressure on lawmakers to pass a budget, something the state has been without for over 19 months.
On Jan. 26, Madigan filed a lawsuit in St. Clair County Circuit Court, requesting that a 2015 injunction between the American Federation of State, County and Municipal Employees and Gov. Bruce Rauner be terminated. The injunction in that case gave the state comptroller full authorization to pay state employees' full wages, which has been ongoing since the infancy of the budget impasse. "The temporary injunction has allowed the legislative and executive branches to fail to fulfill their constitutional duties without facing the real threat of a government shutdown," the lawsuit states.
James Muhammad, vice president of the State Employees International Union (SEIU), stated his concerns towards the impending lawsuit. "I wished it wouldn't have come to this juncture, but here we are," said Muhammad.
If the motion is granted, the injunction will start on Feb. 28. This date was set by the attorney general so it would give lawmakers enough time to pass a budget. That said, state representatives from both political parties have already responded to the lawsuit. Rep. Sue Scherer, D-Decatur, introduced a bill that would pay state employees up to the end of the fiscal year in June. Rep. Avery Bourne, R-Raymond, filed a proposal which would continue appropriations to state workers on a permanent basis.
According to Scherer, the consequences of not paying state employees could lead to a government shutdown. "There are people whose lives literally depend on their access to state services, in addition to the thousands of workers whose families depend on their paycheck to pay bills and put food on the table," Scherer said in a press release. "It terrifies me to think about what will happen to the elderly, the disabled, and our entire community if the state shuts down."
Shortly after Madigan announced the lawsuit, Bourne voiced her displeasure in a written statement. "The recent court filing from Attorney General Lisa Madigan can only be described as putting politics over people," said Bourne. "This politically motivated action is the same kind of Chicago-style politics that the Madigans too often employ."
Bourne also said that the injunction could lead to a government shutdown, denouncing the attorney general for playing political hardball with state workers' lives. "Madigan chose to instead disrupt state employee pay in an attempt to force a shutdown of state government, crippling vital government services and endangering families who rely on them," she said.
Muhammad of SEIU doesn't fault Madigan for her actions, criticizing Rauner instead. "Gov. Rauner has put the lawsuit into motion for not living up to his constitutional duties," said Muhammad. "We're just hoping that the governor puts an end to this."
Muhammad says that many of the state workers that the SEIU represents are low-wage earners. "They are already low-wage workers. They are already struggling to pay bills," he said. "Some of those workers, such as those in child care, are receiving late payments."
Scherer believes that the lawsuit is a wakeup call for lawmakers to finally negotiate for a budget. "We need a budget, not games, and I implore the governor and lawmakers on both sides of the aisle to work together to resolve this situation as quickly as possible," said Scherer. "Hardworking families are already hurting because of the ongoing budget impasse, and a shutdown of state government would cause even more severe, lasting damage."
Alex Camp is an editorial intern for Illinois Times. He is pursuing his master's degree at University of Illinois Springfield. Contact him at intern@illinoistimes.com.