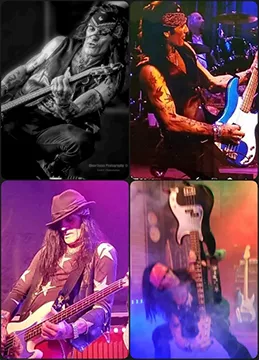 Welcome one and all to July of 2021. As we work our way through the vestiges of a pandemic that reached global proportions, our music community continues to expand toward what we had before COVID-19 altered almost everything.
In the midst of this ever-changing world in which we live in, some things remain the same, as Micky Shomidie, a local hero and well-known music figure throughout the country, knows only too well. Diagnosed with throat cancer a few years ago, Micky says he's just about reached the end of his playing time and is doing one last show this Saturday, July 3, at Koo Koo's 2 on Sangamon Avenue. Aptly and respectfully named Micky's VIP Rockstar Legacy Party, the bar concert features friends Rock House rocking the house from 8 to midnight, with Micky hitting the stage at the end of the first set between 8:45 and 9. Joined by Andy Armstrong, his longtime lead singer and constant cohort in making marvelous music mayhem in the bands Tuff Luck and House of Nasty, Micky will strap on the bass for a few tunes or for as long as his strength holds out to rock your world one more, and maybe final, time.
"My doctors gave me three to six months, up to maybe a year to live, with a shot at immuno-therapy to buy some more time, but there are no guarantees ever," Micky explained. "I just want to say that people always ask me if I have any regrets. My answer is always 'No!' Why? Because I legitimately chased a dream which, by sacrificing time away from kids, losing jobs, houses, girlfriends, wives – nine out of 10 musicians are actually scared to do when it comes down to it. And if I were to have made my dream, we wouldn't even be having this conversation, because I could have provided a better life for more of my family. The point is, I did it to try to make a better life for my children and family by doing it the only way I knew how."
One part of the dream that continues is Micky's contribution to original music, created in and by the world he thrived in for nearly a half century. A few years ago, he found some long-lost, mixing board tapes of one of his bands made by the late area bassist, vocalist and soundman, Jerry Turley and other live material recorded by legendary local sound engineer Ric Major. When a Florida friend with a recording studio offered his services, Micky produced a collection of never-before-heard live Nasty Nasty songs on CD to sell at his legacy gig, along with band T-shirts as well. Thanks for all the good work and great memories you've given to this town and people all over, Micky. Your legacy is safe and sound in our hearts and minds.
The other legacy event going on this weekend is called the LoG – which stands for Legacy of Giving and features over 60 acts on several stages around the Old State Capitol on Friday and Saturday, with all proceeds going to area charities. Add LoG, the first big music festival back on the post-pandemic streets of Springfield, to the Fourth of July weekend festivities happening, and I dare say things are jumping and pumping again.
I can't help but note that the first local theater reopens on July 9, as the Legacy (you got that right) Theatre presents the wonderful heritage musical, The Music Man, throughout the month of July.
Here's a toast to the long and lasting legacy of live music in our community.