Duel proves gripping, timely
A hard watch for many reasons, Ridley Scott's The Last Duel is a bracing, captivating and, regrettably, still timely film that revolves around one incident told from three different perspectives. Adapted from the book by Eric Jager, the time is the late 14th century France, the titular event being the last government-sanctioned duel between former colleagues who've become bitter rivals. Their lives and a woman's honor hang in the balance. Marguerite de Carrouges (Jodie Comer) has accused nobleman Jacque Le Gris (Adam Driver) of rape, a charge he vehemently denies. After being socially ridiculed, her husband, Jean de Carrouges (Matt Damon), demands satisfaction in the form of a death match.
Ridley Scott provides the sort of sumptuous period visuals we've come to expect of him, the film a collection of minute details, meticulously rendered. That he manages to make the two-and-a-half-hour film breeze by, even though we see the same tale three times, is a testament to his storytelling skills, the slight, subtle variations in each version cleverly executed, each a surprise that casts the key events in a different light. Infuriating and gripping, The Last Duel is one you won't shake off easily. In theaters.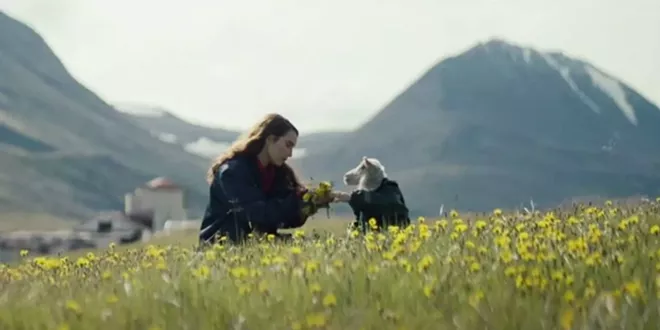 Bizarre Lamb oddest entry of 2021
Valdimar Johannsson's Lamb is not for all tastes. Even so, once you start watching it, it's hard to look away. Maria and Ingvar (Noomi Rapace and Hilmer Gudnason) live on a remote farm in Iceland, tilling the land, raising sheep and enjoying the solitude. However, their quiet existence is upset one day when a newborn lamb arrives that's a bit...odd. So much so, they begin raising it as a child, bottle feeding it, rocking it to sleep and tucking it in a crib that's already present in their home.
Audacious, horrifying and hilarious, the film is a genre-defying feature, one that straddles and breaks the boundaries of the domestic drama, horror movies and social satire, with a dash of folklore as well. The two engaging leads and a sense of mounting dread keep us hooked despite the lunacy taking place. I can't recall seeing a film where I was repulsed, yet laughed uproariously in the same moment; Lamb managed to elicit this response on more than one occasion. The search for deeper meaning yields little as this is a movie made for visceral response and as such, succeeds handsomely. In theaters.
Dream too artsy for its own good
There's a good movie somewhere in Claudia Llosa's Fever Dream, a film intent on adhering to its title, to its detriment. Based on the novel by Samanta Schweblin, the story begins with an unsettling sight – unable to move, a young woman named Amanda (Maria Valverde) is being drug through a forest by a boy named David. Where she's being taken and why is one of the many mysteries Llosa takes far too long to reveal as the viewer is treated to extended flashbacks set in a rural community with a multitude of secrets.
The linchpin of the story is Carola (Dolores Fonzi), a woman who, under drastic circumstances, turns to a purveyor of folk medicine to help save her son. He undergoes a ritual that splits his consciousness into two separate bodies. Obviously, this comes back to haunt her as her child isn't quite right afterwards. Answers as to why this is done are slow in coming, while efforts to tie environmental concerns into the narrative seems desperate. Too clever for its own good, Fever Dream longs to say something important but can't get out of its own way to do so. Streaming on Netflix.