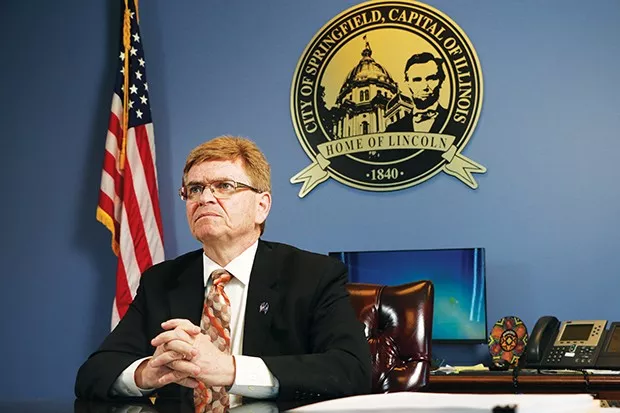 Mayor Jim Langfelder has authorized $44,572 for a building associated with the Springfield chapter of the National Association for the Advancement of Colored People, which couldn't get money from the city council last fall.
The funds are going for HVAC and roof repairs on a building at 801 South 11th Street that Visions 1908, a fledgling nonprofit, purchased last fall. The NAACP is using the premises for offices and an alternative high school. The building, vacant for years, had a leaky roof and needed other fixes, Teresa Haley, NAACP president, told the council in October.
"It is literally raining inside this building," Haley told the council in October, when council members tabled a proposal to provide $150,000 in federal block grants for rehab.
The council said no after Haley, under questioning by Ward 1 Ald. Chuck Redpath and Ward 3 Ald. Doris Turner, acknowledged that she has an ownership interest in the property and that no public bidding had been done to determine what work would cost. Visions 1908 is headquartered in Haley's home, according to online property records maintained by Sangamon County.
The amount approved by Langfelder is below a $50,000 threshold that triggers a council vote. The mayor authorized the money three days after the council rejected Langfelder's appointment of Roy Williams, Jr. to replace Turner, who's moved to the state Senate. Whether it's because Williams won't promise not to run in two years or an equally silly reason, who knows, but Langfelder isn't coming up with a new appointment, nor does he plan on lobbying council members.
"I think if I call, it's a lightning rod," the mayor said after the council vote.
ROCK 'EM SOCK 'EM ALDERMAN: Ward 2 Ald. Shawn "Rabbit Punch" Gregory never has shied from a fight. "Willie (that's the alderman's given first name) told us that he is a very good fighter and could hold his own," cops reported in 2002 when interrogating him about a parking lot encounter with a sheriff's employee who was much bigger. A friend back then said that the future alderman, accused of brandishing a pistol, had no fear. "I know Shawn, and he won't back down from anyone," the friend told detectives, who found it hard to believe that someone as svelte as Shawn would talk trash without packing heat. Gregory was acquitted of a weapon charge.
Years, maybe, have taken their toll. Gregory got his behind kicked in a street fight one day before appearing at a March 5 press conference, when cops, prosecutors and sundry civic leaders urged an end to violence – gunfire and homicides have been rocking the city. During one minute at the podium, he said that he was sorry, then skedaddled.
Purported leaders at the press conference kept saying, "If you see something, say something." How should prosecutors handle a brawl with video leaving no doubt about who was involved? Sangamon County State's Attorney Dan "Mills Lane" Wright said that he wouldn't respond to hypotheticals, nor would he discuss the Gregory fight.
Sounds like we have us a referee. Meanwhile, Langfelder sanctioned Gregory's bout, saying that the alderman and whomever it was who kicked butt had handled things the right way, just like he once did. Reliable sources say that Langfelder is no slouch in the sweet science, having once terrorized the Sacred Heart-Griffin student body after saying no mas to having his lunch money taken – most people don't know that a Don King portrait covers an entire wall in his office.
In lieu of murky politics, let's set up a ring, or perhaps a wading pool filled with Jell-O, inside city council chambers. Who wouldn't pay good money to see Ward 7 Ald. Joe "The Enforcer" McMenamin in a tag-team match against nine? Before we knew it, coffers would overflow, and we'd have plenty of cash for firefighters to hose everyone clean before final votes.
SPEAKING OF WEIRDNESS: That civic leaders would hold a press conference across the street from a Feb. 20 mass shooting yet unsolved seems some amount of chutzpah, given the tragedy might not have happened had the city paid more attention. After the fact, cops acknowledged that nearby business owners had complained about noise and trash weeks before the tragedy at a shuttered beauty shop turned clandestine nightclub. Neighbors reported lines down the block to get inside the building where one person was killed and four others wounded. Liquor reportedly was dispensed free to women while strippers entertained.
Alerted to looming mayhem weeks before the shooting, Gregory and the cops alerted the building and zoning department, the same folks who ride herd on dilapidated buildings that never get fixed. It's hard not to recall last summer's pop-up parties in parking lots and parks: Someone got shot while neighbors complained about cops standing around.
Police chief Kenny Winslow told reporters that his officers had no inkling that a party scheduled to end at 3 a.m. was going on at one of the city's busiest intersections when gunfire erupted last month. He sounded serious last week. "I'm calling you out, BP and Squad!" warned the chief, referencing the city's best-known street gangs. Heckuva job, Brownie.
ERRATA: Last week, I reported that 20 Springfield fire department employees earn six figures. That doesn't include overtime, according to McMenamin, who pegs the true number at 76 and is a stickler, thank goodness, for detail. My bad.
Contact Bruce Rushton at