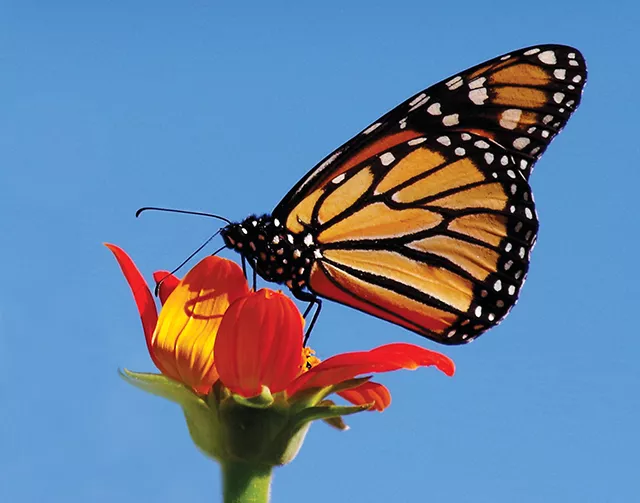 It's finally that time of year to be outside, clean up the leaves and residue from winter and plant flowers, herbs, vegetables, trees and shrubs. This is a perfect time to plan ahead and commit to planting natives that attract pollinators. There are many resources to help you get started and some exciting projects around Springfield to serve as inspiration.
Thanks to many dedicated volunteers who are Master Gardeners and Master Naturalists, "Pollinator Pockets" and "Monarch Waystations" are popping up throughout the city. There are native plant sales in April and May. The Kidzeum of Health and Science is opening a new exhibit, Bees, Butterflies & Blooms, where the entire family can learn about pollinators and what you can do in your own backyard to make a difference. Native perennials will be planted downtown in large pots and bumpouts along Sixth Street and Adams Street. "Bee" inspired by what others are doing, check out these resources, go outside and plant.

Why care about pollinators?
Flowering plants need help with pollination, which is a critical step in the process of producing seeds, fruits and the next generation of plants. Scientists estimate between 75 and 95 percent of all the flowering plants on earth need pollinators. Those pollinators include birds, bats, bees, butterflies, beetles and other creatures.

In North America, 99 percent of the pollinators are insects, and most of those are bees. According to the Pollinator Partnership, that means pollinators are responsible for bringing us one out of every three bites of food.

Pollinators are also critical to healthy ecosystems. Pollinators are undergoing a decline as well as shifts in population, due to loss of feeding and nesting habitats in addition to pollution, misuse of chemicals and changes in climate patterns. The good news is that Individuals, businesses and communities are responding by planting natives that support pollinators. And they are educating the public.
The monarch is Illinois' state insect. Monarch numbers fluctuate year to year, but their population has declined 90 percent since the mid-1990s, according to David Zaya, a plant ecologist at the Illinois Natural History Survey, University of Illinois at Urbana-Champaign. "Illinois is spectacularly important to monarchs," says Zaya, because monarchs breed here in the summer. Monarchs only lay eggs on milkweed, and milkweed is the only food source for the larvae. Adult monarchs feed on nectar from flowering plants. Both milkweed and flowering plants are essential for their life cycle. Without milkweed there are no eggs. Without nectar from flowering plants, adults can't survive or migrate to Mexico to overwinter.

Zaya says monarchs are like the canary in the coal mine, and their decline signals declines in other insects. While bees have a home range, butterflies do not. Zaya describes them as nomadic, cruising around. With the large expanse of corn and soybeans in Illinois, there is little to attract monarchs. Therefore, plantings in cities can be especially beneficial. And, it is an opportunity to see nature in action and observe the metamorphosis from the egg on the milkweed plant through its progression to larva, pupa and adult.


Plant a "Pollinator Pocket" or "Monarch Waystation"
University of Illinois Extension is an excellent resource for how to plant a "Pollinator Pocket" and create an environment that is attractive to bees, butterflies, moths and other insects that play a crucial role in pollination. Small areas can be beneficial, and collectively these areas scattered throughout communities can have a big impact. Manicured lawns, plantings of exotic/non-native species and various hybrids and cultivars do not sustain pollinators. Native plants have numerous benefits. They are adapted to the region and typically require less water and do well without added fertilizers.
Dedicated volunteers led by Master Gardeners and Master Naturalists are working with public agencies, nonprofit organizations, businesses and individuals to plant Pollinator Pockets. There are Pollinator Pockets on the rooftop at Maldaner's restaurant and at the Dana Thomas House, Henson Robinson Zoo, Iles House, Lincoln Memorial Garden, Washington Park and on city property at Lake Springfield.
By planting clumps of plants and a diversity of species that bloom at different times, it is possible to enjoy blooms throughout the growing season. Pollinators are attracted to flowers based on color and scent. Most flowers pollinated by bees are yellow or blue or have a sweet scent. Moth-pollinated flowers are usually white or light-colored since moths come out at night. Flowers pollinated by butterflies are typically brightly colored without a scent.

Sample designs and plant recommendations are available on the University of Illinois Extension website.

There is an application form to register your site as a certified Pollinator Pocket and an option to purchase a weatherproof sign. Go to: https://web.extension.illinois.edu/cfiv/pollinators/
The Monarch Watch Waystation Program is another resource for information about how to create a habitat conducive for monarchs. You can register your site and purchase a sign. Nearly 23,000 sites have been registered nationwide; an online map shows the locations. For more information, go to https://www.monarchwatch.org/waystations/
Learn more at Lincoln Memorial Garden
The Ostermeier prairie on the south side of Lincoln Memorial Garden serves as a demonstration site. "The original sun garden at the Ostermeier location was planted with natives arranged in groups so that visitors can see how various plants grow, making it easier to choose appropriate plants to include in the home landscape," says Barbara Rogers, chair of the Native Wildflower Garden Committee. This committee is a University of Illinois Extension Master Gardener/Master Naturalist project in partnership with Lincoln Memorial Garden. Peggy Boyer Long and Brenda Larison started this about six years ago to promote the use of native plants and aid pollinators. This year a new garden of shade-loving natives will be planted near the Nature Center.
All 25 members of the Native Wildflower Garden Committee are certified Master Gardeners, Master Naturalists or both. Certification is a rigorous process that involves an application, educational classes, exams and ongoing continuing education and volunteer service.

Susan Helm and Brenda Larison are two dedicated volunteers who became certified as Master Naturalists after retiring. Helm was director of marketing for the department of surgery at SIU School of Medicine for 22 years. Larison was law librarian for the Illinois Supreme Court for 20 years. Both, however, have a lifelong passion for the environment. Helm is involved in many projects and says it is very satisfying knowing she is doing something positive for the environment. Larison raises monarchs, gathers seeds, speaks at schools and presents educational programs for children and adults. Both are available to answer questions about native plants and pollinators. Contact Susan Helm at susan.helm@comcast.net or Brenda Larison at brendalarison@me.com.

Educational programs at Lincoln Memorial Garden presented by Brenda Larison:

Midwest Milkweeds and Monarchs. May 18, 10 a.m.-noon, Lincoln Memorial Garden Nature Center. Native milkweed seedlings will be given away as part of the program.

Children's class on monarchs. Sept. 14, 10 a.m.-noon, Lincoln Memorial Garden Nature Center. For more information, email brendalarison@me.com.

Karen Ackerman Witter started freelance writing after a long career in Illinois state government working in environmental agencies. She has a master's degree in ecology from the University of Wales. Through writing and volunteering her goal is to connect people, organizations and ideas to achieve greater results.