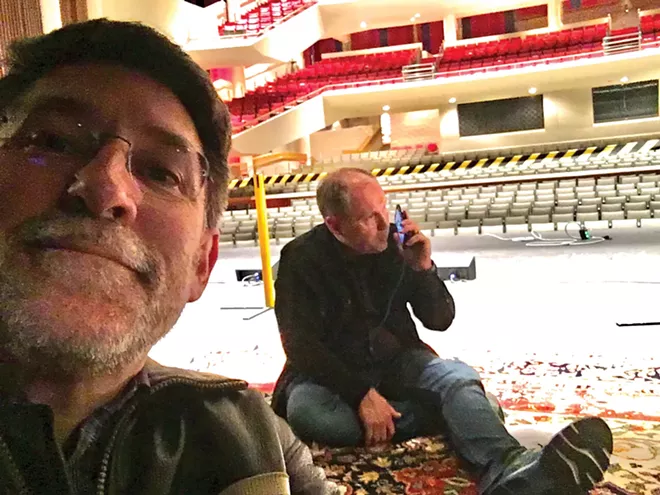 Across the world, and here in our city, stages have gone dark.
Just a couple of weeks ago, the Hoogland Center for the Arts LRS Theater witnessed a unique collaboration of the theater community with Springfield Ballet Company in a dance production of Romeo and Juliet. The contributions of a number of actors, plus a fine design and costumes, and the power of dance condensed into this intimate setting was a thrilling invitation to a thoughtful, unified approach to theater-making.
A week earlier the new Spencer Theatre Company had made its promising debut.
That's all over for now.
Gus Gordon, executive director of Hoogland Center for the Arts, reports, "We were having a great season. We employ 18 people and many of our 22 resident organizations employ staff, too. Normally our building is a beehive, with folks from six to 90 coming and going."
Now, the balance of the season is canceled.
Gordon promises, "We hope to reschedule Into The Woods." Also canceled was Joseph and the Amazing Technicolor Dreamcoat, a kids and teens show.
Virtually all of the area high schools canceled shows this spring. For graduating seniors, there is no rescheduling.
Appealing to donors, Gordon stated, "The financial impact to the Hoogland will be immense, losing $175,700 if we are closed through May. If this lasts through September, we lose $441,200 in income. This will have a dramatic effect on the financial stability of our organization."
The economic impact of theatrical activity on the region is real. Bryan Rives, the director of University of Illinois Springfield's Performing Arts Center told us that if the shutdown continues through June, lost wages to local workers from their operations alone will total $70,000. They are putting off updates to the UIS Studio Theater, which would have put another $75,000 into local contractors' pockets. "We have the university to fall back on," Rives said, "But the shutdown will have an impact, and is devastating to organizations like the Illinois Symphony Orchestra that rent Sangamon Auditorium."
No one knows how long the shutdown will last, but if it continues, it will hit the summer theater season, which is when the largest numbers of theater-goers attend shows at The Muni, Theater in the Park in New Salem, and The Legacy Theatre.
Scott Richardson, executive director at The Legacy, told us the impact is relatively light for now. "We were doing backstage work, and only had to postpone two one-night events."
Their big summer musical, The Music Man, begins rehearsal in May, and sets and costumes already being built. May is not that far off. Richardson says, "We have some Plan-B logistics in place. Flexibility is everything. We moved auditions for our late summer offering, the contemporary play Stupid F*ing Bird, from in person to online."
Productions of classical theater are rare here, so the cancellation of Shakespeare's Twelfth Night at UIS is a disappointment. Missy and Eric Thibodeaux-Thompson, both associate professors, helm the theater program. Eric said, "Our program is growing and features both students and community members. We are home to serious theater in Springfield."
Twelfth Night director Missy Thibodeaux-Thompson pointed out another challenge to theater in the age of pandemic. "I had one week to figure how to migrate our acting class to online." Acting class is not a lecture course and requires a lot of intense interaction. "Fortunately the UIS IT department made it happen," Missy said. "They are rock stars."
Eric continued, "Ultimately, as a theater-maker, I believe theater reminds us there is no substitute for being in the presence of one another, looking each other in the eye and connecting. In theater, the audience witnesses the actors and the actors witness the audience."
Phil Funkenbusch is theater director at the Abraham Lincoln Presidential Museum. "We postponed Kenneth Jones' Alabama Story, about a librarian persecuted over a children's book in the Jim Crow South. It's being performed all over, and the playwright promises to come."
"Despite social distancing, I'm finding that folks are reaching out to one another more than ever," said Funkenbusch. "Just last evening I got calls from colleagues I hadn't spoken with in a long time. It's a difficult time, but maybe it's a good time to measure the value of what artists can do."
"And most importantly," Funkenbusch concludes, "it's time to take care of each other."
Dennis Thread is a freelance writer/filmmaker/creative director with experience on Broadway, television, opera, documentaries, and in corporate and institutional communications.