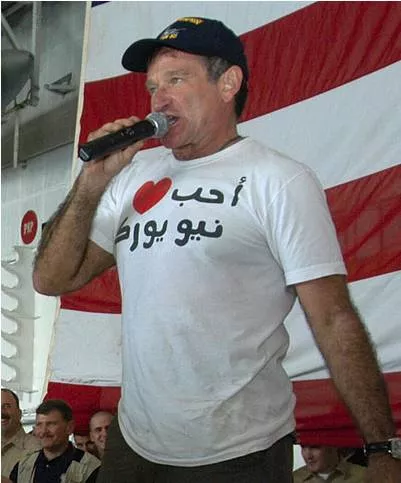 Robin Williams – yup, here, too -- my mind is full of him today.
A friend and I had lunch recently. He was troubled deeply, cried as he told me his mother-in-law had killed herself while drunk. There seemed to be no clue -- She had a boyfriend, passions to fill her life ….
Folks are talking about the "ions" today. Depression. Addiction. ... "We are all terminal cases." … or as Gwendolyn Brooks said, "We are all infirm." My poem below adds to that cache.
But I want to talk about something else. Almost everyone I've heard pay tribute to Williams says what a kind person he was. I want to pay tribute to that. Congratulations Robin on a life well lived where folks express that sentiment before and over anything else, particularly when you were perhaps the funniest man alive, at the very top of your profession. Being kind seems trivial. It doesn't pay a dime. It doesn't win awards. It doesn't even seem to have an immediate affect on people such as laughter does. But I think kindness is the most important virtue of all.
So, goodbye. "Mork and Mindy" was hilarious. Farewell. You were belly-full funny on talk shows. You will never be forgotten. I was so taken by your films The Fisher King, What Dreams May Come, The World According to Garp that I watch them over and over. Your depth is not unnoticed.
SUICIDE
Suddenly it
hits us upside the head
then nibbles at us deeply
as if another one of the pack
was picked off by some invisible
lurking enemy.
The mind is a seemingly sheltered thing
But it can hide its fragility
in sneaky ways.
Many things in life are unexpected
darting deer, power outages
downpours.
What to do with our wits when
they stray too far into darkness.
Words are meaningless.
That's why Robin
your song was so necessary.
Laughter fills space in all the right ways
like a cerebral hug
it brings our brains back
to a better and safer place.
Anita Stienstra
(btw -- Williams' T-shirt says I love New York.)
For blog ideas or to submit poems, contact astienstra@illinoistimes.com.