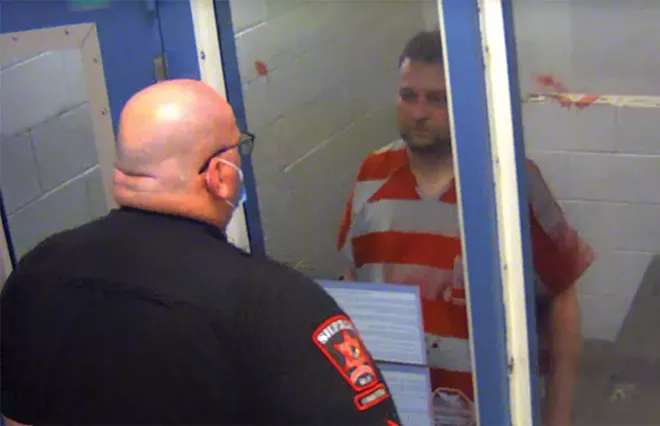 Sangamon County Sheriff Jack Campbell and his underlings at the county jail, as well as the company that provides medical care to inmates under contract with the sheriff's office, are targets in a federal lawsuit filed April 28 on behalf of the estate of Jaimeson Cody, who died last year after an altercation with guards.
Plaintiff's attorneys allege that "grossly obese" guards, one weighing as much as 400 pounds, another nearly 300 pounds, put nearly 700 pounds of weight on Cody's back as he lay prone on the floor outside his cell.
The death a year ago was ruled a homicide by the county coroner's office after an autopsy, with a pathologist determining that Cody died from asphyxiation. Nearby inmates told Illinois State Police investigators that Cody said "I can't breathe" in the moments before jailers cuffed him, then noticed that he was turning blue. Prosecutors have filed no charges.
In addition to Campbell and five frontline jailers – guards Cody Grigsby, Kyle Meyer, Scott Meyer, Paul Garrett and Nicholas Ortega – defendants include nurse John B. Kling and his employer, Advanced Correctional Health. Attorneys for Cody's estate say that Kling got out of the way of jailers, then kept quiet and stood by, doing nothing to help Cody as he suffocated a few feet away. "The excessive/deadly force used on Jaimeson Cody...resulted from the jail's written and unwritten policies, which prevented medical staff from having any control or input over the use of force on pretrial detainees such as Jaimeson Cody," wrote plaintiff's attorneys Sharon D. Elvidge Kelley and Jon D. Robinson.
Citing the pending litigation, Campbell declined to comment.
Kelley and Robinson don't ask for a specific amount in the lawsuit. Prior jail litigation has proven expensive for county taxpayers, who eight years ago paid nearly $5.3 million – half for the plaintiff and an equal amount for lawyers who defended the case – to settle a lawsuit filed by the widow of Paul Carlock, who died after a 2007 struggle with guards who sat on the prone inmate after shocking him with Tasers. It was the costliest case ever for the county. Kelley and Robinson also represented Carlock's widow.
Cody also was tased, as many as five times, before he died. The county destroyed video of the Carlock encounter, saying that destruction of records that should have been preserved was an innocent mistake. In the current case, a surveillance camera aimed at the area outside Cody's cell, where the inmate struggled with guards, didn't activate.
Campbell defended jail staff in the Carlock case and also has backed jailers in Cody's death, telling the media in the aftermath that guards were faced "with a nearly impossible situation" and that they were trying to stop Cody from harming himself. The struggle began when guards attempted to get Cody out of his cell after finding that he had apparently cut himself. Arrested on suspicion of aggravated domestic battery and aggravated battery with a deadly weapon, Cody had been in jail less than 24 hours when he died.
"Our officers used the methods and techniques that they learned through their training," the sheriff wrote in a written statement issued after the death and before autopsy results were complete. Campbell has subsequently declined comment on the matter and could not be immediately reached.
Campbell in years past has told the press that he sometimes allowed deputies to tase him if they caught him not wearing a proper uniform. "We don't feel you can fire too much," Campbell told the State Journal-Register in 2010, shortly after Pat Burns died after deputies deployed Tasers 22 times while trying to arrest him after he broke into a home. "You use the Taser until the person complies with our order."
In the Cody lawsuit, plaintiff's attorneys write that the sheriff's statements about Tasers show a pattern of brutality.
"Defendant Campbell has developed and allows a culture of excessive tasing and force by his public statement regarding tasing, and his public absolution of officers' conduct in the press before the actual facts are known, his failure to have/or implement training and jail regulations, and failure to (sic) any accountability of his correctional officers' use of excessive force, Campbell's words, actions and non-action gives tacit if not actual approval of the extreme/deadly force applied to Cody," lawyers write.
Cody, 39, left behind a daughter, a son, his father and mother and a stepmother.
In a written statement issued by plaintiff's attorneys, Dan and Cindy Cody, Jaimeson Cody's father and stepmother, said that they sued to get answers from the sheriff. They also said that no one has accepted responsibility or been held accountable for Cody's death.
"(W)e decided that waiting any longer was simply unacceptable," the Codys wrote. "We knew immediately that the only way to honor Jamie's memory and get answers we so desperately needed was to file this lawsuit today, on the anniversary of his death. ... And even if we never fully understand why he passed away so tragically, by raising our voices together we can at least help ensure that no other family has to suffer as we have over these past 12 months."
Bruce Rushton is a freelance writer. He can be reached at brushton@hotmail.com.