A few weeks ago, as I nursed my son through swine flu, I frequently thought about my great-grandmother. She had lived in Athens, northwest of Springfield, and nursed her son during another flu pandemic 91 years ago. I felt such sympathy for her. Although the challenges of caring for our sons must have been similar, their outcomes were so different.

After seven days my son was fine. After ten days her son was dead. Her experience was hardly unique that year.

It was 1918, the year of the so-called "Spanish" flu pandemic. Most estimates say it killed between 20 million and 50 million people worldwide, but an article ("1918 Influenza: The Mother of All Pandemics") in the January 2006 Emerging Infectious Diseases says it might have killed as many as 100 million. "An estimated one third of the world's population was infected and had clinically apparent illnesses," it says.

Of the three flu pandemics in the 1900s, "the 1918 flu pandemic was the most severe," says Jeffrey Diamond, with the Centers for Disease Control. It killed nearly 23,500 in Illinois, based on Illinois Department of Public Health records.


The virus began in Europe during World War I. "But the only people reporting the flu were the neutral countries (which included Spain). So when Spain's King Alfonso developed it, the world grabbed onto that and that's why it's called the 'Spanish' flu," says Dr. Donald R. Graham, chief of infectious diseases at Springfield Clinic. "It's an unfortunate misnomer."

Graham says today's H1N1 flu "is related somewhat" to the 1918 flu. "It has about one third of the same genetic material." Generally explained, it's like the H1N1 is an evolved, mutated version of the 1918 flu virus. "It's a little bit like the way grandchildren are related to their grandparents and look somewhat like them, but not completely," Graham says.

As American troops came home from European battlefronts in 1918, they brought more than battle wounds. Americans' war against the Spanish flu began at military camps, where vets were the first to become ill.

Some thought the virus was caused by trench warfare and mustard gas, according to Stanford University's 1918 influenza Web site, but public health officials knew the culprit was a germ that spread through human contact.

The flu was first reported in Illinois at the Great Lakes Naval Training Center, north of Chicago, according to Curtis Mann, city historian and manager of the Sangamon Valley Collection at Lincoln Library. It struck there in early September, 1918. "If you read through the newspapers just a few weeks before the pandemic hit, they were talking about how this Naval station had a clean bill of health. Within a few weeks it reported that thousands of these young men were infected with influenza and hundreds were dying."

Springfield had boys at that Center and its first brush with the pandemic came on Sept. 22 when one of them, Charles Pritzlaff, died. He was one of many. "They died before they got overseas," Mann says. According to the Honor Book, which lists the fates of Sangamon County's WWI veterans, some local recruits arrived at training camps and died of the flu only six weeks later.

The flu ravaged Chicagoland, then traveled south. By Oct. 9, Sangamon County had 40 reported cases and Springfield had its first flu death – Lubertl Campbell of 911 East Madison St. (The Illinois State Journal listed the names and addresses of the afflicted.) The paper theorized that Springfieldians who had visited the Great Lakes Naval Center and Camp Grant, another northern Illinois training camp, had brought the flu to town.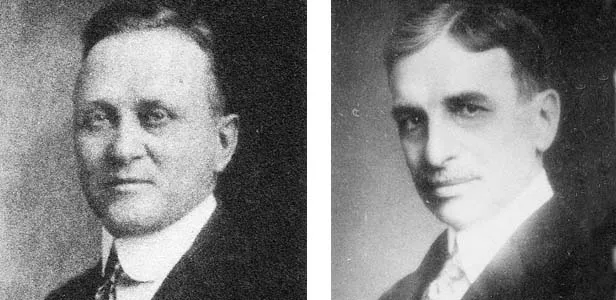 When the virus struck here, it overwhelmed officials and residents. The city's Board of Health Superintendent, Dr. Albert A. Campbell, was a Chicago physician who was appointed about a month before the pandemic hit. "He didn't have a lot of time to prepare," Mann says. He and his aides traveled throughout the city placing "keep out" signs on homes of the sick. When some homeowners removed the signs, Campbell threatened them with a hefty fine. On Oct. 10, with 50 local cases of flu, Campbell had doctors give short talks about the danger of influenza before shows at Springfield's movie and vaudeville theaters. He also told schools to send home any kids who had a cold. However, that request was "shamefully abused," according to the Oct. 10 Illinois State Journal, and Campbell threatened to quarantine the homes of the sick.

Four days later he got tougher and said anyone with colds or flu symptoms had to stay away from the public. "Police officials have been asked to see that persons showing symptoms of influenza are isolated at once from public places," said the Oct. 14 Journal. The same edition advised readers not to panic if they felt sick, but "go to bed, stay quiet and take a laxative."

Poor former Springfieldian Mildred Shull got a double dose when she had the flu as a child in 1918. Her memories, recorded in 1976, are part of the University of Illinois at Springfield's (UIS) Oral Histories (available online at www.uis.edu/archives/contents.htm). She said she was given "10 little white pills (of) calomel, two every half hour, and then a dose of castor oil." (Laxatives like calomel and castor oil were used commonly in the 1800s to rid the body of impurities, which were thought to cause disease.)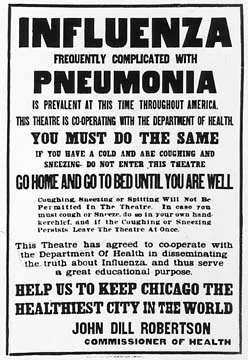 Other Spanish flu remedies included aspirin or quinine, a potent drug which the Food and Drug Administration now says has "serious or life-threatening effects." Home remedies abounded. The Journal newspaper recommended Vick's VapoRub one day and lemons the next. It reported a lemon shortage because flu victims elsewhere had been so successful getting relief from "hot lemonade." Eating raw or cooked onions worked for the Spanish, it added.

Then there were stinky spices. Shull recalled being forced to wear necklaces made with bags of the spice asafetida (or "Devil's Dung") during the pandemic. "Oh, how they did smell! They stunk to high heaven!" she said in her oral history. Parents thought the stench would ward off flu germs. It certainly warded off anyone with a sense of smell.

Meanwhile, towns surrounding Springfield "were starting to shut down their theaters and schools," says Mann. "In Springfield, though, they kind of prided themselves on the fact that they were able to keep things open because they'd started these preventive measures so soon."

City schools called in nurses, health officials and volunteer mothers to check students daily for signs of sickness and send them home if any appeared. "It was the same at the theaters, somebody would be turned away if they had signs of the flu," Mann adds.

But those measures weren't enough.

On Oct. 15, as local flu cases rose, the state Department of Health ordered Springfield's theaters, pool halls and other entertainment venues closed to stem the flu's spread. The paper said the vaudeville performers in town would take a "needed rest" or perform elsewhere.

The real threat of the virus was that it could lead to pneumonia, which often proved fatal. The situation was so bad that in mid-October the state health department made an autocratic ruling: all Springfieldians had to report anyone they knew who might have pneumonia. Visits to pneumonia patients were prohibited and even their funerals were greatly restricted. The Oct. 15 the Illinois State Journal said their funerals could only be held when the body had been properly embalmed or was enclosed in a tight casket. Violators were subject to heavy fines or jail.

But getting undertakers' assistance wasn't easy, according to Shull. "People were so afraid of this flu and when somebody died, the undertaker wouldn't go in (the house) to take the body out," she said in her UIS oral history. "They raised the window and shoved a board in. I can remember this because it made such a horrible impression on my mind as a child. They shoved this board in and the people inside would wrap the body in a sheet and lay it on that board and they would slide it out."


On Oct. 15, the city's health director quarantined Springfield. In addition to the already closed theaters, he shut its schools and churches and prohibited "social gatherings of all kinds." Campbell declared that funeral services must be private and conducted on residents' porches. "Coughers and sneezers" had to stay away from the public or risk being taken away by "police ambulance," according to the Oct. 16 Journal.

Perhaps the only good thing to come of the pandemic was that Illinois politicians, who were preparing to start statewide campaigns in October, were forced to cancel them. "The campaign in Sangamon County promises to be the shortest in history," declared the Oct. 16 Journal.

If only the languishing politicians could have helped in the hospitals. Nurses were desperately needed because many were overseas with the soldiers. City newspapers begged for all nurses, even nurse "graduates," to register immediately with the local American Red Cross.

Some of the nurses who did so were worked to death. Hallie Staley Kinter was a nurse in training at Springfield Hospital during the 1918 pandemic. She died in 1982 but her memories are among the UIS oral histories. She said "nobody had hours off" during the pandemic and many of the nurses became ill. "We had so many sick patients. And at that time the belief was that you had to have fresh air for the patients, and you'd have to have the windows open and the rooms were so awfully cold at night, and well, it was hard." She and the nurse she worked with became sick. Kinter recovered, but the other nurse developed tuberculosis and died.

Doctors were overworked as well. Springfield physicians were making about 50 house calls a day, according to Practice and Progress: Medical Care in Central Illinois at the Turn of the Century (1994, Southern Illinois University School of Medicine).

Priests could hardly keep up, either. Monsignor Jesse L. Gatton was St. John's Hospital's chaplain during the pandemic. Although Gatton died in 1989, his memories are also recorded in the UIS oral histories. "Both (Springfield) hospitals were filled with patients and the city of Springfield set up a temporary hospital out at the fairgrounds (in the Women's Building)," he recalled. "As soon as the patient got any signs of the flu, why he went to this place. Then when he got very sick, they brought him into the hospital, see... some of them were so sick. I remember giving them Extreme Unction (Catholic Last Rites) on the way up to the room, on the elevator. When they got to the floor, they were so sick that many of them died."

Although Springfield had set up an emergency hospital at the fairgrounds, by Oct. 20 it was overflowing. The Washington Street Mission, Illini Country Club and Masonic Temple (currently Hoogland Center for the Arts) had offered to serve as additional hospitals.

In the middle of Springfield's quarantine, news came that Springfield's health care professionals would be given a recently tested flu vaccine. Afterward, "if the supply is sufficient," said the October 19 Journal, vaccinations would be available to anyone. It might have been too little too late, says Dr. Graham, or the pandemic might have ended on its own anyhow.

During the height of the pandemic here, the number of burials at Oak Ridge Cemetery increased dramatically. Cemetery statics show there were two and a half times the normal number of burials in October and November,1918. LuAnn Johnson, the cemetery's current executive director, says the need was so great, "the cemetery's board of managers required workers to dig graves seven days a week."

On Nov. 8, Springfield's quarantine was lifted. Three days later America's other battle — World War I, also ended. The 1918 flu pandemic finally died out in the summer of 1919.

While WWI killed an estimated 16 million worldwide, the 1918 flu killed between 20 and 50 million, possibly more. That included at least 240 Springfieldians, probably more like 300 or 350, according to the Illinois Department of Public Health statistics. Given the city's current population, that would be the equivalent of at least 550 people today.

Tara McClellan McAndrew of Springfield writes this history column for Illinois Times. Contact her at tmcand22@aol.com.