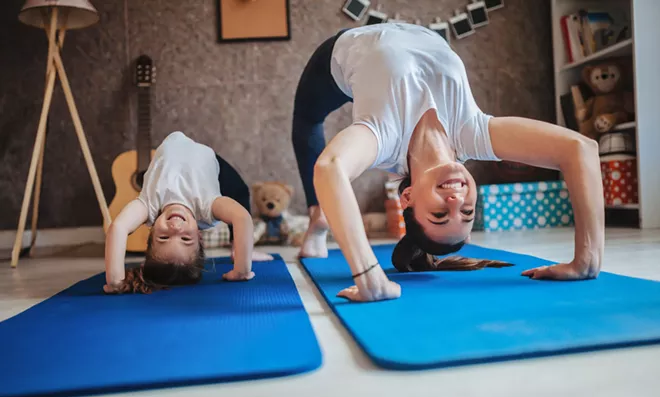 Caregivers know intuitively that kids love to move, run and leap. While we've always known that letting kiddos run around will make for an easier bedtime, it may be surprising to learn that this kind of active play is also essential for growing a strong body and promoting social well-being. The American Academy of Pediatrics recommends that kids age six to 16 engage in at least 60 minutes of moderate-to-vigorous activity every day. It doesn't have to be all at one time – it can occur in spurts thoughout the day such as a brisk 10-minute-walk, a quick game of tag before lunch and perhaps a YouTube dance party after dinner. The bottom line is they have to move in a variety of ways every day.
And coincidentally, grown-ups, so do you. We all need to play in some form or another – to feel our hearts pound and to enjoy fresh air and sun on our faces, in even in the dregs of winter. Remember, there's no such thing as bad weather, just bad layering. A vast body of research suggests that moving your body on the regular maintains much more than just physical fitness – vigorous activity actually improves cognition and decreases anxiety and depression in both kids and adults.
As much as kids inherently love to play, it can be surprisingly hard to motivate them to get up and move. Often, the hard truth is that you have to get up and move with them. At the beginning of the remote school year I told my daughter that if she wanted to play video games with her friends after class that we'd have to go for a walk first, lest she spend her entire day in front of a screen. In truth, I don't really feel like going for a walk most days, but frankly, I need it as much as anybody. In all the months since we began this routine I've never once regretted the walk once we got going.
Though many structured, in-person activities have been on pause for months, some have managed to reach kids despite pandemic restrictions. Ashley Krstulovich, owner of FLOW Midwest Yoga in Springfield, has been teaching yoga and mindfulness in schools for years. When remote schooling became the new reality, she pivoted and began offering a kids' class each day over Zoom, Monday through Friday, to schools and anyone else who wants sign up. The introductory class is $5 and families or teachers can contact FLOW to discuss scholarship options. Illinois has recently moved to Tier Four mitigation, which allows for the resumption of in-person fitness classes. However, FLOW will continue to offer a virtual option for all of its classes even as in-person classes resume.
Similarly, John Greyson's Martial Arts Academy in Springfield began offering virtual classes soon after the shutdown began last spring.
"We went straight virtual after never having done online classes before," said Brian Blankenship, program director at JGMAA. "But we were up and running within 24 hours, and even now that we're back in person, we'll continue offering a virtual option for all of our live, in-person classes so that as many people as possible can participate." Blankenship said that consistency has really been grounding for many of their families throughout the pandemic, and he feels it's helped the kids build and maintain resilience.
In addition to providing an outlet for kids to get their wiggles out, activities such as yoga and martial arts often have a profound behavioral benefit. "Even before lockdown, there were issues with self-regulation," said Krstulovich. "The work I do with kiddos – and adults – really focuses on mindfulness and communication. Kids learn self-calming techniques; they're learning not just to move their bodies and flail around, but to be mindful of how their bodies feel when they're moving them, which then circles around to help them regulate internally."
For families looking to get out of the house, the Springfield Park District has resumed many of its programs, with some restrictions. The Henson Robinson Zoo will open for the season on March 20. "This has been a really popular outing since COVID began, and we have lots of fun things coming up in 2021," said Lynn Saputo, director of recreation with Springfield Park District. "It's become clear that we're more than just a zoo, we're a place where families can gather while still social-distancing."
As of Jan. 22, the Nelson Center ice rink is open for skating on weekends. Skate sessions are limited to 50 participants, with 40 tickets sold in advance online and 10 tickets available at the door. In addition, programming will begin to resume at Eisenhower Pool, including public lap swim, with capacity limits.
Check out www.springfieldparks.org for more information and to reserve skate times.
Ashley Meyer is a freelance writer who lives in Springfield with two active children.