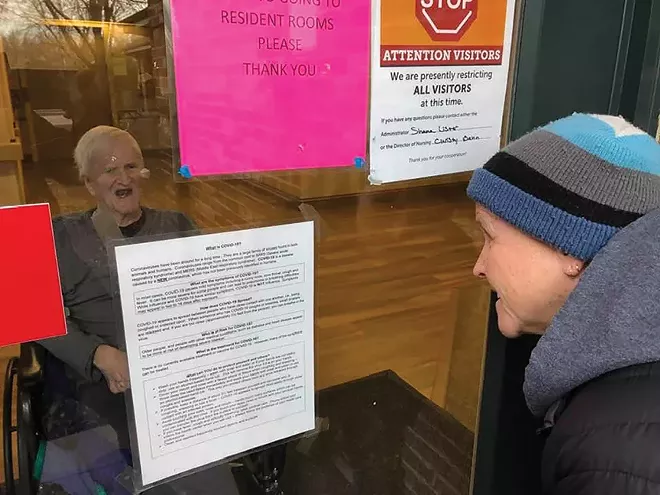 Shelley Reither, of Springfield, has a daily routine of going to see her dad in the nursing home. They visit for about an hour. "I have always had an inordinately close relationship with him," said Reither. "One of the primary reasons is just because of his dementia, really. I think it helps keep him grounded that I am there every day." Reither works for the state and her dad moved to Springfield to be closer to her and her brother.
As many of us adapt our lives in efforts to halt the spread of the new coronavirus, some have no choice but to separate. Like many others in the state, Regency Care where Reither's father, Fred Reither, stays is not allowing visitors.
Reither said she understands the reasoning, but emotionally it's hard to postpone visits. "I miss him already," she said. At 95, Fred is in relatively good health, though he struggles with short-term memory. He was a lawyer and then a circuit court judge in Cass County.
Over the weekend, Reither was able to connect with him via a video call. "It was great. And that way he could understand why we couldn't come see him," said Reither, who hopes for regular communication in the weeks ahead. "I want to be able to talk to him everyday if I can."
Melissa Beaver is a spokesperson for Heritage Operations Group which oversees a number of residential facilities including Springfield's Regency. She said staff will have devices available for video calls at their facilities.
Beaver added, these are unprecedented times. "I've been here for 20-some years and this is the first time that it's gotten to this point." She said measures are in place to protect staff, residents and ultimately the greater public.
Others in central Illinois are changing around plans based on restrictions. Lizzie Roehrs works at the University of Illinois at Urbana Champaign. Her grandmother is staying at the Illinois Veterans Home in Quincy.
"March is a special month for our family, it's the month of birthdays," said Roehrs, who shares a birthday month with her grandmother, mother and aunt. She said birthday celebration plans are being postponed. Roehrs said meanwhile, her grandmother has her own cellphone she can use to stay connected with family. "We can constantly be in touch with her if we need," said Roehrs.
Like Reither, Decatur resident Rachel Hettrick has family in a facility who won't be able to initiate their own outgoing communication. She has two grandparents in a residential home in Ottawa, and they both struggle with memory issues. "I just know that everybody's trying to keep everyone informed and not overtax the assistants who are doing their best to keep everyone safe," she said about how her family on the outside is coping. Hettrick is young and said she understands why visits aren't being allowed. "I'm not worried for me. I'm worried about protecting other people," she said about limiting her exposure to vulnerable people.
On Tuesday, health officials announced that 17 residents and four staff at a nursing home in DuPage County tested positive for the new coronavirus. The Illinois Department of Public Health advised that all visits from non-essential health care personnel be restricted at nursing homes in the state. The exception is "compassionate care" cases, like end of life. Group activities and communal dining are canceled as well, and active screening of residents and personnel is advised.
Over in Girard, Janice Cain runs a residential group home that includes her mother and five other residents. She is screening staff members' temperatures as they arrive and doing her best to maintain a regular lifestyle for residents, including activities. "We're planting seeds right now for spring," she said.
Therapy pets are visiting residents who are also virtually visiting with loved ones through FaceTime. They are also using digital picture frames that families can virtually update with new photos. Cain said the residents, all in their 90s, are taking the current situation in stride, as they have been through crises.
"They know you come out the other side," said Cain.
Contact Rachel Otwell at rotwell@illinoistimes.com and follow her on Twitter: @MsOtwell.