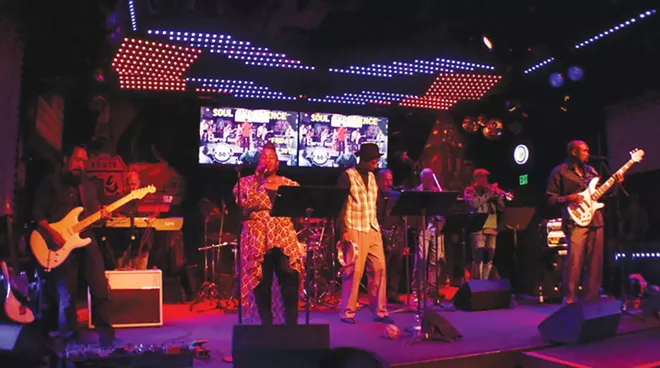 Welcome back, my friends, to the show that never ends as we explore, examine, promote and promulgate the provocative and extraordinary music happening each week in our Springfield community. As the pandemic mitigations go away after doing what they were meant to do, we officially begin Phase 5 on June 11, allowing businesses in general to open at full capacity. Yes, that means a great deal to our world of music-making, since all those cool events we love so much are usually centered around people playing music to entertain the crowds. We can now have a LoG Fest, AbeFest, Downhome and Blues & BBQ, plus county and state fairs, festivals, burgoos, homecomings and all other shindigs of that nature.
One of the first outdoor events to be blessed with the full reopening of the state will be the Juneteenth Celebration, a national holiday otherwise known as Freedom Day, happening in Springfield and around the world next weekend. The actual date is June 19, with four days of events surrounding the holiday, including music at the Levitt AMP concert series on Thursday, June 17, with Debbie Ross (a Springfield treasure), Nelly's Echo (season three contestant on NBC's "The Voice") and Brandon Alexander Williams (spoken word and beatbox looping). The celebration continues with a rally at the State Capitol and an Illinois State Museum art exhibit opening on Friday, June 18, then hip happenings at Comer Cox Park featuring live entertainment on Saturday and Sunday (June 19 and 20), plus the Unity Parade and Outdoor Revival.
As we honor this day of freedom for African Americans after the Civil War and slavery, let's remind ourselves of the great contributions made to music by those of African heritage. Every aspect of our American music has been touched somehow by the incredible ingenuity and resilience of music made by African Americans. You can roughly start with the blues and end up at hip hop, while in between covering jazz, ragtime, bebop, funk, soul, gospel, rhythm 'n' blues and rap as types of music pretty much invented by African Americans. All kinds of origins and influences are in rock 'n' roll, country, rock and pop, too. Plus, I can almost guarantee whatever other genres you name, there will likely be a good bunch of connections to music that came from the culture and creativity of Black Americans.
The one great overreaching fact about music, surely, is its ability to bridge the gap between all cultures by integrating sounds and songs in a way that brings folks together like nothing else, except maybe food and drinks. Hey, that's probably why the events we like so much include music, eats and libations, all the while allowing for those who come and enjoy to hang out and share the essence of what makes us human, as we exist together, sharing this spinning spot in space.
But back to this week for a moment, just to clarify that tonight (Thursday, June 10) the Levitt AMP show is Esme Patterson with special guest The Deep Hollow, then next week is the Juneteenth celebration. On this Friday, get yourself to the K of C Hall on Meadowbrook to experience and enjoy the deep soul of The Soul Experience Band, featuring some of Springfield's finest musicians making some of the finest music anywhere. Their Facebook page says they're the "hippest R&B, funk, jazz, Motown and blues live music band in the Midwest," and no one is going to argue that point, because that's a "no brag, just fact" statement for sure.
There's plenty more where that came from, and let's keep 'em coming