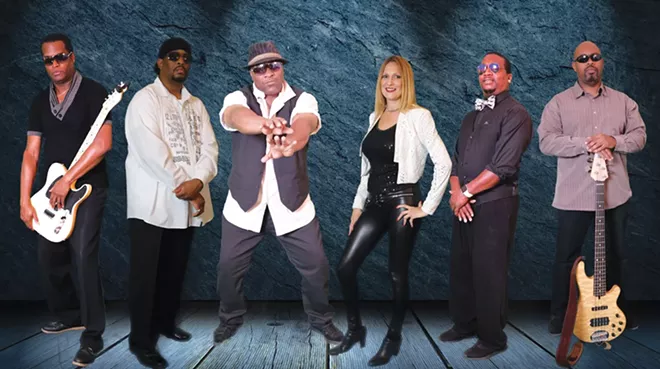 As we begin to see gigs return to venues following safe and sound practices to prevent the spread of COVID-19, there is a palpable sense of pressure releasing. It's a reminder of all the good live music does for our sense of well-being and for our being sensible, as well.
I just don't feel like I can even talk about going out and having fun listening to live music without first addressing those valid and vital points of our current American life concerning the racial inequality racking our country and the need to deal with these issues now. Along with that, let's keep in mind those dying and suffering all over the world and our nation from the continued ravages of the coronavirus and give our best to frontline health care workers dealing with persistent problems of the pandemic.
So here we go into the wide, wonderful and socially distanced world of what is now playing in Springfield and surrounding communities for live music happenings. The Long Bridge Golf Course out past the airport and West of Wise Winery near Petersburg both have expansive spaces available for folks to spread out with ease. This Friday evening, Long Bridge features Boogie Chyld, a six-piece band dishing out classic rock, funk and disco tunes, plus contemporary hits as well, while West of Wise presents the sparkling sounds of acoustic singer-songwriter and cool songs performer, California Jeff.
Looks like our penchant for outdoor music venues attached to inside bars, spaces once known simply as beer gardens or smoking sections, shall serve us well while as phase-in plans take effect. This Friday, Crows Mill Pub lights up with Live Wire and Twin Freaks waltzes into Weebles, while The Stone Giants dwarf the Blue Grouch and Fun DMC runs out to the Curve Inn. On Saturday, the trend continues as Positively 4th Street does Dylan and more at the Lucky Moon Saloon near Glenarm, P-Nut & the Shells cracks up Locals in Pawnee, Stuart Smith Band steers into Danenberger's Family Vineyards out towards New Berlin and Borderline closes in on Wild Pickins Winery down by Chesterfield. Several of these venues have bands all weekend, so be sure to check out our Live Music listings just like we used to do every Thursday in print and anytime online.
Sunday Funday returns with some of our favorite outdoor spaces well set for the current needs, as other spots adapt to make music happen. I have my first live gig (after well over 30 Facebook Live gigs since March 17) this Sunday at 3Sixteen Wine Bar in Chatham where they got creative and set up for outdoor service in the parking lot. (Alex Pearce plays there on Saturday for his very first local gig. Go Alex, go.) Sheedy Shores Winery, a bucolic and beautiful space near Loami already ready for social distancing, hosts 29 Junction for the afternoon, while the above-mentioned Long Bridge offers up friends and fellow musicians, Dave Littrell and Micah Walk, for your listening pleasure.
And let's give a good shout out to the Mary Jo Curry Band as they play the newly refurbished Alamo beer garden on Monday when the Illinois Central Blues Club's weekly series returns (MJCB also plays Danenberger's on Sunday afternoon). MJ released her latest CD, Front Porch, on Feb. 21 and was getting good airplay and excellent reviews nationwide just as the pandemic came. Here's wishing the band a new breath of air and fresh success with the recording and more.
Let's get going, but please be respectful and caring of all rules and regulations concerning the ongoing issues while enjoying the rebirth of local live music.