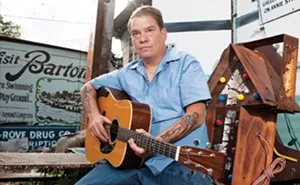 Welcome to the wonderful world of live music and related things in the Springfield area at the end of June. Let's get to it, shall we?
Check out the Indiegogo crowdfunding campaign for Sala, an interactive website set to host a non-profit, professional association intended to connect independent artists everywhere to "make creative work a viable living." Conceived and perpetuated by local writer, teacher and community art organizer Adam Nicholson, the ambitious but sorely needed project can connect patrons, buyers, artists and others after Adam raises funds necessary to establish the web platform, and should highly increase the possibility of artists making a buck.
The Artist on the Plaza concert series, hosted by the hardworking and art-caring folks at the Springfield Area Arts Council – the same ones responsible for Uptown Friday Nights at Robbie's and First Night Springfield – brings local music performances to the Old State Capitol Plaza every Tuesday and Thursday from noon to 1 p.m. This Thursday marks the world premiere of the Theresa O'Hare Flute Choir. I can highly recommend this group because I hear them rehearse in our living room. Next Tuesday features the Hoogland Kids and Teens doing selections from James and the Giant Peach. And it goes on and on like that all summer long. So head to that faraway destination of downtown, enjoy a local lunch, the retail shops and area music performers.
If you were wondering about that live music coming from your city parks about once a month on Sunday afternoons, you're hearing the Music in the Park series hosted by our Springfield Parks Foundation. This Sunday, enjoy the Americana and bluegrass sounds of Blue Ribbon Revival, The Deep Hollow and The Blue G's at Iles Park over on the corner of Sixth and Ash. Next month catch Rhythm & Grooves with Kapitol Sound at Comer Cox Park on July 19.
On Friday night, Boondocks presents Sebastian Bach with longtime, local rockers RockHouse opening. Bach, once the iconic voice of Skid Row, a popular, heavy metal (some say hair metal) band of the late 80s and early 90s, has since worked in film and television work, almost made it into Velvet Revolver, and spent time releasing his own music projects. Expect a real, honest-to-goodness, hard-rocking show with lights flashing, hair flying and music blasting.
The Fare Thee Well Tour by the Grateful Dead surely is the big ticket and most talked about music set of the summer. The world-famous band unknowingly played their final show on July 9, 1995, at Soldier Field, as they unexpectedly lost their leader that August when Jerry Garcia passed on the 9th. The remaining band members have played in many configurations since, but with a couple concerts in the San Francisco Bay area this weekend and in Chicago on July 3, 4 and 5, the guys, along with a few special guests, come together for a final stand. Even with hundreds of thousands of tickets sold, all Deadheads will not get in to see this incredible band. But, just for you, the good guys at Homespun Republic will stream the concert on a big screen this weekend in the comfort of the expansive club with all the regular accommodations available.
On Sunday, Wayne "the Train" Hancock plays at Dr. Ugs in Virginia, Ill., one of my favorites venues in the known world, with Brother Hiram opening the show at 1:30 p.m. For you folks who've never made the 25-minute trip from Springfield to the square in Virginia for a visit to the cool and quaint restaurant, coffee shop and bar, what in the world are you waiting for?
See you in July!
Contact Tom Irwin at tirwin@illinoistimes.com.