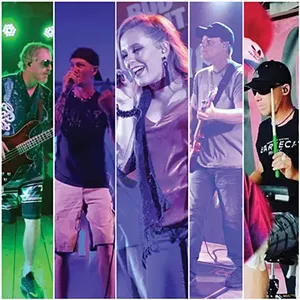 Here we go a-recovering from a necessary (I truly believe) shelter-in-place order, and as we work to make it all work out the best we all can, you can feel the release that live music allows performers and listeners to experience. Here's to those helping make this transition happen in a safe and careful way with thoughtfulness toward ones greatly affected by the pandemic and consideration given to decisions made to keep our community safe.
As I played my first, in-person live gigs since March 14 this last weekend, there were some real moments of recognition. I remembered the sounds of applauding, that odd but effective form of audience appreciation where people hit their hands together real fast to make a noise that reflects a person's pleased reaction to something someone has just done. I recalled how enjoyable it was and is to see folks singing along, dancing some and generally reacting to the sound waves just created. I also re-experienced, in mid-song of course, those blaring sirens of emergency vehicles, over-revved up motorcycles and piercingly loud train horns from two blocks away, plus that one person who always shows up at a gig asking if he or she can sing a song, then becoming indignant when I explain that's not a good idea or fair to the venue that hired me.
But overall, it's very, very good and immensely satisfying to be back making music that people can feel in real time. Of course, the best part was seeing familiar faces that I've not seen over these last few months and feeling the incredible energy of human interaction, albeit under proper regulations in place to combat the spread of the coronavirus still among us. As a working musician – and someone who hasn't gone two months without playing gigs for so long I can't even remember when – I want to profusely thank the venues (customers feel the same) for shouldering all the extra work and expenses to make this happen while still keeping folks safe and making them feel safe, as well.
Some performers are keeping up with online shows as others go to live music only while letting the streams flow on. Chris Vallillo announced his Lincoln the Great Communicator tour of the Abraham Lincoln National Heritage Area goes virtual on various Wednesdays through the summer and fall with all the dates located on CV's Facebook page. Other popular central Illinois artists known outside our area as well, such as Chicago Farmer and Cowboy Randy Erwin, continue to perform regularly scheduled streaming shows. But here in Springfield's music scene, mostly we're back to the bars in whatever form can be used to make things happen under pandemic regulations.
On Friday night, Motorheads revs up the jams with Jeff Young and the Bad Grandpas, while the Groove Daddies bring the tunes back a generation at the Curve Inn, just as Pop Ninjas pop into a shadowy groove at Crows Mill Pub and Antics pulls out some high jinks at the Dew Chilli Parlor Pub and Grill. At the same time, The Collective contains the hits at Weebles and Sunshine Daydream shines on at Danenberger's, just as Chris Camp and his Blues Ambassadors negotiate a deal at Lime Street for both Friday and Saturday nights. Lest we forget, while getting caught up in the excitement of reopening, that last weekend would have been the Legacy of Giving Festival and next week we miss all the great music scheduled for the Sangamon County Fair, plus we lost several other cool annual events to this bug. With that in mind, let's go enjoy respectfully and reasonably what is available now.