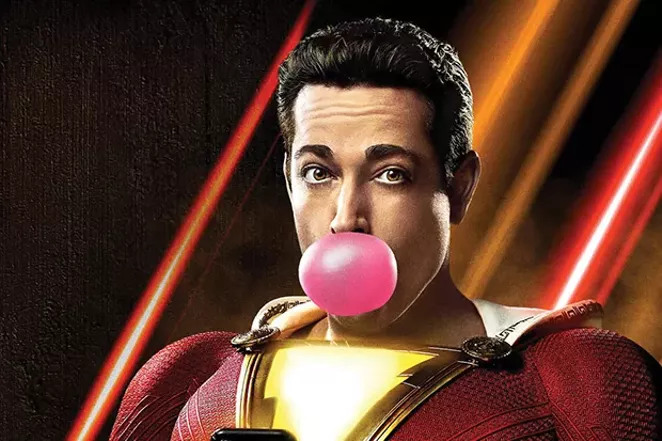 The 2007 announcement that Iron Man would be the first superhero film based on a Marvel Comics character other than Spider-Man was met with a great deal of head-scratching among comic book aficionados. Tony Stark's alter ego was not the most well-known in the company's stable and to pump millions of dollars into a big-screen feature about him seemed a folly. Yet, as we've come to see, it was a masterstroke as the movie not only appealed to hardcore fans, but also brought in those who had never heard of Iron Man and prompted in them a curiosity in all things Marvel that's yet to wane.

I have a feeling that David Sandberg's Shazam! will be DC Comics' answer to Iron Man regarding their cinematic universe, an endeavor that's yet to find the same sort of traction as their counterpart. It's light-hearted, has an instantly relatable and likeable hero and eschews the sense of dark foreboding the company's big-screen adaptations have become known for. More than anything, it's fun with a capital "F" and if the DC Comics films need anything, it's fun.
Some slight modifications have been made to the origin story that first appeared in the 1940 issue of Whiz Comics # 2, but the core concept remains the same. Orphan Billy Batson (Asher Angel) has been chosen by the ancient wizard Shazam (Djimon Hounsou) to take his powers. All he has to do is say his name and the tween boy is transformed into a muscle-bound hero clad in red spandex with an electric-charged lightning bolt on the chest and a white cape. Needless to say, the kid is more than a bit confused by these changes (the puberty metaphor is pretty obvious here) but gets some advice from Freddy Freeman (Jack Dylan Grazer), a fellow foster child at the group home where he lives, and a self-proclaimed superhero expert. His knowledge comes in handy as the evil Dr. Sivana (Mark Strong) sets out to steal Billy's powers from him, before he can figure out how to use them.
The film hits all the moments we expect from comic book origin stories, but what makes Shazam! distinctive is the way the script by Henry Gayden simultaneously embraces and pokes fun at superhero movie troupes. As Freeman provides his version of Superhero 101, Billy's alter ego disproves it again and again to humorous effect, and when discussions of getting a hidden lair or the importance of a secret identity occur, the film's post-modern vibe is in high swing.
If you can imagine the Tom Hanks's film Big on steroids, you have some idea of what's going on here.
The other thing that makes the film stand out is the sense of family that's part and parcel of the new Shazam! myth, as Billy's biggest challenge is to trust and love his new foster family. In addition to Freddy, there's Mary (Grace Fulton) Darla (Faithe Herman) Eugene (Ian Chen) and Pedro (Jovan Armand), all kids who have endured trauma and are trying to recover in their own way, at their own pace. Only when Billy realizes he shares in their plight and that his new powers can benefit them all, does he become a true hero.
And it is that journey and its joyous culmination that makes Shazam! so special. Espousing the power of family and togetherness is the film's superpower and it's a message that's delivered without a trace of cynicism. The innocent, joyous nature of this movie is something future DC Comics' films would do well to note and perhaps take a page out of Sandberg and Gayden's playbook.
Contact Chuck Koplinski at koplinski@usd116.org.