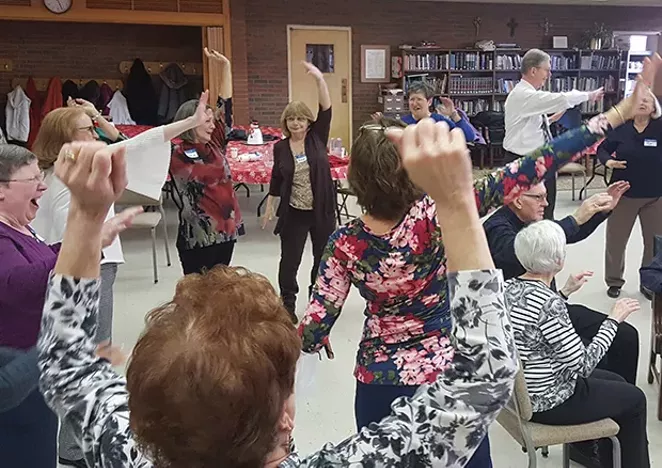 It isn't your typical dance class, but for those who attend it is a time of joy, movement and camaraderie. Called Joy of Movement, the dance classes are specifically geared for those living with Parkinson's disease and related disorders.
Eve Fischberg, who lives in Loami, started the program in 2016 with one class a week. When more people showed an interest, she found space at First Presbyterian Church in downtown Springfield for classes now held on Tuesdays and Thursdays. Participants can bring a care partner or friend as a dancing partner or come on their own.
Fischberg, an occupational therapist, has worked in health care for over 43 years. She always loved to dance and choreographed dances for people with dementia and children with special needs. When both her father and father-in-law developed Parkinsonian conditions, she happened to pick up a pamphlet about Dance for PD (Parkinson's disease). The program had been developed by the Mark Morris Dance Group in Brooklyn, New York.

Fischberg attended a training session, and with her love of dance, knowledge of Parkinson's disease and background in therapy, she saw the potential for a program in Springfield. At the time, she was teaching at Lincoln Land Community College and in 2015, she decided to retire and develop plans for the dance groups here. The only other similar program in central Illinois is held monthly at the Krannert Center in Champaign.
She explains what happens in the class. "I focus on different themes and music every quarter. Everything is choreographed so that people with different abilities can participate. We start with movement while seated, then standing, and for those who are able, moving across the floor."
The music and themes change. The theme for this quarter is "Hurray for Hollywood." Fischberg asked people to list their favorite musicals, and then developed classes around that theme, with people dancing and singing along to their favorite songs.
Many come to the class as a care partner. Susan White, who attends with Candace Mueller says, "This is a wonderful program. I go every Thursday afternoon, and we have so much fun." Mueller says, "I appreciate Susan as my caring dance partner. I have found joy in two ways by attending. First, it is simply a joyful way to keep moving by learning dance steps and listening to good music. And I have been joyfully blessed by meeting new friends – also living with Parkinson's – and their caring partners."
Volunteers dance with those who attend solo. Fischberg says, "I am always looking for volunteers. No dance background required."

Fischberg points out the many benefits. "First, we don't talk about the disease or any of the processes that might occur. This is a Parkinson's free zone and is about all coming together to enjoy life and laugh. It turns into a little party."
It may be a fun time, but Fischberg reviews feedback, revises as needed, changes up routines and tracks progress. She asks each person to complete a self-assessment form that provides her with feedback on how the class has been of benefit. Both the person living with the disease and the caregiver complete the forms.
"I ask them to assess whether motor skills and non-motor skills have improved using a scale of all, most, some or none of the time to determine if the class is meeting needs. Results have been positive. One hundred percent reported that the class improves their sense of social connection, which is really key, since Parkinson's can be very isolating, both for the person with PD and for the care partner. Dancing helps."
Care partners, too, give positive feedback. Social isolation for those they are helping is often an issue. Dancing with a group raises endorphin levels and builds a bond among the group members. Those who participate acknowledge their self-confidence increases, they feel more relaxed and less stiff, their balance improves and they leave in a better mood.
Fischberg is appreciative of funding sources, starting with a grant from the Health Care Giving Circle and now through grants from the Community Foundation for the Land of Lincoln, the Stevens Family Foundation, and Access to Recreation, as well as public donations to The Joy of Movement. First Presbyterian Church provides free space for the classes and Grace Lutheran Church provides parking space.
"The benefits of this program have been tremendous, and I witness the joy at every session. The people living with Parkinson's and related disorders deserve a break from all the effects that the disorder brings, and that happens with Joy of Movement," Fischberg says.

Classes are free and held from 1:30-2:30 p.m. on Tuesdays and Thursdays and limited to 12 people. To find out how to join a class or to become a volunteer care partner, email Eve Fischberg at joyofmovement2@gmail.com. Fischberg is planning to add a Wednesday morning class in the spring that will be co-taught with Taryn Grant. More about the Joy of Movement can be found at the website thejoyofmovement.org.

Cinda Ackerman Klickna is a freelance writer, former English teacher and past president of the Illinois Education Association.