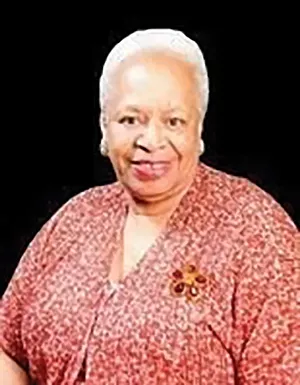 In 2016, as members of the Springfield-Decatur Area Alumnae Chapter (SDAAC) of Delta Sigma Theta Sorority promoted the annual Pre-Kwanzaa Expo, a call was received from Joan Huggins, a Delta new to the area, asking how she could assist. From then on, she became an active member of SDAAC – attending meetings, serving as general chairperson for Delta Academy, an enrichment program for eighth grade girls, and chaplain. She attended state meetings, regional conferences and national conventions, even traveling to Okinawa, Japan, for the Delta International Sisterhood Retreat.
An active member of St. Paul AME Church, Joan served as treasurer of the Lay Organization and vice president of the Women's Missionary Society. Her other activities included being a member and vice president of the American Legion Auxiliary, a member and trustee of the Elks Club and a member of the Ebony Royale Red Hat Group.
Because of her commitment to public service, she received the NAACP Senior Citizen Award in 2020.
Joan was very personable and never met a stranger. The Springfield community lost a treasure when she died.
Submitted by her Delta Sigma Theta Sorority sister, Jeanette H. Goza, chapter president