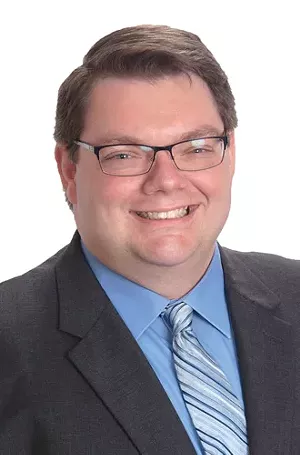 Incumbent Rep. Sara Wojcicki Jimenez, R-Springfield, is seeking election to her first full term as representative for the 99th District covering part of Springfield. She faces fellow Springfield native Anthony DelGiorno, a Democrat, who says that Jimenez is not doing enough to truly represent her constituents.
In November 2015, Jimenez was chosen by Gov. Bruce Rauner and
appointed to her seat by the Sangamon County Republican Central Committee
to fill the seat vacated by the current director of agriculture Raymond Poe. Jimenez says that no matter who her opponent is, her focus is working with the legislature to establish a state budget and continuing to serve her constituents.
However, DelGiorno, an attorney at Springfield law firm Rammelkamp Bradney, says he is willing to do what he says Jimenez hasn't done: represent the 99th District. DelGiorno said that he is frustrated with the gridlock over state employee union negotiations, which he attributes to Jimenez's vote against a union-backed bill requiring arbitration if contract talks stretch past 30 days.
"Sara's vote against House Bill 580 makes it clear that she is not standing with her constituents who are the state workers, one of Sangamon County's biggest employers," DelGiorno said in an interview with Illinois Times. "It's high time that the 99th District has a representative who cares more about them than the governor who appointed her. What Sara has done with her vote busts the unions right along with the governor."
He says his campaign will stand on issues of education funding, implementing a graduated income tax and funding services for senior citizens.
Jimenez discussed the challenges associated with being a representative in the Democrat-controlled House.
"When I entered the General Assembly, Illinois was already in its sixth month without a budget," Jimenez said. "It has been challenging, but as I continue to knock on doors and gather the perspectives of my constituents, the goal is to figure out solutions."
Both candidates are looking at education funding ideas that would not result in immediate cuts to school budgets this fall.
DelGiorno says that he would like to see a hybrid approach to Democratic Sen. Andy Manar's education funding reform bill that would address the concept of winners and losers among school districts.
"I would prefer to see the school districts fully funded, followed up with additional funds that could help the districts with higher poverty levels that are addressed in Manar's bill," DelGiorno said. "With that being said, I think we need to discuss in real dollars and cents what it means for every district to be fully funded."
Jimenez said the negotiation process starts when Republicans and Democrats agree to work together and the House leadership starts to entertain some of the Republican ideas.
"Currently we are talking about a K-12 budget that would hold every school district harmless so that they don't get any less money than they did last year, in order to ensure that the schools open in August," Jimenez said. "In the end, it doesn't have to be our bill, but at least incorporate some of our ideas."
DelGiorno says that in order to discuss any of the issues in the legislature, a budget needs to be passed first.
"My fear is that we won't have anything in place before the election," DelGiorno said.
DelGiorno and Jimenez are both Springfield natives who are actively campaigning in the community and have held roles as public servants in different capacities.
Jimenez said that her experience as a former statehouse reporter, a state worker and a member of the Springfield Park District board – along with growing up in Springfield – has created a solid foundation when it comes to sharing the values of her constituents.
DelGiorno, who serves on the Sangamon County Board, plans to continue advocating for human services and senior services through his campaign and through his law firm.
He says he admires what House Speaker Mike Madigan has done for working families.
"I come from a working class family and I remember where I've come from," said DelGiorno.
Jimenez says one of her accomplishments during the eight months she has held her position has been legislation allowing the Illinois State Museum to reopen on July 2. Jimenez has also sponsored legislation to get state jobs previously moved to Chicago back in the capital city.
"I'm ready to make the hard choices," Jimenez said, "and get us back on to a path of stability and certainty."
Contact Brittany Hilderbrand at intern@illinoistimes.com.

CORRECTION: This article previously said Jimenez was appointed by Rauner. It has been changed to reflect that Jimenez was appointed by the county party at Rauner's preference.