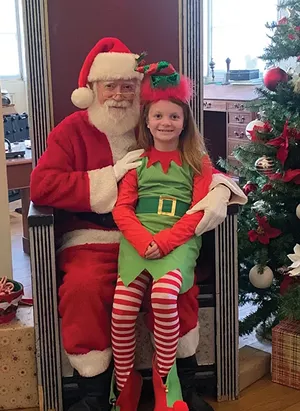 This year, Springfield lost Jim Cox, who had portrayed Santa in downtown Springfield for the past 10 Christmases. His seasonal job made him proud. He loved interacting with kids, many of whom visited year after year. Jim would listen to their wish lists and hand them a candy cane. Sometimes he even got to pose for selfies. He looked the part and was always excited to play the role, too. His wife, Pat, stood by his side as Mrs. Claus. They were a great team.
Before becoming Santa, Jim retired from AT&T, was on the board of directors for the Senior Center of Central Illinois and gave tours as a ranger at Lincoln Home National Historic Site, as well as historical tours at Camp Butler. He was also a Navy Veteran, a father of three and grandfather of six.
During the holidays, I'll always remember the magic that my Uncle Jim passed on to everyone he met. While he isn't around this year, his Christmas spirit is, and will be for a very long time.
Submitted by his niece, Jodi Tabor