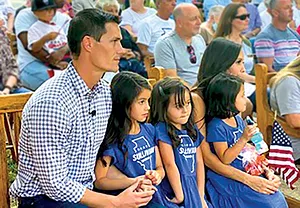 Jesse who? He's raised how much? Is there any chance he could win?
Those were questions being asked across Illinois last week when Jesse Sullivan announced he was seeking the Republican nomination for governor.
Sullivan, a venture capitalist who has invested in high-tech startups in Silicon Valley, has raised $11 million to launch his campaign. That's an impressive amount, said Kent Redfield, an expert in campaign finance and a retired political science professor from University of Illinois Springfield.
But Redfield added $11 million doesn't go as far as it once did in funding a statewide campaign. He noted that both Bruce Rauner and JB Pritzker self-funded their gubernatorial bids and spent tens of millions of dollars.
Sullivan, a Petersburg native, made his announcement Sept. 9 at Lincoln's New Salem State Historic Site with a statue of Abraham Lincoln as a backdrop and an audience of friends and family before him.
Like most candidate announcements, it was long on down-home charm but short on specifics. The state's unfunded pension obligations never were mentioned, perhaps a surprising omission from someone with a background in finance. The pandemic also didn't rate a mention.
During the past 50 years, only four individuals from outside the Chicago area have been major party nominees for Illinois governor. And just two, Jim Edgar and George Ryan, have been elected.
This begs the question: Can a relatively unknown downstater win?
"No, he can't win. Pritzker is too popular, too well-funded and the state is trending too Democratic," said Charles Wheeler III, a retired journalism professor at University of Illinois Springfield and a longtime observer of Illinois politics.
But Mike Lawrence, who once headed the Paul Simon Public Policy Institute in Carbondale and also was a senior adviser to Gov. Jim Edgar, said he believes someone like Sullivan can win.
"He doesn't have to match (Pritzker) dollar for dollar, but he does have to raise enough to get his name out there and be heard," Lawrence said. "I think Pritzker is vulnerable. And I'm not a Pritzker-basher. I may even end up voting for him. But he has made a lot of decisions concerning COVID that have been controversial. And usually when there is controversy, the people who are angry are more motivated to vote than those who are happy with you."
Former State Rep. Jeanne Ives, of Wheaton, narrowly lost the Republican gubernatorial nomination to Rauner in 2018. She believes Sullivan will have trouble winning the Republican nomination.
"After Bruce Rauner, Republicans in this state are very skeptical. They expect candidates to show them what they can do," she said. "Missouri is the 'Show-Me State.' But we are now the 'Show-Me Party.'"
Ives said Sullivan has not held political office before or been helpful to Illinois Republicans running for lesser offices.
But Sullivan bristles at comparisons to Rauner.
"He was a businessman who had done work in finance and venture capital, private equity," he said of the similarities to Rauner. "Outside of that, you can see I'm from small town, Illinois. I'm one of eight kids. My dad's a PE teacher, not a private equity professional. I'm not a billionaire from Chicago. I'm a downstate guy who grew up working on a farm."
There are three other Republicans seeking the nomination: state Sen. Darren Bailey, of Xenia; former state Sen. Paul Schimpf, of Waterloo; and suburban businessman Gary Rabine, of Bull Valley.
So what sets Sullivan apart from his rivals?
"He's conservative, but he's certainly not a Trump-type," said former state Rep. Rich Brauer, R-Petersburg. "I see him as being much closer to being like (former Gov.) Jim Edgar. They used to call him 'Governor No,' because he would say 'no' when he thought the legislature wanted to spend too much. That is what the state needs. ... I don't see him being combative like Trump."
Brauer noted that Sullivan, 37, has four children with his wife, Monique, and that she is pregnant with their fifth.
"She could be a great asset for him. She's Hispanic, and that could help him in various parts of the state," Brauer said. Monique Sullivan also was a field officer for Obama for America, helping coordinate get-out-the-vote efforts in Albuquerque, New Mexico, for five months in 2008, according to her LinkedIn account.
Sullivan raised $10 million from just three out-of-state supporters in the five days leading up to his announcement. The donors who made seven-digit contributions all live in the San Francisco metropolitan area.
The $11 million already raised by Sullivan is more than five times the combined amount the three Republicans already in the race have taken in this year. But it's less than one-third what Pritzker already has in his own campaign coffers – $35 million from his personal bank account.
And there is the rub. Pritzker is a scion of the Hyatt Hotel fortune who Forbes estimates has personal wealth of $3.6 billion. During his time in office, Rauner estimated his net worth at $500 million. Both men self-funded their campaigns.
This begs the question, can someone without that type of personal wealth win the Illinois governorship? Ives said a non-wealthy candidate could prevail but the candidate would need to have the support of major GOP donors.
Sullivan did not answer questions regarding his own personal wealth.
Scott Reeder is a staff writer with Illinois Times. Contact him at sreeder@illinoistimes.com.