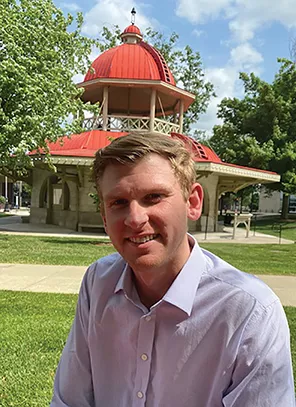 Jesse Reising is the man with the resume – and he wants the world to know it: High school valedictorian, Yale undergrad, Harvard Law and now candidate for Congress at age 32.
Sitting at a picnic table in Decatur's Central Park on May 20, he opined on why he is seeking the GOP nomination for the 13th Congressional District, a spaghetti-noodle-shaped district stretching from East St. Louis to Springfield to Decatur and ending in Champaign-Urbana.
He was a football standout at Decatur's Eisenhower High School who was recruited to play for Yale and dreamed of being a U.S. Marine Corps officer.
"Unfortunately, in the last nine minutes of my college football career, I tackled Harvard's running back and severed two of the nerve branches in my neck, which left me partially paralyzed," he said.
When shaking hands, he uses his left hand to lift his right into place, just before giving a firm politician's grip and a prolonged gaze into the other's eyes.
Reising, Decatur community activist Regan Deering, Champaign engineer Matt Hausman and Springfield journalist Terry Martin are all seeking the Republican nomination.
Nikki Budzinski is widely considered the favorite to win the Democratic nomination. But David Palmer, a Champaign insurance broker, is also on the Democratic ballot.
The Sangamon County Republican Party has endorsed Reising.
"He has an interesting background and we liked that he presents himself very well," said Dianne Barghouti Hardwick, head of the Sangamon County Republican Party. "In the world of Washington, D.C., we think he can hit the ground running. ... I would consider him a conservative with the ability to work with moderates and maybe even with those a little more to the left than that. He presents his positions very well. He has a booming voice – which is surprising. I'm sure they can hear him in Congress with that."
Reising's injury prevented him from pursuing a career in the Marine Corps. Despite this, he spent five months in Afghanistan working as a contractor and launched a veterans' service organization. He said the Warrior-Scholar Project has helped thousands of veterans transition to college. He went on to prosecute criminals as a federal prosecutor.
And last year he was named a partner in Kirkland Ellis, a firm Law360 has dubbed the world's most prestigious. While prestige is hard to quantify, the firm also itself identifies as the "world's largest" based on revenue.
Reising moved back to Decatur during the pandemic in 2020 and continued to practice remotely. He said he initially had no plans to run for Congress when he moved back to central Illinois.
Reising grew up solidly middle class with a mother in charge of nursing at Decatur Memorial Hospital and a father in the information technology department at ADM.
Reising said he is "pro-life" and refused to say whether exceptions should be made to protect the life of the mother or in cases of rape or incest.
"Roe v. Wade was wrongly decided; there is no constitutional right to abortion," he said.
As to the recently leaked draft Supreme Court opinion, Reising said, "It remains to be seen how they're going to ultimately rule on this issue. Once we have the final decision ... we'll be able to evaluate what sort of pro-life policies we can start."
He said he would focus his attention on ending taxpayer-funded abortions whether performed domestically or abroad and "on late-term abortions on demand."
Reising is a Donald Trump supporter.
"Under President Trump, we had one of the strongest economies that our country has seen. And since President Trump left office, we have seen the complete obliteration of all of that progress on the economic front."
Reising supports gun-owner rights but an online ad showing him wearing blaze orange and camouflage while carrying a shotgun stirred controversy when a St. Louis TV station revealed that he does not have an Illinois hunting license. Reising's response to the station was that he hunted growing up but has not since suffering his football injury.
Former U.S. Rep. John Shimkus, who lives in the 13th District, has endorsed Reising.
"He's from the district. He'll continue to live in the district. He's been very successful. And then he came home. I love that. I've lived in my hometown of Collinsville my whole life. ... I liked the fact that he really wanted to go into the military. You know, in essence, he went through Marine Corps basic (training) before his injury."
Shimkus, a West Point graduate, said he sees a bit of himself in Reising. He noted that he gave Reising his endorsement in part because he was the only one in the race that asked for it.
"I was like a Jesse Reising. I was just trying to do stuff. And I decided if someone asked for my help and I could help, and they fit in my category of what I believe would be a good member of Congress, I would support them. I know how lonely it can be to be a candidate. ... just look at his resume and his background – this is a great guy."
Scott Reeder, an Illinois Times staff writer, can be reached at sreeder@illinoistimes.com.