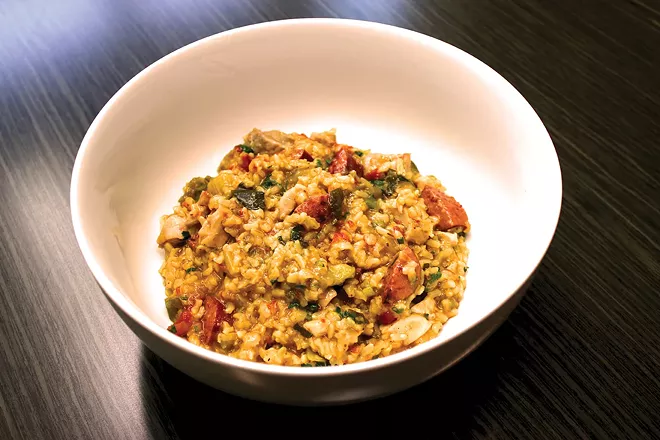 Those who have been lucky enough to experience true Cajun jambalaya, cooked slowly over a wood fire in a cast iron pot, studded with succulent nuggets of andouille sausage, shrimp and what folks down by the bayou call the "holy trinity" (diced pepper, celery and onion) know how deeply satisfying a dish it is.


Born out of the American culinary melting pot, jambalaya has cousins all over the world. It shares many similarities with other rice dishes like Spanish paella, Latin American arroz con pollo, Indian biryani, Persian tahdig, and Italian risotto, all cooked with a varied cast of seasonings, vegetables and protein. When Spanish settlers near New Orleans sought to replicate the beloved paella from their homeland, they worked with the ingredients they had, substituting tomatoes for the aromatic Spanish saffron that the recipe normally included, resulting in what is known as Creole jambalaya. As the dish spread outwards from the metropolitan Big Easy, tomatoes became more scarce, so folks omitted the tomatoes from the recipe, resulting in what is known as Cajun, or brown, jambalaya.


Making a proper jambalaya, and indeed many Cajun or Creole dishes, can be an hours-long or even days-long process. As much as I love the idea of standing around a fire all afternoon with a beer in hand, slowly stirring a big cast iron pot of rice, it doesn't often jive with my busy schedule. To that end I created a modified (some might say bastardized), recipe for Creole-style jambalaya in the multicooker.

Admittedly, there are a lot of things about this dish that would make a Cajun or Creole culinary purist turn up her nose. The recipe exchanges fiber and nutrient-rich brown rice for the traditional white long grain rice, a zucchini has been thrown in for good measure, and the coveted crusty layer that develops on the bottom of a pot of authentic jambalaya is exchanged for weeknight expediency. This dish comes together in about an hour, and that includes the time the instant pot takes to pressurize and naturally release, making it perfect for a festive Fat Tuesday supper.
Speed things up even more by planning ahead: the chopped vegetables and meat can be prepared several days in advance and will wait happily in the fridge until you're ready to cook. Once you're comfortable with this cooking method, feel free to experiment with it beyond jambalaya. This method is a useful way to extend a small amount of leftover roast pork or grilled chicken, and lends itself well to other flavor profiles. Try swapping out the peppers for mushrooms and leeks, omitting the tomatoes and sausage, stirring in a couple of large handfuls of baby spinach along with the cooked chicken at the end, and finishing it off with a squeeze of lemon and shaved parmesan.


Multicooker jambalaya
1 tablespoon olive oil or bacon fat
6 ounces andouille sausage (smoked Polish sausage or ham is a good substitute), diced
1 large yellow onion, diced
1 each and green red bell peppers, diced
4 ribs celery, diced
1 medium zucchini, diced
4-5 cloves garlic, minced
1 ½ long grain brown rice
1 can Rotel tomatoes
2 ½ cups chicken broth, low-sodium or homemade
½ teaspoon each dried thyme and marjoram
1-2 teaspoons Old Bay Seasoning, to taste
2 bay leaves
½ teaspoon salt, to taste
2 cups cooked, diced chicken

Chopped fresh parsley and scallions, to garnish


Set the multicooker to "sauté" and add the olive oil. When the pot is hot add the sausage and sauté until well browned, about 3-4 minutes. Remove the sausage from the pot and set aside. Add the diced vegetables to the pot and cook until softened and lightly browned, about 5 minutes. To that add the brown rice, Rotel tomatoes, broth, dried herbs, Old Bay Seasoning, salt and bay leaves. Taste for seasoning, then put the lid on the pot and lock it. Set the multicooker for 18 minutes at high pressure.
Once the cooker has completed its cooking cycle, let the pot release pressure naturally for 10 minutes before releasing the pressure valve. Remove the lid once it unlocks, then stir in the diced chicken and reserved sausage. Top with chopped parsley and scallions, and serve.


Smothered cabbage


This soul food classic astounds me each time I make it. It's hard to believe how something so basic and seemingly banal as cabbage could cook down into such utter deliciousness. I like to serve this alongside the jambalaya, rounding out the meal with succulent helping of leafy greens.
4 ounces diced bacon, or (substitute two tablespoons olive oil to make vegan)
1 large onion, diced
2-3 cloves garlic, minced
1 medium sized green cabbage
1 cup broth of choice or water
Salt and pepper to taste


Trim the brown end off the cabbage before roughly chopping it. I like to include most of the core as it cooks up wonderfully tender, but you can discard it if you wish.
Set the multicooker to sauté and add the bacon. Cook it until crisp, then remove it with a slotted spoon to a dish and set aside. Add the onion and garlic and cook until softened and lightly browned, about five minutes. Add the chopped cabbage and broth or water, season it generously with salt and pepper, then lock on the lid. Set the cooker for 15 minutes at high pressure. When the cooking cycle is complete, let the pressure release naturally for 10 minutes before releasing the pressure manually. Stir the reserved bacon into the cooked cabbage, taste for seasoning, and serve.


Ashley Meyer is a Springfield-based food writer and cook. She consulted several old cookbooks by Chef Paul Prudhomme while developing this week's recipes. Meyer is the keeper of a vast collection of cookbooks that once belonged to her late mother, Julianne Glatz, who wrote for Illinois Times for a decade, until her death in February of 2016.