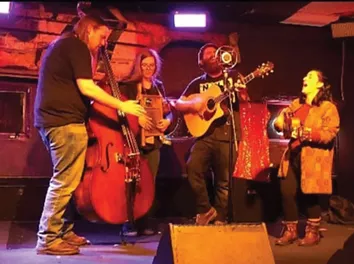 As we roll into what would have been the second weekend of the Illinois State Fair for 2020 we can attempt to accept and amply appreciate what the global pandemic from COVID-19 has done to our lives and lifestyle. Our "Not Fair" statement from last week still applies on many levels as we continue to comprehend the issues at hand. First, let's give our best to those directly affected by the bad bug, whether on the frontlines working or from actual interactions, knowing that the thing is real and here to stay. Many musicians I know are still live streaming or only playing outside, properly distanced gigs, and those are mostly solo or duo performances. The larger outdoor venues are doing what they can do, hosting bands when safely able and on we go through the uncharted waters of these crazy times.
Mike "Mikey" Austin, a well-known and respected figure on the local scene through booking bands at Mikey's Entertainment and other cool stuff, is currently fighting the battle of his life against Stage 4 pancreatic cancer. He just found out the diagnosis earlier in the month and is tackling it head-on, as he does all things. Please donate to his GoFundMe page and send words of support and caring. Also visit the Friends of Mikey Austin Cancer Sucks Benefit Ride on Facebook for information on a Saturday, Sept. 12, event in his hometown of Pawnee. Yes, Mike, cancer sure sucks — big time, all the time. We are here for you.
Thursday night, Johnny Lawhorn & the Pentagram String Band cuts loose in front of Buzz Bomb Brewing Co., boasting a lineup of banjo, mandolin, stand-up bass, washboard and hillbilly harmonies for a performance described as "intense and lovesick" and based on "carnage and consequence," which makes a visit to see how an act lives up to those words imperative.
Weebles, located not far from the state fairgrounds on Peoria Road and Route 66, began hosting their NorthEnd State Fair Music Fest last week and continues on with live music by Brushville rocking the country on Thursday, Brandy Kristin & The Revival livening up the world on Friday and those lovable Sleeping Dogzz rolling over to rock your socks off on Saturday.
The Main Gate Bar & Grill, which is not surprisingly located right across the street from the main gate of the state fairgrounds, is doing their very best to keep the fair feeling going with Hat Trick pulling no punches on Friday and the tribute band, Killer of Giants, heading to the frightful land of Ozzy on Saturday.
I'd like to take a moment to congratulate me, myself and I on my Illinois Times 20th anniversary this week, which happens to be near our Aug. 20, 2020 issue, so that's rather neat. Sometime in the middle of August 2000, Bill Furry, IT editor at the time, asked me to take over the Now Playing column. Since then, I've only missed three or four columns in 20 years, which I guess adds up to some 1,000 articles of stuff about the Springfield music scene. I am very proud to be a part of it all, as a working musician and also a cheerleader commentator, which is how I see my job as a freelance contributor at IT. I am not a critic, nor do I aspire to be. I really just want to let folks know what we got going on here in the happenings of our fairly fine community so the music can be heard and appreciated. Take care of each other and let's go enjoy the music.