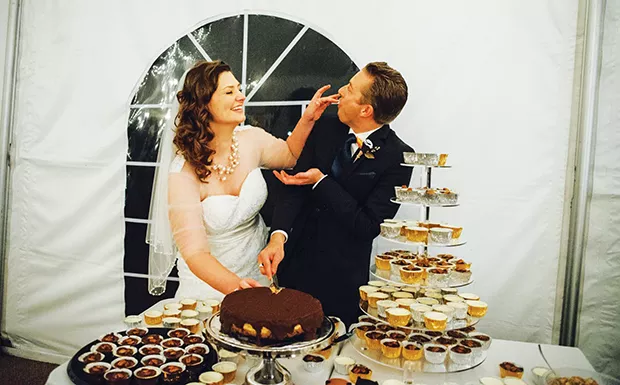 A cake is still a staple of most wedding receptions, but the options now are almost limitless. Couples today are experimenting with designs and flavors far beyond traditional white cakes, although classic elegance is also a popular option. Here are a few of the current trends:




click to enlarge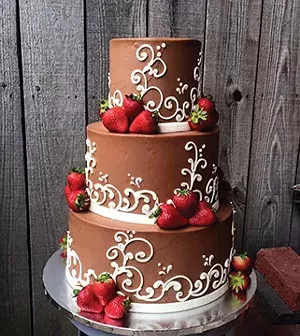 Simple and classic
While wedding cakes of the past were adorned with fondant flowers and elaborate decorations, many couples today are opting for more simple touches.
"You don't have to be bold and daring with your wedding cake. Simplistic elegance is still a great and meaningful choice. It is best to choose a design that makes you feel something," said Melanie Dineen, wedding cake designer for Incredibly Delicious in Springfield. "Adding a bit of organic metallic, fruit or floral elements really make a design exciting and elegant."
Emily Lewis, owner of Three Twigs Bakery in Springfield, said she has also noticed many couples opting for fresh flowers or fruit as cake decorations. "Honestly, it's more affordable, so that might be how the trend started," Lewis said. "But it's super elegant, and I personally love flowers wrapped around the cake or on top of the cake. It looks so beautiful."
Going naked
The popularity of rustic-themed weddings has led to a similar trend for cakes, the naked wedding cake. A thin coat of buttercream icing allows the cake itself to be visible, although fresh flowers or fruit are also used with this style of cake as well to add some decoration.
Lewis said, "Naked cakes are the biggest trend locally right now; we did them all last year and it's continuing with the weddings we've already booked into 2020. Something we've noticed is people are shying away from the traditional look of a white wedding cake."
Novel flavors
In addition to wanting a different look for wedding cakes, more couples are opting for nontraditional flavors, focusing as much on the taste of the cake as the appearance. Gone are the days of vanilla and chocolate as the only options.
"They don't care that it looks like a wedding cake," said Lewis. "They want it to taste good. A lot of the wedding cakes we do now look like something you'd expect to see at a birthday party or a fun cake you'd get for an event." Lewis said she's recently made wedding cakes that incorporated "chocolate, berries, mini-doughnuts, edible cookie dough, all kinds of random things."
Wedding cake alternatives
Some couples are opting to skip a wedding cake altogether, serving cupcakes, eclairs, cake pops or other types of desserts. As a compromise, some couples opt for a small wedding cake but serve a variety of other desserts as well.
"I will always love a stunning five-tiered wedding cake in a grand ballroom, but I equally love a simple two-tiered cutting cake for the bride and groom with an assortment of mini desserts and macaroons for guests to choose from," said Dineen, noting that Incredibly Delicious offers the option of a wedding cake bar. "Why select just one flavor of cake when you can have it all and incorporate other design elements you love as well?"
When Diane Beauchamp's daughter got married at The Rail Golf Club in Springfield, Beauchamp made a full-size pumpkin cheesecake for the bride and groom, along with individual cheesecakes for the guests, in lieu of a wedding cake.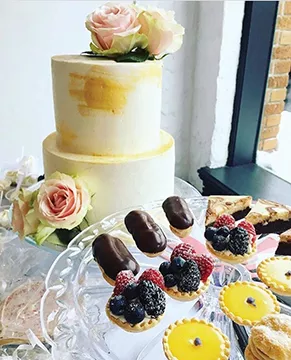 What's next?
"At Incredibly Delicious, we use a watercolor design in which the buttercream is layered and a bit transparent in places to add color to the cake. The shading can result from subtle texture to dramatic design impact," said Dineen.
"I am currently a bit obsessed with how much play this design yields; the results are always fantastic and unique. The buttercream acts like a painting medium and can be used to build texture into the design. We can even create florals with buttercream that look like a 3D oil painting.
While cakes with edible gold elements are becoming popular nationally, the trend doesn't seem to have caught on in central Illinois just yet.
"I've seen gold cakes on Pintrest and expected to get some of those requests, but so far it seems to be the same things for next year," said Lewis.