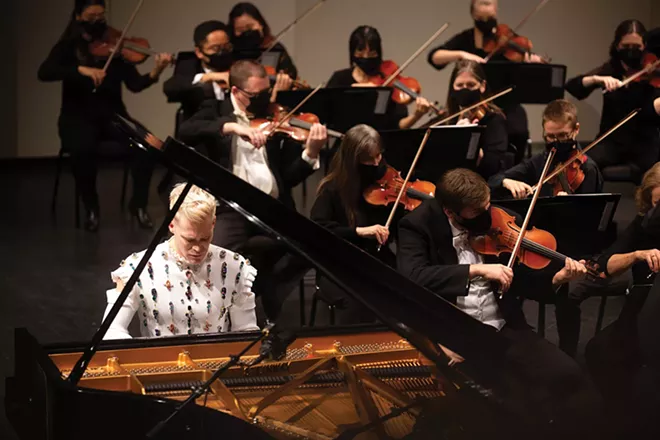 The second concert of the Illinois Symphony Orchestra's 2021-2022 season was held this past Saturday at the UIS Performing Arts Center and proved to be an exciting evening of contrasting moods and surprising choices, including renditions of major works by two very different Russian masters and the debut of a new piece by a contemporary Illinois composer.
The musicians making up the ISO seemed exuberant and eager from the start as conductor and musical director Ken Lam followed concertmaster and first violin Roy Meyer onto the stage, along with composer Roger Zare, on hand to introduce the debut of his "Fanfare Solaris."
"I grew up in Florida," explained Zare, who is a professor of composition at Illinois State University. "I didn't know how good I had it growing up there, where it's very sunny and warm year-round." He described the piece, which clocks in at a brief three minutes and 30 seconds, as "warm and radiant all the way through, just as I remember growing up in Florida."
Melodic and multifaceted, "Fanfare Solaris" went by in a flash of energy, seemingly over almost before it began. Zane explained that it had originally been written for violin and piano and later expanded for a larger ensemble. It was a fitting opening for an eclectic evening.
To say that guest soloist, pianist Micah McLaurin, made a splash with his entrance might be an understatement. Eschewing the traditional formality which characterizes onstage garb for many classical musicians, the 27-year-old virtuoso arrived at the piano bench wearing a bejeweled, white sweater by New York designer Zaldy, imparting a sense of youthful panache, if not flamboyance, to the proceedings – a look and attitude more usually aligned with pop stars rather than classical musicians. Indeed, McLaurin has 111,000 followers on Instagram (as pianomicah) where his distinctive fashion sense is well-documented and he can be seen posing with celebrities such as Martha Stewart and Ellen DeGeneres.
McLaurin's performance of Rachmaninoff's Piano Concerto No. 2 in C Minor, Op. 18 with the ISO on Saturday transcended any surface notions of fashion or social media activity. With consummate artistry and passion, he seemed to almost caress Rachmaninoff's melodies from the keyboard like some sort of musical masseuse. The astoundingly beautiful rendition of the concerto was followed by a well-deserved standing ovation and a delicate, but bracing, unaccompanied encore by McLaurin of Chopin's Nocturne in C Sharp Minor.
The proceedings underwent a sharp change in mood in the second half of the evening with Shostakovich's literally irreverent Symphony No. 9. Described by Maestro Ken Lam in remarks preceding the performance as a "caricature of a lot of things," he quoted a commentator who had described the piece – ostensibly written as a celebration of Russia's victory in the Second World War –– as subtly mocking then-Soviet Premier Josef Stalin, "giving him the finger but hiding it in the pocket," in part by satirizing Stalin's high-pitched speaking voice with an unusually prominent piccolo solo.
Lam quoted Shostakovich himself as saying that "critics will hate this symphony but my orchestras will love playing it." And certainly, the musicians of the ISO tore into the frenzied orchestrations, sarcastic anti-fanfares and "demented waltz" of Shostakovich's wild, short symphony (five movements in less than 30 minutes) with infectious relish.
Next up for the ISO will be a percussion and brass ensemble playing works by Bach, Holst and others on Dec. 3 at Sacred Heart-Griffin High School, followed by the popular annual Holiday Pops in the Heartland concert at UIS on Dec. 18.
Scott Faingold can be reached at scottfaingold@gmail.com.