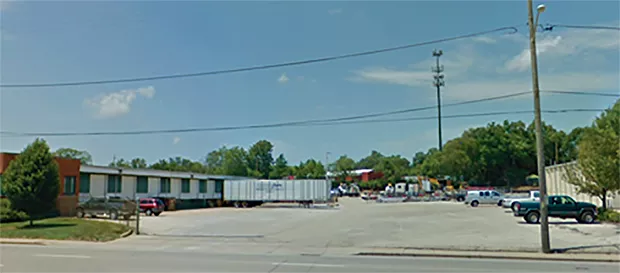 Twenty-two years before Abraham Lincoln signed the Emancipation Proclamation, he won an Illinois State Supreme Court case that freed Nance Legins-Costley.
Legins-Costley was an indentured servant in the eyes of the law, but, by all rights, she was a slave. She'd never been free. Neither she nor anyone else ever signed paperwork giving up her liberty. Nonetheless, she was bought and sold, first while still in the womb, when an Illinois state senator bought her parents. But the state Supreme Court ruled her a free woman after Lincoln took up her cause as a lawyer.
"It is a presumption of law, in the state of Illinois, that every person is free, without regard to color," the court ruled. "The sale of a free person is illegal."
Carl Adams, a former Alton resident who's written a book about Legins-Costley, has been looking for her grave since the 1990s. Finally, he says he's found it, thanks to help from a cast of amateur historians, a librarian and a dedicated genealogist. Legins-Costley, it turns out, may be beneath a Peoria parking lot, next to a muffler shop, alongside Civil War veterans and others whose graves were forgotten over the years.
Adams says the parking lot deserves a memorial. "Because she was the first slave freed by Abraham Lincoln, I think it should be 50 feet tall," Adams says.
David Pittman, second vice president of the Peoria chapter of the National Association for the Advancement of Colored People, agrees that a memorial should be installed. "We have ambitions in that effect," he says. While a son's grave was found in Minnesota a few years ago, Pittman wonders what became of other relatives – Legins-Costley's legacy, he says, should live. "It just says that the struggle for people to be free has to begin with the individual that insists and wants to be free," Pittman says. "That's what Nance was."
Starting with Robert Hoffer, folks with no particular interest in Legins-Costley deserve much of the credit for tracking down her final resting place. In 2016, Hoffer, a retired Caterpillar employee, started searching for the grave of his wife's great-grandfather who, according to family lore, had died on the steps of a church on Christmas Day, the Peoria Journal Star reported in 2017. He combed the local library and cemeteries and, eventually, found burial records showing that more than 2,000 people had been buried in Moffatt Cemetery, according to the newspaper report. But there was no such place, at least, not anymore.
After closing in 1905, the cemetery was rezoned by the Peoria City Council in 1954 for light industrial use. Some bodies were moved to other cemeteries, but Hoffer could find no exhumation records for many corpses, including remains of 48 Civil War veterans, the Journal Star reported in 2017, when Hoffer and other history buffs held a ceremony at the cemetery-turned-parking-lot.
The Peoria Genealogical Society microfilmed burial records found by Hoffer and also published the records in book form. That's all Deb Clendenen needed.
For years, Clendenen, a retired nurse, has put written burial records online. Last spring, Clendenen, who declined an interview request, was putting Moffatt records online when she stumbled across records for Legins-Costley, her husband, their daughter and several other relatives, according to an article by Jared Olar, library assistant at the Pekin Public Library. published last month by the Pekin Daily Times.
Olar cautions that it isn't a sure thing. It is possible, he says, that Legins-Costley's body was moved without records being made. "She could be there, but we can't be sure," Olar said. Still, the discovery is important. Until now, he said, historians didn't know the date of her death, nor were they certain where she had died.
It's solid work, according to James Cornelius, former curator of the Abraham Lincoln Presidential Library and Museum. "It doesn't take a PhD to do the deep digging," says Cornelius, who compares the case to the 2012 discovery of Richard III's grave beneath a parking lot, an effort initially pushed by amateur historians.
The Matson Trial of 1847, in which Lincoln represented a slave owner who argued that slaves brought from Kentucky were still slaves, gets more attention than the Legins-Costley case decided six years earlier, Cornelius says. "He took clients as they came," says Harold Holzer, a leading Lincoln scholar and author, via email.
But that doesn't make the Legins-Costley case insignificant. At the time, Cornelius said, black house servants in the same position as Legins-Costley weren't uncommon in wealthy white households, and so Lincoln risked disapproval from peers.
"He's operating against the grain of the times, because he believes everyone deserves representation in the courts," Cornelius says. "It's the firmest anchor we have to show that he has personal and professional contact with someone who was really being kicked around by the system. He does the right thing."
Lincoln didn't represent Legins-Costley. Rather, he was a lawyer for David Bailey, a Peoria businessman who had purchased her for $400 from Nathan Cromwell, who had bought Legins-Costley at a Springfield auction. Her prior owner was Thomas Cox, a former state senator who had mortgaged Legins-Costley and her sister to borrow money that he couldn't repay.
Legins-Costley wasn't yet 14 when she was auctioned. Her father had died when she was four and her mother had been acquired by a Kentucky lawyer when she was seven, Adams says. The only life she'd known was living in Cox's home and looking after his children. "For her to suddenly get dragged into court must have been terribly traumatic for a 13-year-old girl," Adams says.
Legins-Costley didn't go quietly. According to court records cited by Adams, she was jailed for refusing to go with Cromwell, the high bidder. John Taylor, Sangamon County sheriff, bought her sister for $151, Adams says.
Why Bailey bought Legins-Costley nine years later, just two years before declaring himself an abolitionist, isn't clear. No money changed hands; rather, Cromwell, who was leaving town and likely didn't want the company of an unwed, pregnant servant, agreed to a price of $400 that was recorded on a note. Adams believes that Bailey, who'd been business partners with Cromwell, agreed to the deal thinking that it would result in Legins-Costley's freedom. And it did.
When Cromwell died shortly after leaving Peoria, Legins-Costley, then 23, declared herself free. That resulted in litigation, with Cromwell's estate demanding that Bailey pay the promised $400. After a trial court ruled in favor of the estate, Lincoln took the case. Finding no evidence of an indentured servitude contract, the Supreme Court ruled for Bailey, and so declared Legins-Costley a free woman. Her three children, also, were deemed free as a result of litigation stretching five years.
Adams says he started researching Legins-Costley after hearing speculation that Lincoln wasn't concerned with the plight of slaves.
"Revisionist historians were saying that he never freed slaves and didn't care about them," Adams says. "I thought, 'This is bullshit.' This is to regenerate Lincoln, to get all the Lincoln historians to Nance's story in their books."