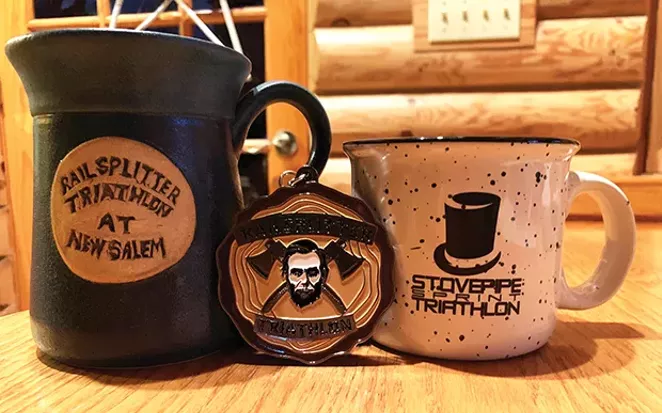 I am as much a fan of triathlon as I am of watching paint dry.
As colored latex crusts, you say, "Looky there," then cook up another toasted-cheese-and-bacon sandwich, which I'm told is to paint-drying as strawberries-and-cream are to Wimbledon, pimento cheese sandwiches to The Masters and mint juleps to the Kentucky Derby. Triathlon fans, by contrast, favor fruit and icky-tasting energy gels.
I have weaned myself from the endurance sport scene – it was remarkably easy – but I once rode bicycles for what these days seem implausible distances, 200 miles, once, in less than 11 hours, and that included the time it took to fix three flats. The fuel of choice was baked potatoes. You'd wrap 'em in foil, stuff them in your jersey pocket, against your lower back, just above your butt, and after a couple hours spent warming between your sweaty body and the sun's rays, they tasted great.
This is the mentality of endurance athletes. They are, quite literally, potato heads, devouring tubers and bananas until late afternoon, when they alight, locust like, in taverns and restaurants searching for the requisite 200,000 calories a day their predilections demand, plus sufficient beer to convince them that exercising like this is a good idea. And with triathletes boasting median incomes of $126,000, according to the sport's sanctioning body, they have plenty of cash to blow on carbohydrates.
Petersburg has been saved this scourge with the scotching of triathlons at New Salem, where three events of varying distances were to be held on June 15. These would have been the 12th annual races at the site, and who's to blame for the demise of what had become something of a central Illinois triathlon tradition depends on who's talking.
Steve O'Connor, race organizer, blames the Illinois Department of Natural Resources. Things haven't been the same, he says, since DNR took over New Salem in 2017 from the Illinois Historic Preservation Agency, which had been a standalone department. Unlike its predecessor, O'Connor says, DNR wants 10 percent of the event's gross revenue, which isn't as much as it once was. The number of triathletes in the U.S. has been declining since 2013, and the trend is as true in Menard County as anywhere. In past years, O'Connor said, the New Salem races drew 200 or so participants. This year, he says, he got 97 entries. And with nonrefundable entry fees ranging from $65 to $395, some would-be competitors are upset.
"They want my head, dude," O'Connor says. State Rep. Norine Hammond, R-Macomb, says she's calling in the state attorney general after getting complaints. "They paid their entry fee, and then Mr. O'Connor canceled the event, and repeated questions about when they can expect their refund have gone unanswered," Hammond says.
O'Connor says it's not his fault. Between insurance that will never be needed, t-shirts that will never be worn and other expenses, the money's been spent, he says. "I've got a barn full of awards that say Stovepipe Sprint and Railsplitter Olympic and I don't know what I'm going to do with them," he says.
Over the years, O'Connor says, triathlon organizers have donated thousands of dollars to the Menard County sheriff's office, rescue divers, the local high school and other groups that provided volunteers. In the case of Menard County Trails and Greenways, which supplied folks to point the way for directionally challenged racers, the event generated a few hundred dollars a year, according to Kent Massie, a member of the group's executive committee. Massie says his group cleaned up Illinois 29 near New Salem before each year's competition and once used money from the event to install trail markers. "It kind of became an annual thing to help out, stick around for lunch and talk to racers," Massie says. "It was a big event, and people came to New Salem."
O'Connor says it was either donate money to groups that provided volunteers or pay the state. He says DNR demanded money upfront, before he knew revenue figures. A DNR spokeswoman says otherwise. Both sides agree that policies have changed since DNR took over New Salem in 2017 and began requiring groups that use sites for events to give 10 percent of revenue to the state. That helps pay overtime costs, says Rachel Torbert, DNR spokeswoman. "It really comes down to staff time," Torbert says. "It was a change in policy that we felt Mr. O'Connor had adequate time to prepare for."
New Salem triathlons were held in 2017 and 2018 after DNR waived the 10-percent fee, but not this time. Torbert says O'Connor knew the rules. "This year, he chose not to accept that and to cancel his race," she says. "Our goal here at the agency is to connect people with nature. We wanted to make this race happen in any way we could." She says that USA Triathlon, the sport's governing body, offered to pay the state. "I'm not blaming anyone, I'm just telling you what happened from our end," Torbert says.
USA Triathlon's offer was too late, coming one week after he'd announced the race was canceled, O'Connor says. Now, he says, he's worried about triathlons planned for the Jim Edgar Panther Creek State Fish and Wildlife Area. "We think we may need to cancel them all," he says. "We think they're going to mess with us."