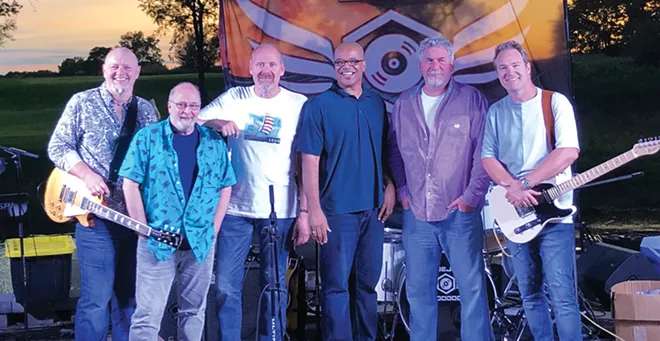 Here we go travelling on through July 2020 and into August, working through the pandemic problems and dealing as best we can with all the issues brought and wrought by this incredibly drastic change in our lifestyles. Let's see what's out there to enjoy in live music land. First and foremost, as we do every week, say thank you to the hardworking folks on the frontlines, here and everywhere, who are battling this bug for the good of all. And we also send out all the good we can to those affected at whatever level by direct contact with COVID-19.
As we see the infection numbers in our community rise, and especially notice how it's affecting our live music scene, please do all you can to be safe and to help others do the same. I've played several outdoor gigs lately and for the most part, people are watching what they do, but we all know how easy it is to forget the thing is among us and behave as if there isn't an invisible, highly contagious virus lurking around everywhere we go.
I had a good talk with Springfield native Bill Laymon this week, who has had a successful career as a bassist, songwriter and working musician for decades out in California. Bill left the 'patch way back when for the scene in Santa Cruz and the Bay Area with plans to join a rock 'n' roll band, and boy, did he ever. With years in as bass player for New Riders of the Purple Sage and then the David Nelson Band, he was privy to all the inside workings of the world of the Grateful Dead and the circle that amazing band developed through its "long, strange trip" of a career in show business, as well as many other music connections. Bill, like most touring musicians who live off their live music pay, has had a rough time over the last several months finding work and had a year of booked dates disappear. He recently had a fun gig playing a live band show with a retro 1950-60s group, Secret Chimp (are you listening, Lancelot Link fans?), where the group of all-star, normally touring musicians played at a drive-in theater. American Graffiti was showing so the period songs fit the mood of the film as the audience sat socially distanced in their cars, honking in appreciation of the music, rather than the traditional hand clapping applause. That's how it works in crazy 2020.
Bill has lots of contacts in the industry and the sad news from booking agents and the like does not bode well for the future. Even as some of us hope for a possibility of fall 2020 happenings, the professionals are seriously looking at 2021 being a wash for big festivals and tours with large gatherings of hundreds of people. On that cheery note, let's see what we have going on around town this weekend.
Please be aware that some clubs have closed temporarily due to COVID-19 realities and by the time you read this, others may have done the same or those closed may have reopened. Looks like Friday evening is the hot night for cool outdoor gigs this week, with the one-and-only Johnnie Owens buttering it up at Buzz Bomb, Deja Voodoo shining on some magic moments at Long Bridge, Highway 615 driving the country at Crows Mill Pub and Baaad Boyzz Band doing good at Mariah's. There's more where that came from in our live music listings.
Take care and take care of others while having some fun safely listening to the music.