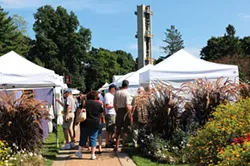 This summer, attend a different kind of music festival, one without the high ticket prices, long lines, dirty facilities and drunks. Substitute the serenity of Washington Park, the company of friends and family, and five nights of al fresco music performed by five of the world's most talented carillonneurs.

By definition, a carillon is a set of at least 23 bells housed in a tower, played via keyboard or a mechanism similar to an automatic piano roll located in the carillonneur's cabin. Built in 1962, with a $200,000 bequest from Illinois State Register publisher Thomas Rees, The Rees Memorial Carillon contains 67 cast-bronze bells covering 5.5 chromatic octaves, making it one of the largest carillons in the world. The size of the bells varies greatly; the largest bell weighs 7.5 tons while the smallest rings in at just 22 pounds. Altogether, the bells weigh a whopping 82,753 pounds. The size of the Thomas Rees Memorial Carillon combined with the quality of the bells and the historic Washington Park location make it one of the most sought-after carillons in the world.
The Springfield Park District along with The Rees Carillon Society and The Carillon Belles ladies auxiliary host their 55th International Carillon Festival on Sunday, June 5, through Friday, June 10, at the carillon. The free festival begins at 6:30 p.m. nightly, and features two concerts by two different carillonneurs each night, with the exception of Wednesday, when a private dinner will be held in the carillonneurs' honor in lieu of performances.
Individuals and families are encouraged to bring blankets and chairs to enjoy a picnic or to take a sunset stroll while enjoying the music. A large video screen will be located at the base of the carillon so that the audience may view the keyboard and carillonneur during each concert. The festival concludes at dusk on Friday, June 10, with a spectacular fireworks display accompanied by carillon bells. In the event of rain, the fireworks will be moved to Saturday, June 11, at dusk.
Featured performers are Dennis Curry of Michigan, Jeff Davis of California, Amy Johansen of Australia, Luc Rombouts of Belgium and Carlo van Ulft, current director of the Thomas Rees Memorial Carillon. The accomplished Ulft has a long history of carillon experience including 18 years as director and carillonneur of the carillon in Centralia. He has also received many other accolades and held carillon and faculty positions throughout the United States and his native home, The Netherlands. Ulft will open and close the festival with hour-long concerts on Sunday and Friday. He will also be the featured performer during the closing fireworks display.
Coinciding with the festival, the North American Carillon School, an independent carillon institute for carillonneurs of all ages and skill levels, founded by Carlo van Ulft in 2012, will host daytime master classes and lectures open to anyone with an interest in carillons. Preregistration is required.
For more information about the International Carillon Festival, including a detailed schedule of performances, visit
http://carillon-rees.org
or call 546-3853. –Nan Bulli