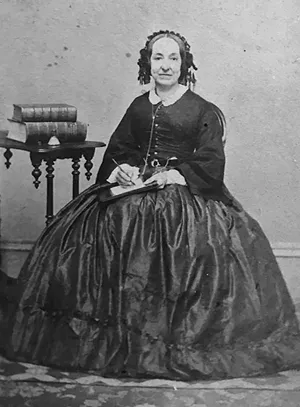 Readers of Kate Moore's new book will not be silenced.
Anyone who delves into The Woman They Could Not Silence likely will come away aghast at the treatment of women, especially the book's subject, Elizabeth Packard, at the state insane asylum in Jacksonville in the mid-1800s.
In an October Zoom discussion sponsored by the Illinois State Museum, Moore said several readers have already contacted her, saying asylum superintendent Andrew McFarland's name needs to be scrubbed from Springfield's own mental health center. Some of my book club friends have jokingly (I hope) threatened to use spray paint to eliminate his legacy there.
These readers agree McFarland's treatment of Packard and other patients makes him unworthy of such an honor, despite his standing in the mental health field in his day. Instead, the center should bear Packard's name for her efforts to change laws and patient treatments.
"It is just so telling, isn't it, that he has a building named after him and she got nothing," Moore said.
The Illinois State Asylum and Hospital for the Insane, as it was originally called, was built in 1851 in Jacksonville at the urging of social reformer Dorothea Dix as a place to help the mentally ill. But as Moore's nonfiction book points out, it also became a storehouse for women who disagreed with their husbands, who had "ungovernable personalities" or who suffered from "moral insanity." Moore's search of asylum records uncovered the case of a 15-year-old girl committed because she had become "greatly addicted to novel reading." The law in 1860 allowed men to commit their wives or other female relatives without as much as a trial.
Packard was one such woman. Her husband feared her independent streak and her rejection of the strict religion he preached to his congregation in Manteno, Illinois. He got several church members to agree she needed to be institutionalized and had her committed, separating her from their six young children.
In the asylum, Packard quickly realized she wasn't the only wronged woman and began campaigning to McFarland for her and their release. Despite having to scrounge for writing materials when hers were taken away as punishment, she wrote vociferously about her stay, the asylum's sometimes cruel practices and McFarland's duplicitous treatment of her.
The books she eventually published provided Moore with dialogue and details that make her work read like a novel. She also researched asylum records, McFarland's writings, Packard's husband's words, trial transcripts and letters so that everything in the book is historically accurate. An extensive bibliography and pages of notes bolster the story.
Moore, British author of the best-selling novel Radium Girls, said the #MeToo movement inspired her to search for a woman who had not been listened to in the past in order to shine a spotlight on the issue. She pored through history books and other materials until she found Packard's story. Moore said it was made for a storyteller because it has courtroom drama, the emerging science of psychiatry and shades of gothic horror from the asylum.
Moore traveled to Packard's hometown in upstate New York, to Manteno and to Jacksonville. In Manteno, Moore worshipped at the church Packard's husband once led, and in Jacksonville, she walked the grounds of the former asylum. The imposing main building is long gone, replaced by the now-abandoned low brick buildings of the former Jacksonville Developmental Center.
A city park occupies some of the land, and in one obscure corner is a small monument to asylum patients buried in unmarked graves. The new Jacksonville Area Museum downtown displays a stone window sill from the asylum with patient writings inscribed on it.
McFarland did contribute to eventual reforms in mental health care, despite his beliefs about women and what Moore says was his fatal flaw, his arrogance. But Moore's book is a better legacy to the asylum patients, especially Packard. Its subtitle, One Woman, Her Incredible Fight for Freedom, and the Men Who Tried to Make Her Disappear, is an apt description of what readers will find within its 449 pages.
"Elizabeth is perhaps the most resilient and fearless woman I have ever encountered," Moore said. "I hope (the book) will inspire and enrage you."
Readers will agree it does just that. It also will make them think twice about the name of the McFarland Mental Health Center.
Mary Bohlen is a former chair of the communication department at University of Illinois Springfield and a former reporter for United Press International.