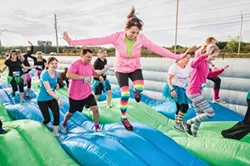 This summer, get pumped for a wacky obstacle course unlike anything central Illinois has seen before. The Insane Inflatable 5K bounces into Centennial Park on Saturday, Aug. 6. Race waves begin at 8:30 a.m. and continue every 15 minutes through 11:30 a.m. The traveling race will land in 115 cities during its 2016 tour, 40 of which are first-time stops such as Springfield. All the insanity is for a good cause, as the Insane Inflatable 5K donates a portion of its proceeds to the American Cancer Society's Relay for Life movement in each hosting city. Participants can run the course as an individual or as part of a team, and team discounts are available for those registering groups with more than 40 members.

The 3.1-mile race is geared towards adults ready to unleash their inner child and challenge themselves on 11 inflatable obstacles. The race is not timed, and bouncers are encouraged to relax, have as much fun as possible and complete the race at whatever pace they are comfortable with. The height requirement is 42 inches; there are no weight or age requirements. Those under 42 inches tall will enjoy the Krazy Kids Inflatable Fun Run which features 11 smaller-scale, child-friendly obstacles spread over the course of 1.5 miles. Parents will be able spectate the fun run in a special viewing lane alongside the course.
The Insane Inflatable 5K obstacles definitely aren't your average bounce houses and inflatable slides. All 11 obstacles have inspired, telling names such as Let Go, Slingshot, Waverunner, The Mad House, The Humps, Jump Around, Big Balls, Crash Course, Mattress Run, Wrecking Balls and Finis. The fun begins at the starting line as bouncers ascend a 54-foot-high, 22.5-foot-long inflatable ladder, are catapulted via the Slingshot, dash across wavy speed bumps, duck and dive through the earth's largest ball pit, and slide into victory at the "world's most unique finish line" which features tipsy towers, a rope ladder and other surprises.
The fun doesn't stop once race the ends. For a good laugh, stick around to watch fellow bouncers complete the race, then hop on over to the post-race party which features an insane midway with even more inflatable games, music spun by your favorite local DJ's, Inflatable 5K swag and merchandise for purchase, local sponsors and vendors plus food, beer and more.
Many Insane Inflatable 5K events sell out in advance. Preregister online to ensure availability in the wave of your choice. Registration is $54-$65 in advance and $75 the day of the race. An all-access pass, available for $100, allows bouncers to join any wave even if that wave is at capacity. Registration includes admission to the obstacle course, a customized race t-shirt, medal and bib plus midway access. For registration and more information about the Insane Inflatable 5K, including photos, preview videos and course maps, visit
http://insaneinflatable5k.com
. –Nan Bulli