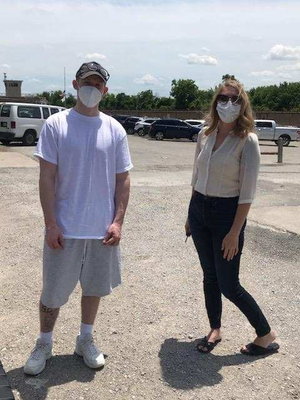 Nathaniel Onsrud left Menard Correctional Center on Tuesday, June 23, after more than a decade in prison. The same day, his conviction and sentence were vacated during a hearing in Rock Island County.
Onsrud was convicted of killing his four-month-old son in 2007. The child was born prematurely and the Illinois Innocence Project said the death was a result of health issues. The infant had become unresponsive while in Onsrud's care. The project, based at University of Illinois Springfield, said investigators had created an erroneous theory that defied the findings of medical examinations.
Onsrud is the 16th client the Illinois Innocence Project, based at University of Illinois Springfield, has helped to win release. His case led to the Rock Island County state's attorney pledging to do an audit of cases by the same prosecutor who helped convict him.
Onsrud had made statements after continuous questioning that investigators gleaned as a confession, and his initial defense lawyer suggested he plead guilty. Onsrud complied, before withdrawing his guilty plea. That request was denied and he was sentenced to a 60-year term. The Illinois Innocence project said false confessions happen "all too often" – having led to the wrongful convictions of nearly 100 people in Illinois, nearly 30% of the state's exonerations, according data from the National Registry of Exonerations.
A letter from the Rock Island County state's attorney Dora Villarreal said, "It was and still is our belief that several material documents were not disclosed by the assigned prosecutor to the defense in 2007-2008." As a result, the office said Onsrud should be released while "the case remains pending" and that "this situation was clearly a miscarriage of justice that we could not let go ignored." The letter also said the assigned prosecutor who had worked to convict Onsrud is no longer with the state's attorney's office, and the office would do an audit of the prosecutor's cases. The letter said the office would also seek funding from local officials for a "Criminal Integrity Unit."
Illinois Innocence Project Chicago legal director Lauren Kaeseberg said in a release, "For the past 13 years, Nathaniel has fought to clear his name and has been through the unimaginable ordeal of losing his baby and then being wrongfully convicted of murdering him. We are so thankful that the state's attorney of Rock Island County has acted in the interests of justice and that we can bring Nathaniel home."