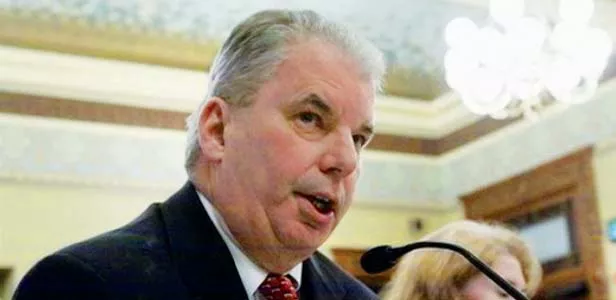 You could call him an immovable object.
He has outlasted three governors, called countless state agencies to task, and even survived an attempted hostile takeover of his constitutional office.
Illinois Auditor General William "Bill" Holland spoke Oct. 23 to the Citizens Club of Springfield at the Hoogland Center for the Arts, addressing questions about his office's work and the condition of state government.
Usually avoiding the spotlight, the 57-year-old Holland talked on Friday about problems with the way state government is structured, as well as former governor Rod Blagojevich's attempt to commandeer control of his office in 2003 by issuing an executive order to place it under the control of the Department of Central Management Services. CMS is overseen by the governor, which would have allowed Blagojevich to steer Holland's audits away from sensitive areas.
The Office of the Auditor General evaluates the finances and administrative practices of government agencies and reports its findings to the legislature. Past audits from his office have identified major problems in government agencies. For example, an audit released in March 2009 revealed problems with how the Illinois State Police handle forensic evidence and found the department had a backlog of more than 10,000 forensic cases to be processed.
Now in his second 10-year term since taking office in 1992, Holland remains neutral on policy questions in his audits, instead preferring to "let the reports speak for themselves," as he often says.
At Friday's meeting, Holland expressed concern about the state's struggling pension system, which carries the largest unfunded liability of any state retirement program.
"Back in the mid-'80s, we took money that should have been going to the employer contributions of the retirement system, and we didn't put it in there," Holland said. "When you count out that effect over the years, it gets dramatic."
Speaking to reporters after the meeting, Holland said the state's decentralized accounting system is extremely complex and ineffective.
Holland has often said the system makes it difficult for his office to conduct audits, compromises the usefulness of reports, and jeopardizes the state's eligibility for some federal funds.
"Before I can even get to do the audits, there are hundreds of people over a multitude of agencies that have to supply the information," Holland said. "It's a cumbersome process, and our technology needs to be upgraded significantly."
The problem is likely to worsen, he continued.
"The federal government is now telling us, with all this federal (stimulus) money coming in, they want faster and even faster reporting," Holland said. "They want more reports about how the money is being spent, on a more timely basis. Very challenging."
Holland said his office often finds problems in state agencies, but agency heads usually complain about a lack of staff to address those problems.
"Our agency people, who are charged with the day-to-day responsibility of running state government, are saying, 'We don't have enough people,' " he said. "And yet the chief executive on the second floor (of the Capitol) is saying, 'Isn't it great that we've cut all these jobs?' It's a little bit like keeping your chin up and your nose to the grindstone at the same time. Try it."
Holland said his office has noticed an increase in cooperation from Gov. Pat Quinn's administration compared to that of former governor Rod Blagojevich.
"It doesn't help anybody having a rift between the state auditor and the chief executive," Holland said, referring to his prior criticism of uncooperative agencies under Blagojevich. "I found no joy in being viewed as his contrary. I would rather my stories appear on the obituary page than the front page."
Contact Patrick Yeagle at
pyeagle@illinoistimes.com
.