When Jonathan Grayson went to the Kane County courthouse on March 6, he wasn't expecting to walk out a free man. The 30-year-old had spent 10 years in prison for murder, and he still had another 65 years of prison ahead.
But Grayson didn't commit the murder that led to his incarceration, and on March 6, a Kane County judge overturned his conviction.

"When I first shook his hand, he was still in disbelief," says Steven Schott, a third-year law student at the University of Illinois Urbana-Champaign. Schott is part of the Illinois Innocence Project, a group of students, professors and attorneys based at the University of Illinois Springfield which works to free from prison people who are convicted of crimes they didn't commit.

"He walked into court that day thinking he was going to remain in prison, but he walked out a free man," Schott says. "He's starting to get back into society. It's pretty great."

Grayson, formerly known as Jonathan Moore, was convicted in 2002 of the Aurora murder of Shaun Miller and the attempted murder of Leroy Starks. Starks identified Grayson as the shooter from a photo lineup, and Grayson was convicted and sentenced to 75 years in prison. But in 2011, Aurora police discovered new evidence that Grayson wasn't the shooter. Responding to a report of shootings in an east Aurora neighborhood, the police recovered a 9mm pistol later matched to the bullets that killed Miller in 2000. Grayson had spent 10 years in prison while the real killer apparently roamed free.

Grayson's exoneration is the fourth for the Illinois Innocence Project, and it marks several changes for the group, now in its 11th year. Formerly known as the Downstate Illinois Innocence Project, the group has dropped "Downstate" from its name, signaling its expansion statewide. To facilitate that expansion, the project is joining forces with the state's three public law schools, which also allows for a larger caseload. Meanwhile, the project has added two full-time lawyers and one part-time lawyer, providing valuable legal guidance to the quickly growing body of students involved in gaining justice for the wrongly convicted.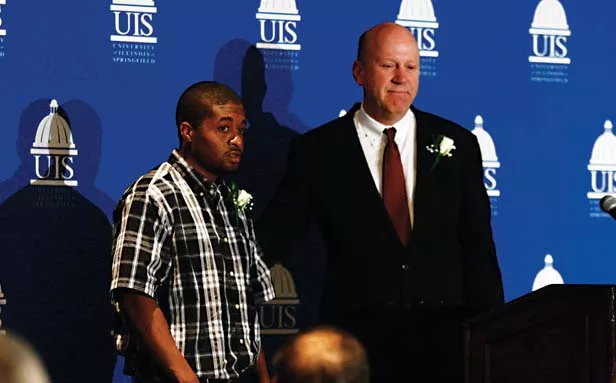 Humble beginnings
The Illinois Innocence Project started in 2001, in response to a call-to-arms by Barry Scheck, a New York attorney. Though Scheck is perhaps most famous for his role on O.J. Simpson's defense team, he is considered one of the forefathers of innocence projects in the United States. At a 1998 conference in Chicago, Scheck urged attorneys, judges and professors around the U.S. to establish a network of innocence projects to deal with the emerging problem of wrongful convictions.
Three people in Springfield responded to that call in 2001, establishing a small but focused project at UIS.
Springfield private investigator Bill Clutter was one of those three. Clutter says investigating cases involving people proven to be innocent prompted his interest in creating an innocence project in Illinois. In one instance, he investigated the case of Rolando Cruz and Alejandro Hernandez. Cruz and Hernandez were sentenced to death row for a rape and murder, then exonerated 12 years later after Clutter's investigation linked the real killer, Brian Dugan, to the crime scene and the Illinois State Police obtained a confession from Dugan. Still, prosecutors in the case fought efforts to free Cruz and Hernandez.
"It's the ultimate injustice when you have somebody who's innocent sitting in prison and the real killer is free to kill again," says Clutter, who graduated from Sangamon State University – now the University of Illinois Springfield – with a legal studies degree.
Clutter says projects like IIP are necessary because police and prosecutors can sometimes get "tunnel vision" while seeking a conviction.
"These cases are very difficult, because even when you have the confession of the real killer, you have people clinging to the original theory," he says.
Larry Golden, executive director of the Illinois Innocence Project, is a longtime professor at UIS, and has spent his career working for various social justice causes. Though Golden isn't an attorney, he was involved in the lawsuit that forced the racial desegregation of Springfield School District 186, as well as the voting rights lawsuit that prompted Springfield to change from a commission form of government to a council-mayor system. For him, working to free innocent people from prison was a natural fit.
"I always felt if I was going to teach about issues in the classroom having to do with politics and law, that I should be also involved in working on those issues in the community," Golden says.
Former UIS professor Nancy Ford also helped create the project.
When the Illinois Innocence Project started in 2001, it consisted of only a few students and no attorneys. It was one of only about six innocence projects nationwide at the time, a number that has now grown to 56 innocence projects nationwide and several more in other countries, including Canada, Australia and China. IIP itself now boasts more than 50 students and three attorneys.
What helped IIP grow to its current size and strength? Undoubtedly the support of the community and the project's first three exonerations played an important role, but no legal organization can function without money. In the case of IIP, that came partly in the form of a U.S. Department of Justice grant of $687,448 in December 2010, which allowed the project to take on cases with DNA evidence and hire a staff attorney tasked with handling those cases.
That attorney is John Hanlon, now the project's legal director. Before coming to work for IIP, Hanlon worked as a public defender in post-conviction cases. He handled two appeals for Rolando Cruz, one of the Aurora men wrongly convicted in the case that led Bill Clutter to create the project in 2001. Cruz was pardoned after DNA tests ruled out his involvement and a law enforcement officer involved in the case admitted to lying under oath while testifying against Cruz at his original trial.
Hanlon also handled death penalty cases for the Office of the State Appellate Defender until the death penalty was abolished in Illinois in March 2011. Having done pro bono work for the Innocence Project for several years and already knowing Bill Clutter and Larry Golden, Hanlon was hired in 2011 to help IIP handle cases in which it's reasonably likely that DNA evidence can be used to prove the innocence of someone in prison.
A second Department of Justice grant of $249,319 in 2011 allowed IIP to hire attorney Erica Nichols, a former UIS student and assistant public defender in Chicago, to handle non-DNA cases. Golden says a third attorney, UIS assistant legal studies professor Gwen Jordan, works part time with IIP.



Joining forces

In addition to the three attorneys now helping to direct IIP's efforts, the project is joining forces with the state's three public law schools: Southern Illinois University School of Law, Northern Illinois University College of Law, and University of Illinois College of Law.

Golden says part of the reason for bringing the three law schools on board is the overwhelming demand for IIP's work. During 2011 alone, the project received 208 requests from prisoners asking for help overturning a conviction. Golden points out that innocence projects only accept cases in which it's likely the prisoner is actually innocent.

"We are not a defense firm," Golden says. "Our goals are the same as the prosecutors and the police: We want to see the right people in prison, and the people who shouldn't be there should be let out."

Still, Golden says the sheer number of cases needing attention is more than IIP can handle alone. Even with at least three other innocence projects in Illinois – the Center on Wrongful Convictions and the Medill Innocence Project at Northwestern University and the independent nonprofit Chicago Innocence Project – there is still an unfortunate surfeit of cases in which prisoners claim actual innocence, Golden says.

In total, 14 students at UIS are working on IIP cases, along with 23 students at UIUC, 11 students at SIU and two or three students at NIU.

Steven Schott, the third-year law student at UIUC who worked on Jonathan Grayson's case, says his involvement in the Illinois Innocence Project has softened his view of defendants in criminal cases and reaffirmed his belief in the criminal justice system. Schott hopes to work as a prosecutor after law school, and he said he plans to be careful about avoiding mistakes that can lead to a wrongful conviction.

"I still really believe in advocating for victims, but I realize that it's done by humans and mistakes will be made," Schott said.

He lauds the work of the Aurora Police Department and Kane County State's Attorney Joseph McMahon in Grayson's case. Instead of fighting to uphold Grayson's conviction in light of evidence that showed his innocence, the police and McMahon actually worked with IIP to obtain Grayson's exoneration.

"I hope that if I'm faced with the same sort of situation, I hope I'll make the same decision Joe McMahon did," Schott said. "I want to be the prosecutor who looks at the evidence and says, 'You know what? The system just did not work this time, and we need to do something about it.' "

Angela Rollins, a third-year law student at SIU in Carbondale, was one of two students who convinced professors there to join forces with IIP. Rollins says she was partly motivated by disparities in the quality of legal representation available to low-income people.

"These people are at the worst moments of their lives, and everybody's just waiting to throw them away forever," Rollins says. "It's really hard for anyone who says they're innocent of a crime; most people don't want to believe that."

Jennifer Rosato, dean of NIU College of Law, says involvement in projects like IIP provide real-world experience for students and ultimately make them better, more rounded lawyers. She says partnering with IIP helps both the school and the project reach new areas of the state, though it's yet to be determined how many cases NIU students will take on.

"In my view, taking on any case makes a difference, so no matter how many cases we take on, it will be a significant project for everyone," Rosato says. "It gives us faith in the criminal justice system and perhaps achieves justice for those individuals on whom injustice has been imposed. It helps to do what the system is supposed to do, and that is to get to the truth."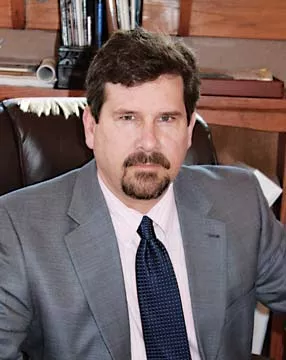 Leading the charge for change
Though the Illinois Innocence Project is primarily focused on freeing the innocent from prison, executive director Larry Golden says the project could also take on an advocacy role toward lawmakers and judges to address systemic problems that seem to produce wrongful convictions.
One example, Golden says, is videotaping interrogations. In 2003, Illinois passed a law that required videotaping of interrogations for cases in which the death penalty was a possible sentence, but that law became moot after the abolishment of capital punishment in Illinois. And Golden says the law left out numerous other murder cases and other crimes with long sentences. He and IIP's legal director John Hanlon say videotaping interrogations provides crucial context for confessions and reduces allegations of improper interrogations.
"In China, a land we all recognize as having major problems with human rights, they have a law that interrogations be videotaped if the sentence is 10 years or more," Hanlon points out. "If I'm charged with a sex offense or armed violence or any big-ticket crime with a possible sentence of 40 to 50 years, there's no requirement my interrogation be videotaped. There have been a lot of innocence exonerations in cases other than homicide, so why videotaping hasn't been extended to those cases is beyond me."
Golden and Hanlon also hope to change how cases are handled when a prisoner appeals his or her conviction. Typically, the appeal goes back to the same judge and same prosecutor who handled the original trial, but Golden and Hanlon believe post-conviction cases warrant a fresh perspective from a different judge. Illinois lawmakers previously passed a bill to address that situation, Hanlon says, but the Illinois Supreme Court overturned it, saying it violated the constitutional separation of powers.
"I think most people would say this doesn't seem right," Hanlon says. "If we have new evidence and are asking to take a look at the case, is that really going to happen with a judge who had the defendant standing in front of him, telling the defendant, 'These are the most despicable acts ever and you're going to go to prison for 60 years because of them'? I think not."
The efforts of IIP also serve to advance DNA testing in criminal cases in Illinois. DNA testing is constantly evolving, Hanlon says, but it's not as simple as crime shows on TV portray. A 2009 report from the National Academy of Sciences says DNA testing is the only forensic crime tool based on established science and designed by actual scientists – in contrast to eyewitness identification and fingerprint analysis, which can be subject to interpretation and human error. Only about 10 percent of felony cases yield useable DNA evidence, but even that's enough to overwhelm state crime labs, which Hanlon says are underfunded and understaffed. By sifting through cases with possible DNA evidence, IIP helps determine which cases deserve a closer look, bringing to light evidence that may otherwise be overlooked.
In a less tangible way, IIP and other innocence projects are shaping the public's view of criminal justice. As more innocent people are freed from prison, the systemic problems causing wrongful convictions become obvious to more people, Hanlon says.
"When the average citizen reads about injustice … it erodes our faith and confidence in the system and makes us cynical," Hanlon says. "When they see justice being done, that type of thing is important to placing faith back in system. What does that mean? People are more likely to take their duties as jurors very seriously, they're more likely to vote, as opposed to saying 'It's all corrupt; it doesn't matter what I do.' "
While Jonathan Grayson's case involved cooperation between a prosecutor, police and IIP, it's not always that harmonious, Golden says. In cases like that of Herb Whitlock, who spent 20 years in prison for murder before being freed in 2008, prosecutors vehemently opposed IIP's efforts to have evidence reexamined and brought before a judge.
"I think the prosecutorial community is beginning to understand what's happening with innocence cases," Golden says.
As evidence, he notes that Cook County State's Attorney Anita Alvarez recently created a Conviction Integrity Unit to investigate wrongful conviction claims. Twenty years ago, Golden says, that never would have happened.
"Whether that's going to be effective, who knows, but what it does tell us is that prosecutors are beginning to understand – if nothing else – that it's not necessarily politically helpful to them to be seen as opposing (innocence) cases," Golden says.
Clutter isn't so sure about prosecutors warming up to innocence projects. He's seen several cases in which prosecutors and police fought to uphold a conviction even in light of evidence suggesting the wrong person was convicted.
"One thing that hasn't changed is the mindset of prosecutors and police who get it wrong," Clutter says. "When the decision is left to them, it's still difficult to get justice."
Sangamon County State's Attorney John Milhiser attended IIP's recent fundraising and awards banquet on April 9. He says that while he can't speak for all prosecutors, he believes innocence projects have the same goal as prosecutors.
"We want to make sure those who are committing the crimes are convicted and locked up, but we don't want innocent people in prison," Milhiser said.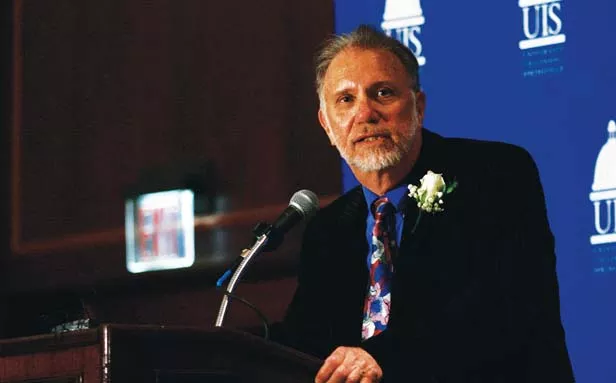 A constant battle
Larry Golden says IIP could obtain exonerations in two more cases by this time next year. But while the project battles wrongful convictions, there's another struggle going on behind the scenes: the struggle for funding. Golden is applying for a renewal of the federal grants that allowed IIP to hire attorneys John Hanlon and Erica Nichols, but those funds have to be spent for specific purposes. Though the cost per case varies wildly, Golden says a case can cost tens of thousands of dollars.
"We're trying to generate resources to continue, because once these grants run out, we're going to be in a very difficult situation," Golden says. "It's really critical that we find support, that the university and others step up and help us."
Golden points to a recent report from the Chicago-based watchdog group the Better Government Association which found that wrongful convictions have cost Illinois taxpayers $214 million to keep 85 innocent people in prison since 1976.
"With every innocent person we're getting out of prison, we're saving the state huge amounts of money," Golden says.
For Bill Clutter, Larry Golden and others involved in the Illinois Innocence Project, the experience has been intensely rewarding.
"You can't begin to describe seeing somebody eating a steak loaded with mushrooms for the first time in 20 years or seeing them embrace their mother for the first time without the restraint of shackles," Clutter says. "It's really hard to put that experience into words."
Golden considers his work with IIP to be among his greatest achievements.
"Most people in their careers don't have the opportunity of ever being able to say 'I've helped actually helped to save a person's life,' " Golden says. "To see then be able to come out of prison after something they didn't do, there's nothing more satisfying than that. I just don't see how there could be."
Contact Patrick Yeagle at pyeagle@illinoistimes.com.