Piano tuner and technician Dwight Denzer of Riverton found his career lane early in life and has enjoyed it ever since, most of that time with friend, partner and wife, Veronica Denzer. "We'll celebrate 300 months together on Oct. 18."
It's that daily spirit of appreciation, a balance of work and recreation, healthful nutrition and body care, and a sense of joy and curiosity that keep Denzer active and happy at age 63. "We've celebrated each month, every month, of our 25 years," says Denzer of life with Veronica, who is the business bookkeeper, office manager, scheduler and traveling companion on their frequent disc golf outings. They spend a lot of time together, and like it that way. "We look at things differently," he says simply.
He is celebrating another anniversary this year – 40 years tuning, repairing and maintaining pianos of all sizes and brands in homes, performance venues, little country churches and beautiful cathedrals in and around Springfield. He works on all kinds of pianos, from small spinets to full-size uprights, parlor to concert grands, and the most contemporary "player pianos" such as the Yamaha C2 Disklavier in Gina Soloman's Lake Springfield home.
Soloman grew up playing a small upright piano and kept it until she and her husband moved into their new home a few years ago and bought the Yamaha. "It's very important for my piano to be in tune. I love fine piano music, and it plays a lot of the time."
"One of the things I like people to know," Soloman adds, "is that Dwight is an amazing pianist himself. So, when he's tuning, he's also playing the piano. It's an afternoon of entertainment."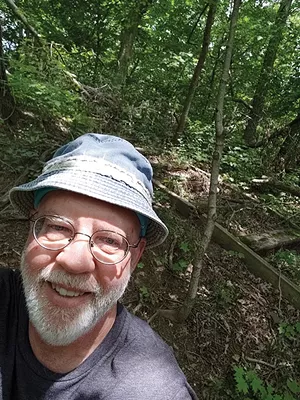 Denzer actually started in piano performance. He began playing when he was four years old and was, he says, a big fish in a little pond all the way through high school. But once he began a music degree at Illinois Wesleyan University, he says, "I found out how big the pond was." A new direction made sense and all signs pointed to tuning and repair.
"As a child, I was always fascinated watching the 'old Italian piano tuner,' Albert Camille, work on our piano in Riverton. Later, when I played at various events and contests, [often] the pianos didn't sound good or handle very well. I knew I could do better work on them."
"So I researched where I could go to learn, and enrolled in Western Iowa Tech Community College to study piano tuning and repair. That was 48 weeks, 5 days per week, 8 hours a day. That's what it took to get the certification, and it was great. We got to take apart a piano and put it back together." The course taught everything it could take to restore a piano. And people have called on Denzer for his fine work and understanding of each individual instrument ever since.
"The demands of a piano technician are more than simply using a tuning wrench," says Dale Rogers, Director of Music and the Arts at Westminster Presbyterian Church in Springfield. "The skill demands an understanding of the intricacies of the piano's mechanical action and the possible nuances in its many parameters, as well as refined artistic and musical judgment. Dwight Denzer has these skills. Dwight and Veronica restrung and refined an 80-year-old Chickering piano at Westminster a few years ago. This tedious and repetitious job took weeks. The job required a respect for both tradition and innovation, planning, strength, knowledge and great patience. The result was an instrument capable of power, subtleties and beauty, thanks to Dwight's meticulous work."
The work of a piano technician is, in fact, very physical. To continue to work full time, Denzer wears a wrist brace, regularly sees a variety of complementary therapy specialists, and does yoga. This combination of body care helps him maintain the strength and flexibility needed to remove and replace heavy parts and adjust strings, and meet the demands of quick, repetitive tuning motions all day.
In addition to working on pianos, Denzer is happy to evaluate a prospective purchase or hand-me-down piano. With the exception of something with high sentimental value, he says, some aren't worth the investment to make them playable and enjoyable. "There are so many really nice pianos out there looking for homes that people can hardly give away – there's not much point in spending lots of money on something that's not very good. It is so frustrating to play [an inferior] piano with sticky keys, that sounds horrible, and is unresponsive." Keep looking, consider an electronic keyboard, or rent for a while.
Every day offers new possibilities for Denzer. Like the immediate joy of seeing a disc fly well on a peaceful day of disc golf in the park, Denzer enjoys the on-the-job gratification of his work. Sometimes he arrives and finds a piano that's "more than 100 years old in a really pretty case. It's fun to open them up and see how the old-timers designed and built pianos." Other times, he discovers he'll be working in a truly beautiful location. Some of Denzer's most gratifying work is bringing an old piano back to life for someone who hasn't played in a long time.
"I bring harmony to the world one piano at a time. The biggest compliment I get is that someone has sat down to play and is in love with the piano again. That's always so special to hear about."
To reach Dwight's Piano Works, call 217-498-9343, or visit https://www.dwightspianoworks.com/
DiAnne Crown has been playing a very special Mason & Hamlin baby grand piano for 56 years and says she will sleep underneath it if she ever has to choose between keeping the piano and having a separate bedroom.