Bill Dwyer, former newspaper reporter, doesn't spare words when it comes to Emanuel "Chris" Welch, the new Illinois House speaker.
"He's the worst of the worst when it comes to crony politics," says Dwyer, who lives in the Chicago area.
When Welch ran for the House in 2012 after losing a 2006 bid, Dwyer got wind of an arrest for domestic violence on Jan. 12, 2002. Welch had, according to Village of Hillside police reports, slammed a woman's head into a kitchen counter and otherwise gotten physical. Turn around — we're taking you to the station, a cop told him the day it went down, and Welch got a free ride in a squad car. The woman, whose name is redacted from police reports, showed a bruise to an officer four days later when police followed up. After reportedly speaking with Welch's stepmother, the woman reportedly declined to sign a complaint. Welch acknowledged the incident on Tuesday, Jan. 12, before succeeding Michael Madigan as House speaker.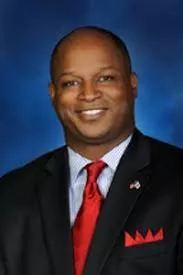 "I will be honest that I have reconciled with the individual since that night," Welch said in a written statement. "In fact, after our dispute we sought out the authorities ourselves. Their family lives in my district and are proud supporters of my public service and work."
With Welch in a close race to become a House member, Hillside police refused Dwyer's 2012 request for reports on the future speaker's arrest – it's a matter of privacy, cops claimed. So Dwyer contacted the Illinois attorney general on Feb. 2, Groundhog Day, requesting help from the state agency tasked with enforcing the state Freedom of Information Act.
The attorney general rendered its decision on March 16, 2012, a Friday, more than a month after Groundhog Day and four days before the election that catapulted Welch from a school board to the General Assembly.
Forest Leaves
, the River Forest paper that employed Dwyer, had reported Welch's arrest, but didn't get details until it was too late:
"During this verbal argument, (the victim) admitted telling Welch he was a 'loser.' At that point, Welch became enraged and grabbed her hair with both hands and slammed her head backwards on the countertop multiple times. Afterwards, he let her hair go and backed away. (The victim) attempted to leave the residence through the front door and then the rear door but was blocked by Welch with his body. Not knowing what else to do, she attempted to use the phone to call police. Welch then prevented her from doing that also. Now, being extremely scared because of his actions, (the victim) ran again to the back door and began screaming for help."
Police released the report on Election Day eve. "We got the information 90 minutes after press time," Dwyer says. "We couldn't get it in the paper, and he won by 36 votes."
With a $157,000 campaign fund stoked by labor and such political heavyweights as future attorney general Kwame Raoul, Welch eked victory from Rory Hoskins, who didn't break $45,000. "I really don't know," Hoskins answers when asked if the result would've been different if the police report had been released sooner. "But I am very happy that my state representative has now been elected to be speaker of the House. I really don't want to discuss ancient history."
Dwyer figures imagery of a woman screaming for help after having had her head bashed into a countertop would have cost Welch at least 36 votes. I called Lisa Madigan, the former speaker's daughter who was then attorney general, to ask why it took more than a month to determine that a report on a politician's arrest isn't a private matter. She hasn't gotten back. I'm guessing the AG might have been too busy to act sooner – the open-government division of the agency tasked with enforcing the Freedom of Information Act has been notoriously backlogged.
Forest Leaves
published plenty of other stories about Welch in the weeks before the 2012 Democratic primary. Nineteen friends and relatives worked for the Proviso Township High School District 209 while Welch was school board president, according to the paper. A state oversight panel had overruled a school board decision to pay $400,000 to former district lawyers, plus legal costs, who'd sued for libel after Welch made an anonymous blog post stating that they were corrupt – the future speaker had initially denied making the post. Welch had had romantic relationships with two district employees whose employment ended after relationships ended, the paper reported, and two lawsuits had been filed against him, both from women who dropped legal actions short of resolution.
One was filed by Dylester Palm, a district employee who said that Welch demanded a hug from her at a high school football game in 2010. Feeling uncomfortable, she declined, according to her lawsuit. Her sister, a high school principal, saved a text message that Welch had sent after the game.
"I allowed them to be employed!" Welch's text read, according to the paper and Palm's lawsuit. "And I'm the board president! Period! End of conversation. Things better change now. I won't tolerate this disrespect. … I had a direct hand in helping them b here including u. No one else. At the minimum, I deserve respect."
Palm, acting as her own lawyer, sued in 2011, claiming that Welch had retaliated by trying to get her transferred to a different job. She dropped the case in February, 2012, one month before Welch was first elected to the House.
Rep. Kelly Cassidy, D-Chicago, who voted "present" when colleagues made Welch speaker, is calling for a review of his past dealings with women. "I am a survivor of domestic violence," Kelly wrote in a prepared statement. "I trust women. I know the complexities of choosing to pursue charges or other legal action. This isn't a simple situation – and it should not be dismissed as such by any of us."
Other Democrats have celebrated, noting that Welch is the first African American speaker in state history, but the Illinois chapter for the National Organization for Women has joined Cassidy's call for an investigation into Welch, who has accused the GOP and some within his own party of orchestrating a smear campaign.
Dwyer says Welch is the same politician as ever.
"I can't believe he's speaker, I really can't," the ex-reporter says. "They've got to keep watching this guy. Within two or three years, he's going to start pulling some shit. That's who he is."
Contact Bruce Rushton at brushton@illinoistimes.com
.