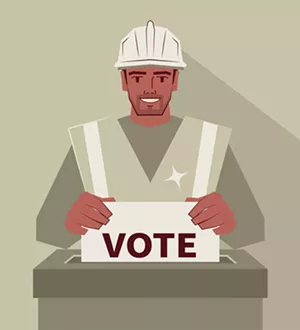 Illinois voters will decide in November whether to amend the state constitution to make it easier for labor unions to maintain membership and to protect benefits of workers who are mostly employed by local and state governments.
"The big, big issue is what it does for the public-sector unions; it basically enshrines all their powers into the constitution and it gives new rights that workers in no other state have," said Ted Dabrowski, president of Wirepoints, a free-market research group.
But Tim Drea, president of the Illinois AFL-CIO, said, "We're taking workplace safety, wages and economic stability, and putting those rights into a lockbox and keeping politicians from getting into them."
One thing both Drea and Dabrowski agree on is that if the amendment passes it would prohibit the Illinois legislature from ever passing a right-to-work law. Right-to-work laws prohibit workers from paying mandatory fees to a union.
Supporters of right-to-work laws say it is unfair to force workers to pay a fee to a union they don't want to belong to. But opponents counter that it is wrong for those workers to receive benefits negotiated by the union without paying a representation fee.
Currently, 27 states have right-to-work laws. Nine states have enshrined the measure into their state constitutions. Illinois would be the first state to use its constitution to prohibit such a law, said Patrick Semmens, the vice president for the National Right to Work Foundation.
In 2018, the U.S. Supreme Court ruled in Janus vs. AFSCME, a case originating in Springfield, that government workers could not be forced to pay money to a union, essentially imposing a right-to-work regime on all government workers in the nation.
So, the right-to-work provision would only affect private-sector employees in Illinois.
"No one thinks Illinois is going to pass a right-to-work law anytime soon. There is no need for this," said Todd Maisch, president and CEO of the Illinois Chamber of Commerce.
But Joe Bowen, spokesman for the Workers' Rights Amendment, said political winds change over time and while the current legislature wouldn't pass such a measure, it could happen in the future.
So far, supporters of the amendment have raised $13 million, mostly from organized labor. Opponents of the amendment have raised $1 million entirely from shipping and office supply mogul Dick Uihlein.
The proposed amendment would become part of the constitution if approved by 60% of those voting on the question or a majority of those casting a ballot in the election.
"Nearly 70% of people have a positive view of unions, and it actually ranks higher than organized religion and other organizations," Drea said. "So, labor unions have a high favorability. It's a product of the pandemic – people saw abuses."
Drea said some people were forced to work without personal protective equipment during the pandemic and the public has come to see a need for workers to have the ability to collectively bargain workplace safety matters with their employer.
"My view of this is you don't necessarily have to have a contract or a union representing you for collective bargaining," he said. "But if employees want to get together and go talk to the boss about grievances, they would have that right to do so. That happens a lot more than people realize. It's like, 'Hey, you guys, we need to change things. Let's go talk to the boss.' And the second thing it would do is create a fundamental right to a safe workplace."
But Mailee Smith, director of labor policy for the Illinois Policy Institute, said there are concerns about how vaguely worded the amendment is and how courts will interpret its provisions.
Illinois Chamber president Maisch agreed. "There's an open invitation for labor lawyers to take the language and push it to the absolute limits," he said.
Drea countered that constitutional language, by its very nature, is written broadly. He noted that the U.S. Constitution has lasted for more than two centuries because its broad language has allowed courts to uniquely interpret provisions over time.
Smith said if the amendment passes, it will tie the hands of future voters.
"It limits the people of Illinois in deciding what is the best economic policy by putting it in the Constitution. We can never pull back on that without another constitutional amendment," she said. "And it's really not the place for economic policy. The place for economic policy is with lawmakers in the General Assembly, not in the state constitution.
She said that the part of the amendment that guarantees a fundamental right to organize and collectively bargain would not apply to private-sector workers because the National Labor Relations Act already covers them. The amendment would just give public worker unions greater power to demand more, Smith added.
Bowen said that while most private-sector workers are covered by the federal law, some are not. For example, farm workers, household employees and independent contractors are not covered. But this would provide them with the same rights as other workers.
"It's going to drive up the cost of government, and that cost is going to be passed onto taxpayers," Smith said.
And that appears to be the political fulcrum of the opponents' arguments, that it will ultimately increase taxes because it will result in higher salaries and benefits for government workers.
However, Drea said the amendment will spur prosperity and increase the overall tax base, making tax hikes less likely.
Scott Reeder, a staff writer for Illinois Times, can be reached at sreeder@illinoistimes.com.